Latest Video
Upcoming Events
Upcoming events for 3D Metal Printing Magazine!
Free E-Newsletters
Sent monthly to inform you of happenings within the 3D Metal Printing industry.
View a Sample
View Issues
---
Additive Manufacturer Green Trade Association Commissions First Research Project
Thursday, June 4, 2020
The Additive Manufacturer Green Trade Association (AMGTA) announced that it has selected Jeremy Faludi, Ph.D. (LEED AP BD+C), to oversee its first commissioned university research project, a literature-based systematic review on the environmental sustainability of metal additive manufacturing (AM).
The AMGTA-commissioned research paper will be comprised of a literature review of existing studies "describing where metal AM provides environmental benefits compared to older manufacturing methods," says Sherry Handel, AMGTA's executive director. "This research also may reveal areas in the manufacturing process where AM could cause higher environmental impacts than older manufacturing methods. Through rigorous, independent and ongoing research, AMGTA will publish research findings and share with industry and other key stakeholders what our eco-footprint is now, and what we will need to focus on in the future to be more sustainable."
A sustainable design strategist and researcher, Faludi is assistant professor of design engineering at Technical University of Delft in the Netherlands, where he specializes in design for the circular economy and green 3D printing. He also serves in the adjunct faculty of engineering at the Thayer School of Engineering at Dartmouth College.
"We are excited to announce our first research project and thrilled to be able to work with Dr. Faludi," says Handel. "This project will provide our membership and the public in general with an excellent survey of existing research on the sustainability benefits of AM. Dr. Faludi is a renowned researcher within this field, and we are looking forward to understanding better the existing scope of research on this topic."
AMGTA was launched in November 2019 to promote the environmental benefits of AM over traditional methods of manufacturing. A noncommercial, unaffiliated organization, AMGTA is open to any additive manufacturer or industry stakeholder that meets certain criteria relating to sustainability of production or process.
See also:
---
AMCM Announces Production, Availability of Large-Volume DMLS Machines
Wednesday, June 3, 2020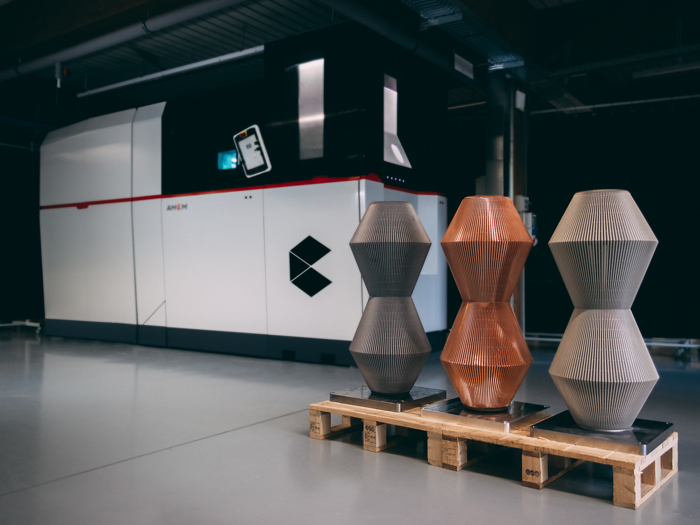 AMCM, an EOS Group company, has announced the serial production of its AMCM M 4K-1 (single-laser) and AMCM M 4K-4 (four-laser) industrial direct metal laser sintering (DMLS) 3D printing platforms at a new production facility in Starnberg, Germany. Built on the M 400 platform from EOS, the AMCM M 4K is tailored to produce, from a range of materials, large parts via its build volume of 450 by 450 by 1000 (height) mm. Company officials see rocket-manufacturing organizations as early adopters of these machines, which currently are available for purchase.
Platform features include increased robustness of the frame design, a new filter system (RFS 2.0), and optional soft recoating. Out-of-the-box, the AMCM M 4K can produce from materials including aluminum (AlSi10Mg), nickel (Inconel 718), and copper (CuCr1Zr) alloys.
These machines can employ various Yb fiber laser arrays, including 1 by 1000 W, 4 by 400 W and 4 by 1000 W, with scan speeds reaching 7 m/sec. M 4K machines, compatible with legacy EOS M 400-series process parameter sets, offer powder-handling option for manual or semi-automatic operation, and open software for process optimization with high power laser.
Launcher is one organization cited by AMCM as an early adopter of the M 4K, using the DMLS process to produce its copper-alloy E-2 combustion chamber, reportedly the world's largest 3D-printed liquid rocket engine.
"The AMCM M 4K solved for both our desire to 3D print a tall combustion chamber in a single piece, and produce it in a copper material," says Max Haot, Launcher CEO. "Printing in a single piece reduces cost and enables the highest-performance regenerative cooling design."
Later this year, Launcher will be testing the E-2 at NASA Stennis (MS) as part of an Air Force project.
See also: ,
---
Heraeus Amloy Earns German Innovation Award for Amorphous Alloys
Tuesday, June 2, 2020
The German Design Council has honored Heraeus Amloy's amorphous alloys with the Gold award in the Materials & Surfaces section of the council's Excellence in Business to Business competition.
Reads the jury's verdict: "Amorphous alloys from Heraeus Amloy are a revolutionary material. The unique combination of properties opens up exciting possibilities for a wide range of industries such as aviation, automotive, medicine and many others, creating a completely new market."
Heraeus
Amloy specializes in the production and processing of amorphous metals, which essentially are frozen metallic melts also known as bulk metallic glasses. Due to the shock freezing of the melt, according to company officials, the individual atoms have no opportunity to form an ordered metal lattice. The resulting material reportedly is particularly flexible and at the same time extremely stable, corrosion- and abrasion-resistant, and biocompatible. The company processes amorphous alloys via injection molding and 3D printing to produce near-net-shape components on an industrial scale. See also:
---
French Tech Center Adding Desktop Metal Shop System
Monday, June 1, 2020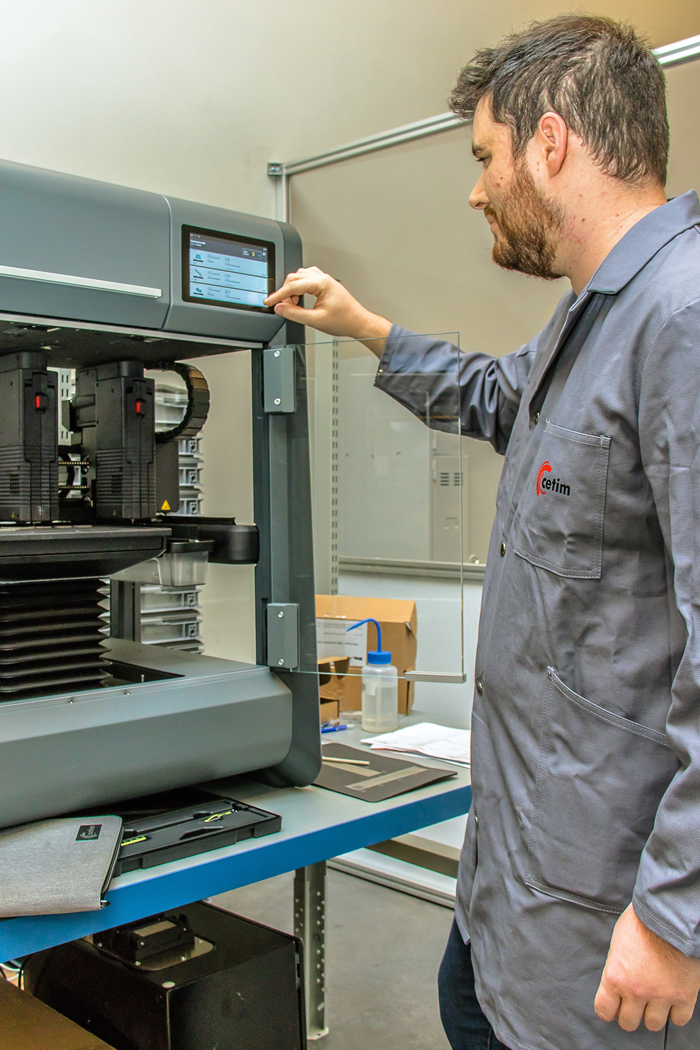 Cetim, the Technical Centre for Mechanical Industry, is adding a Desktop Metal Shop System at its facility in Cluses, France, according to Desktop Metal, Inc. representatives. The new addition, a metal-binder-jetting system designed for machine shops and job shops, joins a previously installed Desktop Metal Studio System, built for prototype and low-volume production.
Cetim, which works closely with industrial companies to help identify market opportunities and facilitate innovation and technical progress, will become one of the first adopters of the new Shop System. With both systems, Cetim reports the ability to explore new advanced solutions for manufacturing needs, from low-volume prototyping to mid-volume runs of complex metal parts.
"As the demand for metal AM continues to grow, it is challenging for many of the mechanical-industry companies we work with to identify the right solution that meets their needs and then to implement it in an effective and cost-efficient way," says Pierre Chalandon, Cetim COO. "From a general point of view, metal-binder-jetting technology is promising for a large part of our clients. (Our) Desktop Metal solutions portfolio covers the full metal-product lifecycle, which is complementary to our experience on sintered material and finishing operations."
Also, Cetim and Desktop Metal plan to collaborate on a variety of research initiatives, including design-for-metal-AM processes, post-processing and finishing-techniques qualification, workflow optimization, and materials development.
Cetim is considered a French leader in metal AM development, with different AM platforms and associated partners covering many AM technologies. See also:
---
New Markforged AM-Trends Report Details 100-Plus Use Cases
Friday, May 29, 2020
Markforged has released its 2020 Additive Trends Report, which details a strong trend toward 3D printing adoption and highlights more than 100 additive manufacturing (AM) use cases across general manufacturing, automotive, medical, military and other industries.
One main trend noted in the report: AM is allowing manufacturers and engineers across industries to quickly and cost-effectively replace unique parts that break, produce more efficient machinery or test out new pieces—ensuring less downtime, constant innovation and seamless maintenance.
The applications detailed in the report center around four major themes: accessibility, design freedom, physical strength and durability, and reliability—all of which are meant to improve or complement traditional manufacturing processes and workstreams.
"Many of our industry peers still believe that the value of AM is 10-15 years away when you can 3D print houses, cars and airplanes," says Michael Papish, vice president of marketing at Markforged. "But we're seeing real value with customers today. Applications we're featuring in our new Trends Report and Applications Library are already practical applications that manufacturers can use to save money, reduce downtime and open up new revenue streams." See also:
---