Latest Video
Upcoming Events
Upcoming events for 3D Metal Printing Magazine!
Free E-Newsletters
Sent monthly to inform you of happenings within the 3D Metal Printing industry.
View a Sample
View Issues
Industry News
---
AP&C to Offer Aluminum Alloy F357 Powder
Friday, November 16, 2018
AP&C, a GE Additive company in Saint-Eustache, Quebec, Canada, announced this week at formnext 2018 in Frankfurt, Germany, plans to produce aluminum alloy F357 powder using its advanced plasma atomization in Q1 2019, with customer deliveries expected from April 2019.
"It's great to add aluminum F357 to our portfolio. Our customers have been asking us to provide aluminum solutions to address the challenges they currently experience. We are confident we've developed a solution that solves these challenges," says Alain Dupont, president & CEO, AP&C. "The modular cell-based structure of our new plant in Saint-Eustache allows us to respond quickly to the additive industry's demands as it rapidly evolves."
Aluminum F357 alloy is increasingly in demand from customers particularly from the aerospace and automotive sectors. It is known to have good weldability with high strength and toughness offering a good corrosion resistance and heat conductivity.
---
Volkswagen and Additive Industries Announce Partnership
Thursday, November 15, 2018
Earlier this week at formext in Frankfurt, Germany, Volkswagen and
Additive Industries
announced they have entered into a long-term partnership to additively manufacture advanced tooling and spare parts for the Volkswagen Group. In September, Additive Industries installed its integrated MetalFAB1 system at the Volkswagen plant in Wolfsburg, Germany.
"The partnership with Volkswagen, the world's largest car maker, is a confirmation of our strategy to accelerate industrial additive manufacturing and focus on innovators in their markets," says Daan Kersten, CEO of Additive Industries.
---
Strength in Numbers: FABTECH 2018
Thursday, November 15, 2018
More than 1500 exhibiting companies and nearly 34,000 attendees from 75 countries took over the Georgia World Congress Center in Atlanta, November 4-6, as part of FABTECH 2018, known as North America's largest metalforming, fabricating, welding and finishing event.
With more than 650,000 net square feet of exhibit space, visitors had the chance to network, learn and explore three exhibit halls full of new products, technology and the latest manufacturing innovations. The event showcased several emerging technologies, including additive manufacturing, automation systems, advanced fiber laser cutting machines, and more. Attendees benefitted from hands-on product demonstrations and expert insight into current and future manufacturing trends.
The educational lineup included more than 130 expert-led presentations and sessions covering the latest and best practices in the meta forming, fabricating, welding and finishing industries. The most popular education tracks focused on automation, robotics, cutting and lasers, welding fabrication, lean, and workforce development. Attendees learned solutions to make their businesses more productive and profitable.
New show-floor features included the Smart Manufacturing Hub with displays and daily presentations on advanced manufacturing technologies, including automation, IoT and 3D printing and more. An expanded 3D/Additive Manufacturing Pavilion introduced an Ask the Experts Knowledge Bar, which hosted small group sessions designed to provide answers to specific 3D/additive manufacturing challenges.
"Eastern Metal Supply (EMS) had a great week of meetings, conversations and collaborations with a large and diverse group of attendees within the metal fabrication industry at this year's FABTECH," said Anthony Rockecharlie, EMS. "The show served as the perfect place to meet with several of our existing clients and build relationships with many new prospects from across the country and continent alike. FABTECH is an expansive, all-inclusive, well-organized, showcase of the best suppliers in the metal fabrication arena, and we were thrilled to be there as an exhibitor and be associated with such high caliber vendors! If you are not part of FABTECH, then you are really missing out on a great opportunity!"
Other special events took center stage as well, including the FABx Tech Talks opening session, an inspirational keynote by NASCAR icon Kyle Petty, and an informative panel discussion on the next generation entering the workforce.
Recordings of the keynotes and panel discussions are available for purchase.
FABTECH 2019
is set for November 11-14 at McCormick Place, Chicago, IL, with registration beginning in spring.
---
Sandvik Expands Additive-Manufacturing Capacity with Renishaw Equipment
Wednesday, November 14, 2018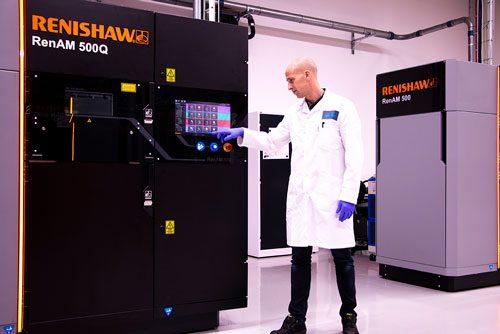 At this week's Formnext 2018 in Frankfurt, Germany, Sweden-based Sandvik is announcing that it has increased its capacity for metal additive manufacturing (AM) by installing several Renishaw RenAM 500Q quad laser machines. The company also is initiating further collaboration with Renishaw in areas such as materials development, AM process technologies and post-processing.
This print capacity expansion follows a recently announced investment of more than $22 million in a new plant for the manufacturing of titanium and nickel powders for additive manufacturing, which will complement Sandvik's existing Osprey powder offering to include virtually all alloy groups of relevance today.
The new multi-laser RenAM 500Q systems complement Sandvik's existing AM machines, which include printers from EOS, Concept Laser, Arcam and ExOne. As a collective, the machines now cover a very wide range of printing technologies for different materials and applications.
---
Materialise Announces Innovations to Increase Productivity and Efficiency in 3D Printing
Tuesday, November 13, 2018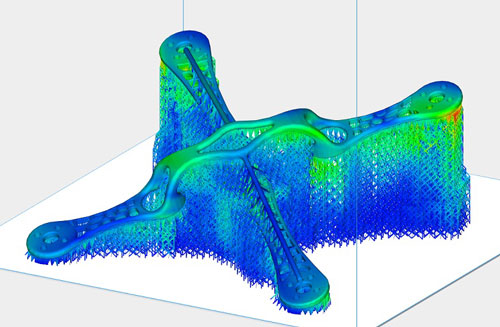 The newly introduced Magics 23, the latest data-and-build-preparation software release by Belgium-based Materialise, allows users to create self-supporting honeycomb structures, preview and analyze the structure and get full control over its orientation on the build platform. Part quality is reportedly improved using fillets, which can be generated on a single edge. In addition, Data Matrix Label, an advanced labeling feature converts the alphanumeric data from standard 3D-printed labels into a data-matrix code that can be applied to individual parts. These smart tags are smaller and can be read by conventional data matrix scanners. Machine-readable tags reduce human error and further automate the post-production process, which supports mass-customization.
---