Latest Video
Upcoming Events
Upcoming events for 3D Metal Printing Magazine!
Free E-Newsletters
Sent monthly to inform you of happenings within the 3D Metal Printing industry.
View a Sample
View Issues
---
BAE Systems and Renishaw to Develop AM Combat Aircraft Systems
Friday, January 24, 2020
BAE Systems has signed a Memorandum of Understanding with UK-based metal 3D printer manufacturer Renishaw to improve manufacturing processes for combat aircraft systems. With the application of industrial 3D printing, this collaboration aims to improve performance, reduce costs and speed up the production of such aircraft systems, ultimately advancing novel technology in the defense and aerospace sector.
"This agreement allows us to create a more open and collaborative environment to share ideas and knowledge," explains Andy Schofield, manufacturing and materials strategy and technology director for BAE Systems. "In an environment of fast-developing technology and challenged budgets, collaboration and innovation are essential for retaining cutting edge capability."
Headquartered in London, UK, BAE Systems develops and supports complex surface ships, combat vehicles, and security systems. According to Schofield, the company began researching additive manufacturing (AM) technologies over 20 years ago, leading to the integration of 3D printed components within the Typhoon fighter aircraft. Also designed using AM: The BAE Systems Tempest aircraft, a next-generation future combat system.
Most recently, BAE Systems selected Simufact Additive, a simulation software tool from California-based technology company, MSC, to reduce the number of building trials for its metal 3D printing processes. Leading 3D printer OEM Stratasys also deepened its collaboration with the BAE, with whom it has partnered since 2006.
Because of its latest agreement with Renishaw, the BAE Systems facility in Salisbury, Lancashire, UK, has installed several Renishaw additive manufacturing systems to form a dedicated to New Product Development & Process Development Center (NPPDC). This includes Virtual Reality (VR) and metal 3D printing technologies for aircraft design and manufacture.
---
PMA Names Vohland VP of Sales/Publisher
Thursday, January 23, 2020
The Precision Metalforming Association (PMA) welcomed Michael Vohland earlier this week as its vice president of sales/publisher. In addition to leading PMA's sales team to grow association membership and sponsorships, he also will oversee the production of PMA's
MetalForming
and
3D Metal Printing
magazines, and their related products. Brad Kuvin continues in his role as editorial director, overseeing content for the magazines, newsletters, websites and events.
Vohland has extensive experience in the business-to-business publishing industry, having had a distinguished career at Gardner Business Media where he served as publisher, associate publisher and district sales manager. Most recently, he oversaw Gardner's
Automotive Design & Production
magazine and the
AutoBeat Daily (ABD)
website and e-newsletters. Vohland can be reached at MVohland@pma.org; 216-901-8800 ext. 143.
---
Mexico's HT-MX Partners with Sweden's Quintus Technologies
Wednesday, January 22, 2020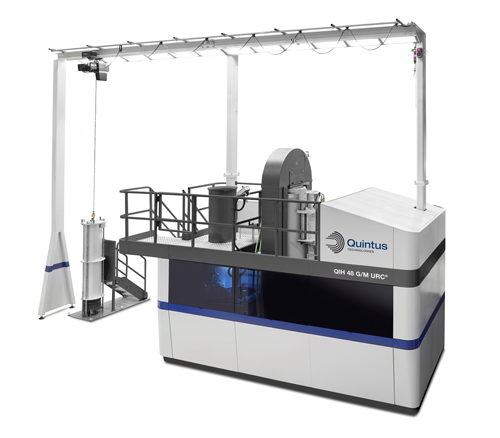 HT-MX
, a Chihuahua, Mexico-based provider of heat treatment solutions and metallurgical lab services for the aerospace and automotive markets has announced the installation of a hot isostatic pressing (HIP) system, the model QIH 48 M URC, from Vasteras, Sweden-based
Quintus Technologies
. URC is the proprietary Quintus uniform rapid cooling feature that combines HIP and heat treatment in a single process. HT-MX becomes the first firm in Mexico to invest in a HIP system.
---
Equispheres Gains Funding for Metal AM Powder Production
Monday, January 20, 2020
Equispheres, a Canadian materials science company in Ottawa, Ontario, has announced that they have been awarded funding and support from Sustainable Development Technology Canada (SDTC). SDTC helps Canadian entrepreneurs accelerate the development and deployment of globally competitive clean tech solutions. Equispheres is receiving $8 million from SDTC to help scale production of its metal additive manufacturing powder for the automotive and aerospace industries.
---
Industry Movers & Shakers
Friday, January 17, 2020
Optomec, an Albuquerque, NM-based supplier of production-grade additive manufacturing (AM) systems for 3D printed metals and electronics, has named
Alex Hodik
general manager, Asia Pacific. For the past 14 years, Hodik has helped leading manufacturers improve their AM performance within the Asia-Pacific Region, having held various positions for BigRep Asia Pacific and Stratasys.
See also:
---