Latest Video
Upcoming Events
Upcoming events for 3D Metal Printing Magazine!
Free E-Newsletters
Sent monthly to inform you of happenings within the 3D Metal Printing industry.
View a Sample
View Issues
---
NASA Funds Electric Aircraft, Additive Manufacturing and Robotic Initiatives
Wednesday, May 22, 2019
NASA will provide $6 million over the course of three years to support a University Leadership Initiative (ULI) project focused on the development of a fully electric aircraft platform that uses cryogenic liquid hydrogen as an energy storage method.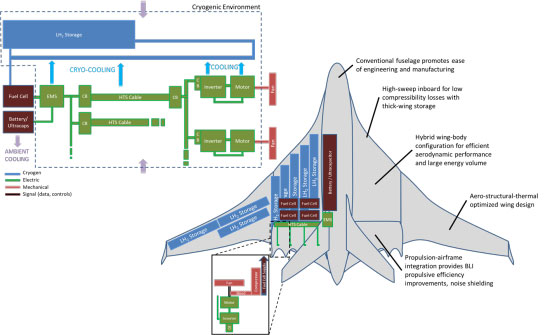 Concept sketch of a fully electric aircraft platform that uses cryogenic liquid hydrogen as an energy storage method.
The Center for Cryogenic High-Efficiency Electrical Technologies for Aircraft (CHEETA) project, led by the University of Illinois, Urbana-Champaign, includes participation from eight additional institutions: the Air Force Research Laboratory, Boeing Research and Technology, General Electric Global Research, The Ohio State University, Massachusetts Institute of Technology, the University of Arkansas, the University of Dayton Research Institute, and Rensselaer Polytechnic Institute.
The award to the University of Illinois was one of three in the second round of ULI funding, which will provide a total of about $15 million over three years. The other awards:
Carnegie Mellon University for exploring new methods for using additive manufacturing to reduce costs and increase the speed of mass-producing aircraft without sacrificing quality, reliability and safety.

University of Wisconsin, Madison for researching new ways humans can use robotics to improve the efficiency and flexibility of aviation-related manufacturing processes while enhancing employee safety.



---
Materialise to Collaborate With HP, Nikon and Essentium
Tuesday, May 21, 2019
Materialise NV, a
global provider of 3D printing solutions
, announced this week at Rapid + TCT 2019 in Detroit, MI, a partnership with HP, Nikon and Essentium to support the adoption of 3D printing by industrial manufacturers. Materialise also announced that it will release a new version of its 3D printing operations management software, Streamics 8 in June.
The development of better machines, materials and software and advanced metal printing increasingly position 3D printing as a complementary technology for the production of final products. These advances have led to growing awareness among industrial manufacturers about the opportunities and competitive advantages it creates.
"To take advantage of large-scale 3D printing in an increasingly cost-competitive environment, manufacturing companies require increased productivity and efficiency and a seamless integration of 3D printing into their existing and proven production processes," says Fried Vancraen, founder and CEO of Materialise. "Overcoming some of the remaining limitations attributed to 3D printing will require continued innovation and collaboration to create a more open market model with more control, more choice and ultimately lower cost."
---
Markforged Unveils AI-Powered Platform for Factory Fixes
Monday, May 20, 2019
Markforged, a Watertown, MA-based provider of metal and carbon-fiber 3D printers, has announced
Blacksmith
— reportedly, the first artificial intelligence (AI)-powered software that enables manufacturing machines to adjust programming automatically to ensure every part meets customer specs.
Starting with Markforged's Metal X and X7 3D printers, Blacksmith creates a continuous feedback loop to make 3D printed parts more accurately. Markforged officials claim Blacksmith as the first example of adaptive manufacturing.
"For the last 100 years, machines have been unaware of what they're creating and would waste millions of dollars producing out-of-spec parts. We're going to fix that by connecting the machines that make parts, and the ones that inspect them, with powerful AI," says Greg Mark, CEO of Markforged. "Much like the way Tesla is building autopilot for cars, we are building an autopilot for manufacturing."
---
Carpenter Technology Adds New Additive Manufacturing Unit
Friday, May 17, 2019
Carpenter Technology, the 130-year-old specialty metals maker founded in Reading, PA, now headquartered in Philadelphia, PA, has launched its
Carpenter Additive
business unit.
One of several units under the company's Performance Engineered Products business segment, the new unit represents more than $50 million in research and development, according to Carpenter's 2018 annual report, and millions more to acquire additive manufacturing-related companies, Peskosky explained.
Those newly acquired, once separate companies are now "one family unit under" under the Carpenter Additive roof, says Stephen Peskosky, vice president of corporate development at Carpenter.
---
Optomec Partners with Select Additive Technologies
Thursday, May 16, 2019
Optomec
, an Albuquerque, NM-based supplier of production-grade additive manufacturing systems for 3D printed metals, has signed an agreement with Windsor, CT-based
Select Additive Technologies
, a division of the Morris Group, Inc. The agreement enables accessibility to Optomec's Laser Engineered Net Shaping (LENS) directed-energy- systems through what company officials deem as one of the largest CNC machine tool distribution networks in North America.
---