Latest Video
Upcoming Events
Upcoming events for 3D Metal Printing Magazine!
Free E-Newsletters
Sent monthly to inform you of happenings within the 3D Metal Printing industry.
View a Sample
View Issues
---
Xometry Acquires Shift
Friday, December 6, 2019
Xometry
, a Gaithersberg, MD-based marketplace for on-demand manufacturing, has announced the acquisition of Munich, Germany-based Shift, also a marketplace for on-demand manufacturing. Through the acquisition,
Xometry
will accelerate its international expansion into 12 new countries, leveraging a worldwide network of more than 4000 manufacturers.
Shift will operate as
Xometry
Europe and continue to be headquartered in Munich.
See also:
---
SLM Solutions and Honeywell Announce Partnership
Thursday, December 5, 2019
SLM Solutions Group AG, a Germany-based provider of additive manufacturing (AM) solutions, and Honeywell, a Charlotte, NC-based user of additive manufacturing technologies with expertise across various platforms and applications, have announced a partnership expected to help qualify new AM parameters that enable printing at increased thicknesses.
As part of the partnership, Honeywell's Aerospace business will begin qualification efforts for aluminum builds using increased layer thicknesses of 60 and 90 micron on the SLM 500. SLM Solutions will provide their standard aluminum parameter sets for Honeywell to complete material qualification utilizing the quad-laser systems to achieve optimal material properties.
"SLM Solutions' latest technology will help Honeywell improve productivity while meeting our material requirements for qualification," says Dr. Sören Wiener, senior director of technology and advanced operations for Honeywell's Aerospace business. "We intend to qualify these parameter sets through repeatability testing in our production environment, including build and post-processing to generate an efficient process with a set of material property data."
"We're excited to work together with Honeywell Aerospace to further advance the industry through the qualification of even more advanced parameter sets for quad-laser systems used in qualified serial production," adds Meddah Hadjar, CEO of SLM Solutions Group AG.
---
BeamIt Buys Quad-Laser AM Machine to Develop AL High-Speed Parameters
Wednesday, December 4, 2019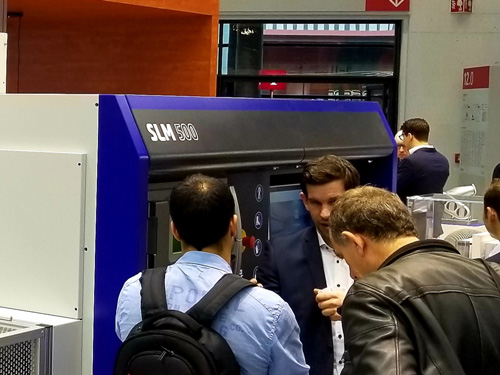 Formnext 2019 attendees crowd around SLM Solutions' SLM 500 AM machine. The company's booth featured multiple parts produced via the quad-laser unit.
At formnext2019,
SLM Solutions NA, Inc.
announced that European additive manufacturing (AM) supplier
BeamIt
has purchased an SLM 500 quad-laser AM system, following acquisitions earlier this year of another SLM 500 as well as a twin-laser SLM 280 system. This brings to eight the number of SLM Solutions machines in the BeamIt stable. The purchase assists BeamIt as it works to develop high-speed parameters for special aluminum alloys.
Holding a number of quality certifications, including ISO 9100 for aerospace, energy and automotive, BeamIt will use its newest selective laser melting machine to further expand into the motorsport and automotive market. To target these segments, the company plans to use the open-parameter access of the SLM 500 to develop custom, high-speed parameters for Al2024X and Al6061.
"This summer we announced that Sandvik acquired a stake in BeamIt due to our expertise in metal AM, and our partnership with SLM Solutions allows us to further leverage that expertise," says Mauro Antolotti, BeamIt chair and founder. "With the advanced material knowledge of Sandvik and the parameter freedom of the SLM Solutions machines, we plan to develop top-quality parameters targeting the specific needs of our high-performance automotive and racing customers."
"BeamIt purchased two selective laser systems earlier this year to develop parameters for nickel-based alloys," says Meddah Hadjar, CEO of SLM Solutions, "and we are confident that the company will have an equal amount of success in advancing aluminum parameters for the industry on its newest SLM 500."
See also:
---
Silicon Valley-Based Arevo Teams With Tokyo's AGC
Tuesday, December 3, 2019
Arevo, a Milpitas, CA-based provider of 3D printing systems, announced Tokyo-based AGC, Inc. as its strategic business partner in Japan. Under the agreement, AGC will provide on-demand production of ultra-strong, lightweight 3D-printed composite parts for the Japanese market. This service is based on Arveo's Aqua direct energy deposition printing system, reportedly the world's first industrial-grade continuous fiber 3D printing system capable of printing parts of up to 1-m cubic volume.
---
Largest formnext Yet
Monday, December 2, 2019
Formnext 2019, held last month in Frankfurt, Germany, welcomed 34,532 visitors representing aerospace, automotive, energy, medical and other markets, and 852 exhibitors from more than 30 nations. The numbers represent a 28-percent jump in attendance and a 35-percent gain in exhibitors over last year, and position the 2019 edition as
the largest formnext yet
.
"In its fifth year, formnext continues its impressive success story," says Sascha F. Wenzler, vice president-formnext at event organizer Mesago Messe Frankfurt GmbH. "AM definitely has arrived, and together with our enormously dynamic industry, we will continue to accompany, support and advance this development as a trade-fair organizer."
The event promoted the United States as a partner country, with visitors able to experience a varied supporting program designed by the U.S. Commercial Service and numerous industry groups. The transatlantic AM Standards Forum, taking place for the second time at formnext 2019, further advanced the development of crucial uniform norms and standards for AM. More than 50 U.S. exhibitors dotted the show floor and the U.S. pavilion.
"Formnext is very important for the industry and for U.S. companies," says Ken Walsh, principal commercial officer and head of the commercial section for the U.S. Commercial Service. "Participation of U.S. exhibitors grew by almost 40 percent as compared to 2018 (with the number of U.S. visitors increasing by 25 percent)…we could really show the variety of innovative products and services offered by American companies."
The still-young world of AM also is attracting more and more investors, with formnext 2019 seeing a significant increase in interest from venture-capital and industrial firms looking to become strategic partners for young companies, according to show organizers. To assist, formnext offered the Start-up Challenge and the Start-up Area, platforms that enabled startups to introduce themselves to the international AM community as well as to potential investors.
Formnext 2020
will take place November 10-13, 2020, in Frankfurt.
---