3D Metal Printing Newsletter
January 2, 2019
Wednesday, January 2, 2019

January 2, 2019 | Subscribe | Become a Sponsor
Read All About It
Video: This Company Wants to Use Robotics and 3D Printing to Colonize Space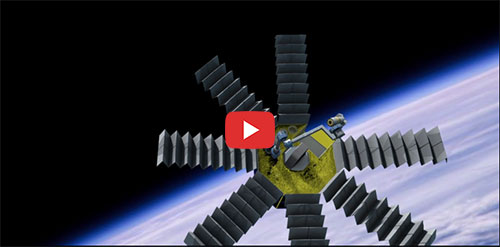 Moffett Field, CA-based Made in Space is developing Archinaut, a floating robotic factory designed to 3D print and assemble large structures.
3D-Printed Part Added to Boeing 787
Spirit AeroSystems, a Wichita, KS-based provider of aerostructures, has received from its Norwegian partner Norsk Titanium its first 3D-printed commercial aircraft part, slated for a Boeing 787 Dreamliner. The part: a fitting for an access door, printed by Norsk and finished by Spirit.


Sponsors
2019 AMUG Conference
AMUG Conference attendees are engaged, open and willing to share.
The AMUG Conference provides a unique additive manufacturing (AM) training and education experience. Designed to facilitate information exchange between AM users, the conference brings together individuals of all experience levels that wish to do more with AM. What makes the AMUG Conference particularly unique is the openness of attendees and their willingness to share. The AMUG Conference runs from March 31 to April 4, 2019. For information and links to registration, visit
www.amug.com
Industry News
☉
Today's News
☉
Aurora Labs and WorleyParsons Announce Additive Manufacturing Joint Venture
☉
Professor Gideon Levy Selected for AMUG Innovators Award
☉
Additive-Manufactured Sensors Maker Purchases Advanced Hybrid System by Nano Dimension
☉
Acquisition of Huffman Deepens Optomec's Penetration Into Production Applications
You Ought to Know
Navajo Technical University to Build Center for Advanced Manufacturing
Navajo Technical University (NTU) in Crownpoint, NM, announced its procurement of a $3.5-million grant from the National Science Foundation (NSF) to establish the NTU Center for Advanced Manufacturing. The new center will house courses on 3D modeling and simulation, polymer and metal additive-manufacturing (AM), and post-processing techniques. It also will focus on materials testing and characterization, and metrology.

America Makes Announces Two AM Projects
America Makes, a Youngstown, OH-based AM accelerator, announced that research and development teams led by GE Global Research, Arizona State University and the International Additive Manufacturing Center of Excellence were selected to participate in two projects funded by the U.S. Air Force Research Laboratory.
ASTM Group Looks to Create AM Standards
ASTM International's committee on AM technologies has launched a new subcommittee for creating standards that support the growing number of AM applications across various industry sectors.
In This Issue
In The Next Issue
☉

Ford Big on AM— Following in the footsteps of medical and aerospace, the automotive industry is making a huge splash. So what is Ford up to? A lot.


☉

Formnext and FABTECH Wrapups—What you've read above is only a sample. See much more of what the editors of 3DMP saw at formnext, the AM industry's signature international event, and in the 3D/Additive Manufacturing Pavilion at FABTECH.
Become Involved
☉
Subscribe to the Magazine
☉
Become a Sponsor
☉
2019 Media Kit
Published by