3D Metal Printing Newsletter
December 5, 2018
Wednesday, December 5, 2018

December 5, 2018 | Subscribe | Become a Sponsor
Read All About It
A First Look at 3D Printing at Ford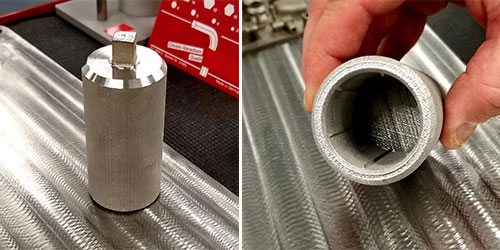 At an open house on December 4, Ford Motor Co. showcased its Advanced Manufacturing Center, a $45-million, 100,000-sq.-ft. facility in Redford Township, MI, that the company opened this past summer to help push new technologies into manufacturing operations. During 3D Metal Printing's tour, we glimpsed the automaker's extensive additive-manufacturing (AM) development work—including tools, jigs and fixtures; robotic end-of-arm tooling; and production parts—on a variety of metal- and resin-AM machines. On the metals side, the center features a Desktop Metal Studio System currently running 17-4 stainless steel as well as two SLM Solutions 500 HL units (delivered only a few weeks back), one running AlSi10Mg aluminum alloy and the other 316L stainless.
Pictured is a metal tool—Ford's first, according to Harold Sears, additive manufacturing technical leader for manufacturing—that provided a rapid payoff for Ford via the SLM machine. The tool slips over the input shaft of a transmission, allowing a technician to turn the transmission by hand via a ratchet attachment to spin and correctly balance and position the transmission. It's made of 316L to replace a costly hardened-tool-steel predecessor that required extensive lead time. Despite concerns that the softer stainless-steel internal splines (also pictured) would wear quickly, the tool has been able to turn more than 100 transmissions without replacement.
Formnext 2018 a Record Breaker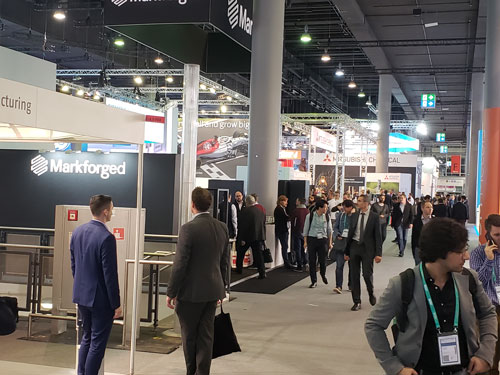 Formnext 2018, the world's largest additive-manufacturing (AM) tradeshow, set an attendance record during its run in Frankfurt, Germany, last month. The four-day show and conference welcomed 26,919 visitors, according to its organizers, topping 2017's numbers by 25 percent. The total number of exhibitors, 632 from 32 countries, also set a record. 3D Metal Printing was on hand as well, and we feature below, and in the coming Winter 2019 issue, some of the technology we spied.

Sponsors
TruPrint 3000: Made for Production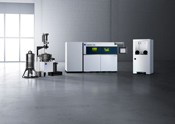 TRUMPF's
TruPrint 3000 powder bed fusion system
is designed for production. Utilization is increased with external part and powder handling, with time between build jobs reduced and operator safety improved. The large build volume, variable spot size, high preheat temperatures and dual supply cylinders provide advantages that are unmatched.
Industry News
☉
Today's News
☉
Siemens Introduces AM Process Simulation Solution for Improved 3D Printing Accuracy
☉
Forbes.com: We Need to Stop Equating Disruption with Displacement: Where Additive Fits Into Manufacturing
☉
3D Printing Provider Stratasys Expands Cloud-Based Global Manufacturing Network
☉
Auburn University Partners with Local Schools to Expand AM Education
You Ought to Know
United States to Be Showcased at formnext 2019
Formnext 2019, slated for November 19-22 in Frankfurt, Germany, will occupy a new location at Frankfurt Messe, Halls 11 and 12, and the United States will be showcased as the guest country, according to show organizers.
"The United States is one of the world's leading suppliers and users of additive-manufacturing technology–a fact that we took into consideration when choosing our guest country," says Sascha F. Wenzler, vice president for formnext at event organizer Mesago Messe Frankfurt.
An extensive promotional program and various country specials, among other things, are in the pipeline for next year's show, according to Wenzler, who notes that the active U.S. start-up scene has produced many young companies that have enjoyed international success.

Video: AM Reaching Potential as a Manufacturing Mainstay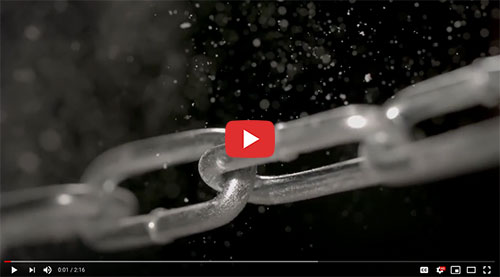 …for those willing to take innovative steps, according to this video from Sandvik.
Green-Laser Printing of Pure Copper and Other Precious Metals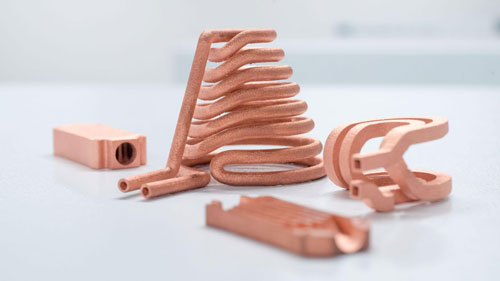 At formnext, Trumpf showcased the ability of its AM technology to process a range of materials, including pure copper and precious metals, via a new green laser with a pulse function.
"This makes it attractive for use in mechanical and plant engineering, as pure copper can be used to print particularly conductive inductors and heat exchangers," says Tobias Baur, Trumpf's general manager for additive manufacturing.
To achieve printing success with pure copper and precious metals, the developers connected Trumpf's new TruDisk 1020 disk laser with the TruPrint 1000 3D printer.
The green laser also holds great potential for gold printing in the jewelry industry, according to company officials, enabling individual unique pieces to be produced on demand while simultaneously saving expensive material.


Volkswagen and Additive Industries Announce Partnership
At formnext, Volkswagen and Additive Industries announced that they have entered into a long-term partnership to additively manufacture advanced tooling and spare parts for the Volkswagen Group. In September, Additive Industries installed its integrated MetalFAB1 system at the Volkswagen plant in Wolfsburg, Germany.
"The partnership with Volkswagen, the world's largest car maker, is a confirmation of our strategy to accelerate industrial additive manufacturing and focus on innovators in their markets," says Daan Kersten, CEO of Additive Industries.


Sponsors
In This Issue
In The Next Issue
☉

Formnext and FABTECH Wrapups—What you've read above is only a sample. See much, much more of what the editors of 3DMP saw at formnext, the AM industry's signature international event, and in the 3D/Additive Manufacturing Pavilion at FABTECH.


☉

AM Technology and Knowhow Revolutionize Facial Reconstruction—Advanced software combines with other technology and 3D-printing expertise to help surgeons provide a new lease on life.

Become Involved
☉
Subscribe to the Magazine
☉
Become a Sponsor
☉
2019 Media Kit
Published by

See also: TRUMPF Inc., Praxair Surface Technologies, Solar Atmospheres