3D Metal Printing Newsletter
October 17, 2018
Wednesday, October 17, 2018

October 17, 2018 | Subscribe | Become a Sponsor
Read All About It
Conference Includes Operator Training
This 3-day conference (Nov. 7-9), hosted by Altair and Renishaw in West Dundee, IL, covers a variety of topics related to designing for AM, and for manufacturing metal-AM parts. On the agenda: topology optimization, geometry creation, manufacturing constraints, part orientation, support structures, thermal distortion and residual stresses, design screening for AM suitability, and determining AM-processing parameters. Also, day three features operation-technician lead training, where attendees will learn the basics of AM-machine setup and tear-down, including machine calibration, build-plate prep, machine cleaning, powder handling and more. Learn more and register to attend.


U.S. Armed Forces Gain AM Systems
Nano Dimension Ltd., an Israel-based additive-electronics provider with operations in Santa Clara, CA, announced that it has sold two DragonFly Pro additive-manufacturing systems to the United States Armed Forces.


Boeing, Thermwood Partnership Yields Huge 3D-Printed Tool
Boeing, the Seattle, WA-based aerospace company, and Thermwood, a Dale, IN-based provider of manufacturing equipment, announced that they have teamed up to 3D-print a 12-ft.-long R&D tool for Boeing's 777x aircraft program.


GE Aviation Achieves AM Milestone
GE Aviation's plant in Auburn, AL, 3D-printed earlier this month its 30,000th additive manufactured (AM) fuel nozzle tip. Employees at the facility began producing the nozzle tip in 2015. Today, more than 40 printers are making the parts.


Sponsors
Are you having trouble with residual stress and other manufacturing anomalies in your AM Build?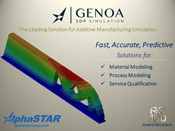 AlphaSTAR's design to print simulation solution, GENOA 3DP, addresses voids, delamination, bald spots and other irregularities during the print of plastic and metal parts. The toolset allows users to visualize defects and accurately predict the deformation (net shape), residual stress, damage initiation and damage propagation associated with an AM build. In addition, GENOA 3DP utilizes design of experiments, and other sensitivity analysis methodologies to identify an optimized build path.
Designed for its accuracy and ease of use, GENOA 3DP comes with a test validated library of polymer, metal and ceramic materials. End users can use GENOA 3DP's predictive capabilities to reduce trial & error, save time & money—and ultimately meet specs and performance requirements.
FREE EBOOK—How Metal Additive Manufacturing Delivers New Efficiencies in Lightweight Parts

Lightweighting allows component consolidation, increased performance, and supply chain efficiency. But when you look at the costs of keeping objects airborne or putting a rocket into space, lightweighting enters a league of its own.
Metal additive manufacturing eliminates restrictions of subtractive and formative manufacturing using new techniques. Metal parts don't have to be solid to perform to standard, and some even perform better when they're lighter and less solid.
Learn to increase part functionality while reducing part weight and material usage through integrated software and advanced metal powder-based sintering.
Reduce part production times by 50%
Produce lighter/stiffer parts
Design for lightweighting
Improve Fuel economy
Use less material to improve performance
Download ebook
Industry News
☉
Today's News
☉
Ansys and Granta Design Announce Collaboration
☉
Sciaky Provides Burloak with EBAM System
☉
White Paper Addresses Surface Finishing Challenges
☉
NAFTA No More: Introducing the US-Mexico-Canada Agreement
☉
New Division: Wilson Tool Additive
You Ought to Know
Wanted: Your Questions for 3D Metal Printing Column
The rapidly evolving world of additive manufacturing is filled with questions, and we want yours. In her Additive Manufacturing Q&A column, Caitlin Oswald employs extensive experience and expertise to clarify issues surrounding the technology and its processes, and provides answers you can use. E-mail your questions for Oswald to Brad Kuvin, 3D Metal Printing publisher/editorial director, at bkuvin@pma.org.

Visit with 3DMP at FABTECH's 3D/Additive Manufacturing Pavilion
Are you attending FABTECH, November 6-8 in Atlanta, GA? Then be sure to check out the 3D/Additive Manufacturing pavilion, located in Georgia World Congress Center Hall B, and stop by to visit 3D Metal Printing magazine, published by the Precision Metalforming Association, at Booth B5635. The pavilion, now in its second year as part of FABTECH, promotes additive-manufacturing (AM) prototype and part production as well as production of workholding devices and production tools. Visit exhibitors showcasing printing machines, hybrid equipment, materials, software and other AM-related products and services. The Knowledge Bar, held in the 3D/Additive Manufacturing Pavilion, features small group sessions where attendees can ask questions about specific AM challenges and find out what's new from industry experts. These sessions, presentation-free, are all about engaging with knowledgeable people, working through challenges and meeting specific information needs. For the latest on exhibitors, technologies and presentations slated for the 3D/Additive Manufacturing pavilion, visit www.fabtechexpo.com.


Sponsors
Register: Design & Building a Component in Metal with Additive Technologies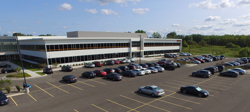 Industrial 3D-Printing has increasingly become available and enables the cost-efficient production of bionic structures and weight-optimized parts to drive down product weight. Join Renishaw & Altair for this 2.5 day training on November 7th - 9th 2018 to learn how to design a lighter, optimized 3D printed part. Training attendees will have the opportunity to observe and experiment with deigning a part in the traditional way and designing a lighter, optimized 3D printed part. Register Today
Visit 3Dprintforums.com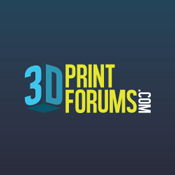 The peer-to-peer resource for 3D printing and additive manufacturing discussions, news, and product information just got a whole new look. See it now and register for your free membership at 3Dprintforums.com to get the inside scoop and latest trends.
In This Issue
Easing AM Design
Achieving the proper AM build orientation is quite a trick. In fact, often there is no "right" orientation, only an optimized solution with tradeoffs made along the way. To tackle the orientation issue, and how it impacts thermal distortion, 3D Metal Printing talked with Scott Volk, chief technology officer for Incodema3D, Freeville, NY.
Researchers Use X-Rays to Improve 3D Parts
Scientists at the Department of Energy's SLAC National Accelerator Laboratory in Menlo Park, CA, are using X-ray light to observe and better understand 3D metal-printing processes in order to help manufacturers quickly build reliable parts in factories, on ships or planes, and in space.
In The Next Issue
☉

Material Testing Key to AM Quality Management—Testing machines and software pay off big time for manufacturers of aerospace parts, and for the makers of the machines used to print them.


☉

Formnext: AM Takes Center Stage in Frankfurt—Frankfurt, Germany, is the place to be for AM professionals, as formnext 2018, the largest AM event in the world, kicks off November 13.
Become Involved
☉
Subscribe to the Magazine
☉
Become a Sponsor
☉
2019 Media Kit
Published by

See also: Renishaw, Inc., 3D Systems, Alpha Star Corporation