3D Metal Printing Newsletter
September 19, 2018
Wednesday, September 19, 2018

September 19, 2018 | Subscribe | Become a Sponsor
Read All About It
Researchers Use X-Rays to Improve 3D Parts
Scientists at the Department of Energy's SLAC National Accelerator Laboratory in Menlo Park, CA, are using X-ray light to observe and better understand 3D metal-printing processes in order to help manufacturers quickly build reliable parts in factories, on ships or planes, or even in space. Read more.


Sciaky to Provide World's Largest AM Machine
Sciaky, Inc., a Chicago-based subsidiary of Phillips Service Industries, Inc. and provider of metal additive-manufacturing (AM) solutions, will provide what is believed to be the world's largest production metal 3D printer to FamAero, a privately owned metal 3D-printed-parts bureau in Fenton, MI. Read more.


Video: High-Speed Metal Printer Makes Big Splash at IMTS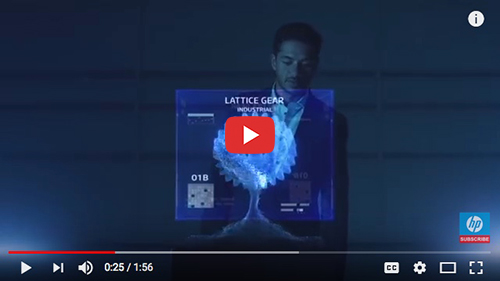 Metal AM was on prominent display at IMTS 2018, where 3D Metal Printing's editors spied a wealth of innovative products. Topping that list, the HP Metal Jet, designed for high-volume manufacturing of production-grade metal parts and leveraging the company's expertise in inkjet technology.

Sponsors
FREE EBOOK—How Metal Additive Manufacturing Delivers New Efficiencies in Lightweight Parts

Lightweighting allows component consolidation, increased performance, and supply chain efficiency. But when you look at the costs of keeping objects airborne or putting a rocket into space, lightweighting enters a league of its own.
Metal additive manufacturing eliminates restrictions of subtractive and formative manufacturing using new techniques. Metal parts don't have to be solid to perform to standard, and some even perform better when they're lighter and less solid.
Learn to increase part functionality while reducing part weight and material usage through integrated software and advanced metal powder-based sintering.
Reduce part production times by 50%
Produce lighter/stiffer parts
Design for lightweighting
Improve Fuel economy
Use less material to improve performance
Download ebook
A Fast, Accurate & Predictive AM Simulation Tool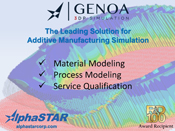 AlphaSTAR's design to print simulation solution, GENOA 3DP, allows users to visualize defects predict bald spots, residual stress and deformation during the AM process. The toolset is able to assess manufacturing anomalies and also identify the effect of defects on part performance and qualification.
Designed for its accuracy and ease of use, GENOA 3DP comes with a test validated library of polymer, metal and ceramic materials.
End users can use GENOA 3DP's predictive capabilities to reduce trial & error, save time & money – and ultimately meet specs and performance requirements.
Industry News
☉
Today's News
☉
BeAM and CGTech Join Forces
☉
GKN Aerospace Reaps Benefits of 3D Printer
☉
NextGenAM Pilot Plant Now Operating in Germany
☉
ABS Guidance Notes Advance 3D Printing
You Ought to Know
Seminar Focuses on Getting Started
The Getting Started with Additive Manufacturing seminar on September 26, in Pomona, CA, provides direct access to Austria-based Voestalpine's latest technologies. Read more.

Singapore Is Site of New 3D-Printing Center
Quality-assurance and risk-management firm DNV GL, a Norway-based quality-assurance and risk-management firm, has set up a 3D-printing center in Singapore to incubate and test the technology for the oil and gas, and offshore and marine sectors. Read more.

In This Issue
Successful Missile-Part Simulation
This project proved out simulation in supplying a cost-effective AM part for the U.S. Missile Defense Agency.
Printing Metal Prototypes
…enables this supplier of stamped automotive-exhaust components to study fluid dynamics and study environmental factors to quickly and cost-effectively validate iterative part designs.
Sponsors
Visit 3Dprintforums.com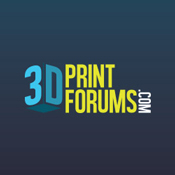 The peer-to-peer resource for 3D printing and additive manufacturing discussions, news, and product information just got a whole new look. See it now and register for your free membership at 3Dprintforums.com to get the inside scoop and latest trends.
In The Next Issue
☉

Leveraging AM for Auto Production—Optimization technology enables efficient part-design and -build processes, leading to huge reductions in part costs and build times for an aftermarket automotive part.


☉

Form-Follows-Function Success: 3D-Printed Coolant Nozzles—To unlock the huge opportunities offered by 3D printing, designers need to rethink their approach. Coolant-system experts at Grindaix are doing exactly that as part of a joint project to develop concepts for printing different nozzles in a single operation on large-scale 3D printers.
Become Involved
☉
Subscribe to the Magazine
☉
Become a Sponsor
☉
2018 Media Kit
Published by

See also: Alpha Star Corporation, 3D Systems, Solar Atmospheres