3D Metal Printing Newsletter
August 15, 2018
Wednesday, August 15, 2018

August 15, 2018 | Subscribe | Become a Sponsor
Read All About It
Digital Alloys Gains $12.9 Million from Boeing,
Lincoln Electric and G20 Ventures
Digital Alloys, Inc., Burlington MA, provider of metal additive-manufacturing (AM) technology, has announced a $12.9-million Series B round of financing led by G20 Ventures, Boston, MA, and joined by Boeing HorizonX Ventures, Chicago, IL, and Lincoln Electric, Cleveland, OH. The company uses wire feedstock and high deposition rates to print metal parts, reportedly at low cost. Read more.
GE Additive Announces Deal with Honda Aircraft
Honda's Aircraft Engine Research and Development Center has selected GE Additive's AddWorks team to provide consultative services, with the goal of accelerating applications of AM in the aerospace sector. Read more.

Sponsors
GENOA 3DP Simulation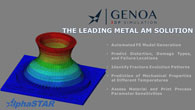 ...is an additive manufacturing design tool and software suite that simulates the 3D printing process, for both polymers and metals, to accurately predict the deflection, residual stress, damage initiation, and crack growth formation associated with as-built AM parts. Advanced Multi-Scale Progressive Failure Analysis methods are used to replicate the entire 3D printing process from the level of Material Characterization to Advanced Structural Analysis in order to determine voids, delamination, manufacturing anomalies, and other irregularities and inefficiencies from micro to macro scales. More significantly, GENOA 3DP Simulation provides the end user with the ability to import or generate a structural mesh, run an analysis, identify material and process parameter sensitivities and optimize the AM build in order to reduce waste. reduce weight, improve performance and meet specification.
Click to Watch
AlphaSTAR's latest webinar to identify how GENOA3DP can help AM part production.
FREE EBOOK—How Metal Additive Manufacturing Delivers New Efficiencies in Lightweight Parts

Lightweighting allows component consolidation, increased performance, and supply chain efficiency. But when you look at the costs of keeping objects airborne or putting a rocket into space, lightweighting enters a league of its own.
Metal additive manufacturing eliminates restrictions of subtractive and formative manufacturing using new techniques. Metal parts don't have to be solid to perform to standard, and some even perform better when they're lighter and less solid.
Learn to increase part functionality while reducing part weight and material usage through integrated software and advanced metal powder-based sintering.
Reduce part production times by 50%
Produce lighter/stiffer parts
Design for lightweighting
Improve Fuel economy
Use less material to improve performance
Download ebook
Industry News
☉
Today's News
☉
Aconity3D to Call UTEP Home
☉
Midwest Prototyping Acquires Tenere, Expands to Colorado
☉
German Research Project for Aircraft Industry
☉
Canadian AM Satellite Launches with SpaceX
You Ought to Know
Study Emphasizes Importance of Hybrid Manufacturing
A new study looks at the utilization of hybrid manufacturing in the United States, as well as the locations of AM hubs and potential places for hubs to complement traditional machine shops. Read more.

Video: Expert Overview of Trends and Processes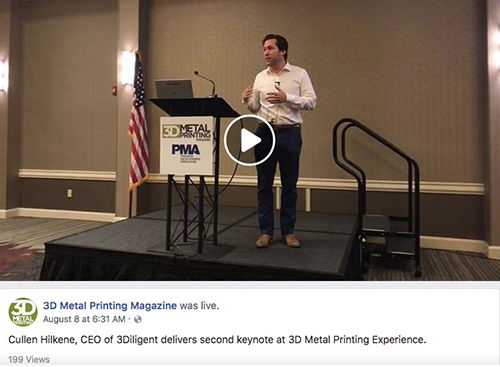 During last week's 3D Metal Printing Experience and Tech Tour in Pittsburgh, PA, Cullen Hilkene, CEO of 3Diligent, provided a high-level overview of the most common metal-printing processes. Check it out.

Last Call! August 16—Webinar, Identifying Parts for Additive Manufacturing. Speaker: Kyle Adams, application specialist, SLM Solutions NA. Attendees will gain an overview of how to assess their components in taking the first steps toward implementing a metal-AM strategy. Register.
August 23—Webinar, How Metal Additive Manufacturing Delivers New Efficiencies in Lightweight Parts. Speaker: Bryan Newbrite, advanced aerospace applications leader, 3D Systems Corp. Learn to increase part functionality while reducing part weight and optimizing material usage. Register.

In This Issue
Arconic Goes All-In on AM
For parts large and small, this iconic manufacturer is developing materials and techniques to forward the technology and feed its aerospace customers.
Conversation with BasTech, Inc.
Ben Staub, president of BasTech, provides real-life examples where metal AM makes sense for toolmaking.
In The Next Issue
☉

Successful Missile-Part Simulation—This project proved out simulation in supplying a cost-effective AM part for the U.S. Missile Defense Agency.


☉

2018 AMUG and Rapid + TCT Offered Plenty—New printer technology, quality-control systems and software, and a whole lot more.
Become Involved
☉
Subscribe to the Magazine
☉
Become a Sponsor
☉
2018 Media Kit
Published by

See also: 3D Systems, Alpha Star Corporation