3D Metal Printing Newsletter
March 2018
Wednesday, March 7, 2018

March 7, 2018 | Subscribe | Become a Sponsor
Read All About It
Collaboration Results in CarboPrint Composites
3D printing with carbon, the focus of a collaboration between Germany-based SGL Group and Pittsburgh-based ExOne, has led to the development of CarboPrint (metal-carbon) composites for additive-manufacturing applications.

"ExOne has formed a unique collaborative relationship with SGL Group, which developed a material that is ideally suited for our binder-jetting technology," says Rick Lucas, ExOne's chief technology officer. "It offers extensive knowledge on raw material and powder preparation, as well as versatile technologies for post-processing carbon components. ExOne, with our industrial binder-jetting technology, contributes competencies in 3D printing."

Sponsors
Case Study: Stanley Black & Decker Slashes Costs and Time with Metal 3D Printing
Engineers from Stanley Black & Decker were searching for a cost-effective way to manufacture low volume, complex parts. After exploring metal 3D printing technologies and rigorously testing a couple key components, Stanley Black & Decker chose
Markforged
's new Metal X additive manufacturing technology to produce reliable, 3D printed production parts and slashed their capital costs and lead times. Download the case study to analyze the part and performance comparison from Stanley Black & Decker's original parts versus the parts printed on the Metal X 3D printing system. You'll see why their engineers believe they can save thousands of dollars per year on just one 3D printed part, while replicating the part quality and reliability they expect from machined parts.
Read the Case Study
GENOA 3DP Simulation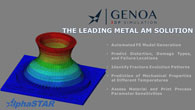 ...is an additive manufacturing design tool and software suite that simulates the 3D printing process, for both polymers and metals, to accurately predict the deflection, residual stress, damage initiation, and crack growth formation associated with as-built AM parts. Advanced Multi-Scale Progressive Failure Analysis methods are used to replicate the entire 3D printing process from the level of Material Characterization to Advanced Structural Analysis in order to determine voids, delamination, manufacturing anomalies, and other irregularities and inefficiencies from micro to macro scales. More significantly, GENOA 3DP Simulation provides the end user with the ability to import or generate a structural mesh, run an analysis, identify material and process parameter sensitivities and optimize the AM build in order to reduce waste. reduce weight, improve performance and meet specification.
Click to Watch
AlphaSTAR's latest webinar to identify how GENOA3DP can help AM part production.
Industry News
☉
Bossard Group Enters 3D-Printing Market
☉
New Headquarters Enables Additive Industries to Consolidate Operations
☉
3D Printing Can Accelerate Motorcycle Product Development
☉
Oerlikon-Farsoon Announce Agreement to Increase AM in China
You Ought to Know
AM Certification Program Announced
The Society of Manufacturing Engineers (SME) and Underwriters Laboratories (UL) have joined forces to develop an additive-manufacturing (AM) certification program. With America Makes as the lead sponsor, the three-tiered program combines UL's multi-tiered training program and Tooling U-SME's professional certification. The first tier is the AM Fundamentals Certification, with a review course and exam to be offered in April at AMUG and Rapid + TCT. Tier Two, the AM Technician Certification, is in the works and will be administered in person with a prep course and certification exam, and addresses technical details and the application of AM. UL leads the development of the review/preparation class and Tooling U-SME is working on the certification requirements and the exam. Additionally, more advanced certification tiers may be developed as part of this collaboration. Digital badges will be issued for all certifications.


Video: 3D metal printing of hydraulic manifold by Aidro Hydraulics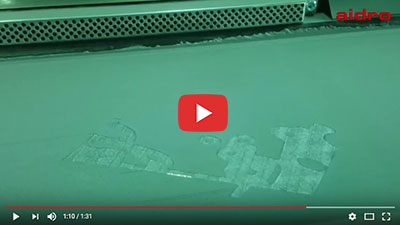 3D printing for manufacturing hydraulic manifolds results in lighter, smaller and more functional parts than conventionally manufactured manifolds. Watch video


Register Now
Laser Additive Manufacturing Conference, March 27-28, Schaumburg, IL
Presentations on when, where and how to use laser AM will cover design, materials, modeling and manufacturing. Applications will be discussed. Learn more about the event and register.

Sponsors
RAPID + TCT 2018 - Conference Announced
The globally renowned
RAPID + TCT
conference brings together over 150 industry experts to speak on the latest processes, applications, materials, and research in additive manufacturing. You'll hear from the most influential leaders in the industry about how 3D technologies can solve many industry challenges.
Join us in St. Louis for the Additive Manufacturing Users Group (AMUG) Conference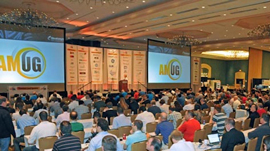 Participate in the conference designed for users, by users. Get ready for the biggest and best
AMUG Conference
ever. There will be more users at the event and more technologies represented. With AMUG's expanded scope, expert, intermediate and novice users of all commercial additive manufacturing technologies are welcome. Join us from April 8 – 12, 2018, in St. Louis, Missouri, to learn, exchange ideas and build your professional network.
Eye-Opening Metal-AM Technology
The recent formnext exhibition and conference in Frankfurt, Germany, was the place to be to see new machines, materials and software for 3D metal printing.
GE Additive Efforts Taking Flight
An advanced turbo-prop project is a result of disruptive engineering, with nature providing key sources of design-engineering inspiration.
Sponsors
Visit 3Dprintforums.com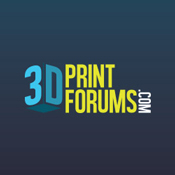 The peer-to-peer resource for 3D printing and additive manufacturing discussions, news, and product information just got a whole new look. See it now and register for your free membership at 3Dprintforums.com to get the inside scoop and latest trends.
Reduce Cost and Lead Time Associated with Fixture Design and Build

What's the latest tool in the toolbox for jig and fixture design and build? 3D printing. Here's a well-crafted 19-page white paper that explains:
What applications make the best fit for using 3D-printed jigs and fixtures.
The design basics associated with jig and fixture development.
Best practices for designing 3D-printed fixtures.
In The Next Issue
☉

Youngstown State University Advances Additive—With $10 million in funding, a myriad of processes and equipment and an impressive faculty leading the charge, YSU research impacts aerospace and more.


☉

Research Homes in on Laser-Powder Defects—Cutting-edge research at Argonne National Laboratory outside of Chicago uses high-speed x-rays to microscopically examine laser-powder deposition layer by layer, molecule by molecule. The ultimate goal: determining how defects form, and how to prevent them.
Become Involved
☉
Subscribe to the Magazine
☉
Become a Sponsor
☉
2018 Media Kit
Published by

See also: 3D Systems, Markforged, Alpha Star Corporation