3D Metal Printing Newsletter
February 2018
Wednesday, February 7, 2018

February 7, 2018 | Subscribe | Become a Sponsor
Read All About It
University Receives Nearly $300,000
for Additive Manufacturing Education
The University of Central Lancashire (UCLan) in England received nearly $300,000 of funding through the Higher Education Funding Council for England (HEFCE) Catalyst Fund to help advance additive manufacturing (AM). The money is part of an $8.5 million fund benefitting more than 30 universities and colleges.

UCLan's share of the funding goes toward its Additive Manufacturing Education Program (AMEP) for training educators and future engineers. The UCLan program, developed as a proactive response to a skilled-labor shortage within engineering and manufacturing in England, has helped increase productivity within the AM sector by supporting the development of skilled people through teaching and learning activities.

"Additive manufacturing is a key component of advanced manufacturing with the potential to accelerate innovation and productivity across many sectors in the UK," says Dr. John Lonsdale, director of innovation and enterprise at UCLan. "There is a requirement for a significant shift in engineering education in order to support the future of this method of manufacture. The HEFCE funding means we will be able to accelerate and expand the delivery of teaching and learning activities to address the skills gap and develop and sustain AMEP."

Sponsors
Production-Grade Metal 3D Printing Solutions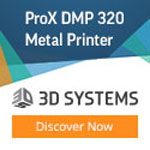 3D Systems
is the industry leader in metal 3D production printers. Our product ecosystem includes a broad portfolio of metal 3D printers featuring fully integrated software for metal additive manufacturing and an extensively tested choice of materials. Our technology allows for reduced waste, greater production speed, short setup times, and very dense, pure parts. For example, the ProX DMP 320 easily scales for high-volume production with quick-swap build modules and fast powder recycling to keep up with your production needs.
3D Systems
' metal printers reduce time, cost, and part weight. Our team of specialists provides expert support and can show you how to produce tools, components, and products with reduced weight, increased functionalities, and simplified assemblies.
Contact a specialist
Metal 3D Printing from Design to Finished Part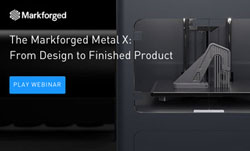 At the intersection of 3D printing and metal injection molding, ADAM (Atomic Diffusion Additive Manufacturing) is an all new way to build metal parts. Hear from Jon Reilly, VP of Product at
Markforged
, about how the Metal X and the new ADAM metal printing technology will transform the industry of additive metal manufacturing. In this webinar, Jon will guide you through the metal 3D printing experience with the Metal X printer, from designing your part to implementing it on the manufacturing floor. See what you can create with the most advanced 3D printing system available.
Watch the On-Demand Webinar
Industry News
☉
Kallista Debuts 3D-Printed Faucet
☉
Sintavia Partners with Taiyo Nippon Sanso
☉
DOE Researchers Use X-Rays to Improve 3D Parts
☉
EOS Opens New Plant
Sponsors
Bigger and Better—TruPrint 3000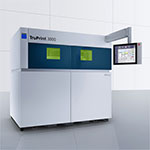 TRUMPF's TruPrint 3000
produces complex metal components using powder bed fusion. Features include a large build volume (300 mm x 400 mm), variable spot size (100-500 micron), preheat temperatures up to 200°C, and external part and powder management. The quickly replaceable build and powder supply cylinders are ideal for maximizing productivity.
Visit 3Dprintforums.com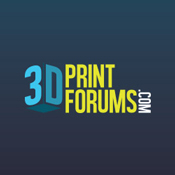 The peer-to-peer resource for 3D printing and additive manufacturing discussions, news, and product information just got a whole new look. See it now and register for your free membership at 3Dprintforums.com to get the inside scoop and latest trends.
You Ought to Know
ASTM Announces First for AM and PM
The American Society for Testing and Materials (ASTM) has announced its first proficiency-testing program for AM and powder metallurgy (PM). The program provides laboratories with a statistical-quality-assurance tool, enabling them to compare, improve and maintain a high level of performance in the use of ASTM methods with other laboratories worldwide. The PM testing and characterization program will measure PM properties. Conducted twice annually, the program provides a different commercial sample for each test cycle. Electronically distributed samples, test instructions and data report forms go to each laboratory contact on the date samples. Laboratories have approximately 8 wk. to submit test data, with final statistical summary reports electronically distributed in approximately 25 business days.

Video: Tough Spray Work No Problem for Cobots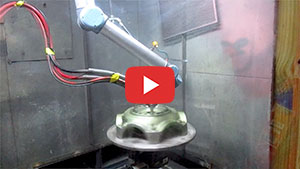 Aircraft Tooling Inc. (ATI), a Texas-based repair center for the aviation industry, often employs metal-powder and plasma-spray processes, but harsh operating conditions can play havoc with equipment. Looking to combat that challenge, ATI has employed collaborative robots, or cobots, from Universal Robots. The cobots, now in operation for three years, have not experienced breakdowns nor required lengthy service. Watch the video and see how the cobots pay off big for ATI, and look for more details on the ATI-Universal Robots relationship in the Spring issue of 3DMP.


Register Now
Laser Additive Manufacturing Conference, March 27-28, Schaumburg, IL
Presentations on when, where and how to use laser AM will cover design, materials, modeling and manufacturing. Applications will be discussed. Learn more about the event and register.

Sponsors
RAPID + TCT 2018 - Conference Announced
The globally renowned
RAPID + TCT
conference brings together over 150 industry experts to speak on the latest processes, applications, materials, and research in additive manufacturing. You'll hear from the most influential leaders in the industry about how 3D technologies can solve many industry challenges.
Join us in St. Louis for the Additive Manufacturing Users Group (AMUG) Conference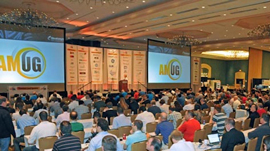 Participate in the conference designed for users, by users. Get ready for the biggest and best
AMUG Conference
ever. There will be more users at the event and more technologies represented. With AMUG's expanded scope, expert, intermediate and novice users of all commercial additive manufacturing technologies are welcome. Join us from April 8 – 12, 2018, in St. Louis, Missouri, to learn, exchange ideas and build your professional network.
5 Reasons Why You Need to Attend AeroDef Manufacturing 2018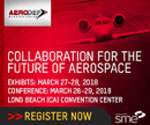 AeroDef is produced in partnership with OEMs and leading suppliers.
Connect with more than 1,300 of the industry's best thinkers, doers and decision makers.
Meet 185+ technology and service providers.
Tailor your learning experience with 120+ education sessions.
Gain expert knowledge from the 130+ aerospace and defense manufacturing leaders.
In This Issue
Educating AM Customers
Concurrent Technologies Corp.'s AM operations focus on developing engineered AM solutions for customers, but only after teaching them how to specify, design and purchase 3D metal-printed parts.
BackTalk
FAA initiative shows that aerospace is flying high.
In The Next Issue
☉

GE Additive Efforts Taking Flight—An advanced turbo-prop project is a result of disruptive engineering, with nature providing key sources of design-engineering inspiration.


☉

AM for the OR—University of Louisville business incubator team collaborates with Concept Laser, Inc. to deliver 3D- printed laparoscopic instruments.
Become Involved
☉
Subscribe to the Magazine
☉
Become a Sponsor
☉
2018 Media Kit
Published by

See also: 3D Systems, TRUMPF Inc., Markforged, Praxair Surface Technologies