3D Metal Printing Newsletter
January 2018
Wednesday, January 3, 2018

January 3, 2018 | Subscribe | Become a Sponsor
Read All About It
Cambridge University's 3D Printing Society
Commits to Creating U.K. Network
The student-run University of Cambridge 3D Printing Society (CU3DSoc), Cambridge, England, has big plans. Launched in 2016 and comprised of 30 engineering undergrads with access to several Stratasys printers, the organization intends to create greater awareness for the potential of 3D printing as it seeks to include arts, architecture and medical students as CU3DSoc members in 2018. It also is working with 3D-printing societies at the University of Oxford and Huddersfield University to create a national network of 3D resources.

"Additive manufacturing and companies like Stratasys will continue to play a larger role in advancing multiple industries," says James Roberts, who was a first-year undergraduate student when he cofounded the society. "We want the next generation of engineers to be prepared, to have knowledge of additive manufacturing and to be able to confront the problems of the modern global workforce head on."

Sponsors
Visit 3Dprintforums.com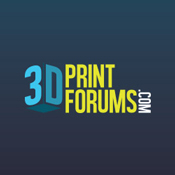 The peer-to-peer resource for 3D printing and additive manufacturing discussions, news, and product information just got a whole new look. See it now and register for your free membership at
3Dprintforums.com
to get the inside scoop and latest trends.
Industry News
☉
GE Increases Arcam Stake
☉
Desktop Metal Begins Shipping
☉
Arcam EBM Announces Expansion Plans
☉
Youngstown Business Incubator Adds Additive Manufacturing Building
You Ought to Know
Top 5 3D-Printed Items in 2017
2017 was the year that additive manufacturing "took a series of big steps out of the realm of niche prototyping and into the world of mass manufacturing," writes Erin Winnick in the MIT Technology Review, which recently released its list of the "five most amazing things that were 3D-printed this year." The five items:
Jet-engine combustion liner by GE Additive using laser sintering and overcoming size limitations associated with the process;
Stronger steel using a laser-sintering printer to control the microscopic grain structure of the metal – a process developed by Lawrence Livermore National Laboratory;
Metal parts in minutes using Desktop Metal's single-pass jetting technology;
Plastic parts in minutes by MIT researchers using a machine with heat-generating laser and high-pressure screw mechanism; and
Running shoes by Adidas using a photochemical process from Carbon, Inc.
Register Now
Laser Additive Manufacturing Conference
March 27-28, Schaumburg, IL
Presentations on when, where and how to use laser additive manufacturing will cover design, materials, modeling and manufacturing. Applications will be discussed. Learn more about the event and register.


Sponsors
RAPID + TCT 2018 - Accelerating 3D Manufacturing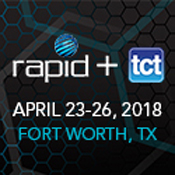 With the constant emergence of new technologies, machines, and materials, additive manufacturing is evolving so quickly that if you do not stay up to speed, you'll be left behind. At
RAPID + TCT
, experience hundreds of hands-on exhibits, groundbreaking product announcements, education from the industry's most respected experts, and unparalleled networking.
Join us in St. Louis for the
Additive Manufacturing Users Group (AMUG) Conference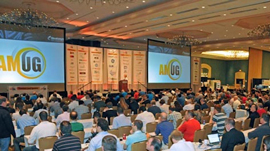 Participate in the conference designed for users, by users. Get ready for the biggest and best
AMUG Conference
ever. There will be more users at the event and more technologies represented. With AMUG's expanded scope, expert, intermediate and novice users of all commercial additive manufacturing technologies are welcome. Join us from April 8 – 12, 2018, in St. Louis, Missouri, to learn, exchange ideas and build your professional network.
In This Issue
Educating AM Customers
Concurrent Technologies Corporation's additive-manufacturing (AM) operations focus on developing engineered AM solutions for customers, but only after teaching them how to specify, design and purchase 3D metal-printed parts.
TCT Recap
The 2017 edition of this 3D-printing event, held annually in Birmingham, United Kingdom, had plenty to offer for fans of metal additive manufacturing.
In The Next Issue
☉

GE Additive Efforts Taking Flight—An advanced turbo-prop project is a result of disruptive engineering, with nature providing key sources of design-engineering inspiration.


☉

AM for the OR—University of Louisville business incubator team collaborates with Concept Laser, Inc. to deliver 3D- printed laparoscopic instruments.

Become Involved
☉
Subscribe to the Magazine
☉
Become a Sponsor
☉
2018 Media Kit
Published by

See also: Markforged