3D Metal Printing Newsletter
December 2017
Wednesday, December 6, 2017

December 6, 2017 | Subscribe | Become a Sponsor
Read All About It
Strong Growth Predicted for Global
3D Metal Printing and 3DMP Software Markets
The global 3D-metal-printing market is expected to experience a compounded annual growth rate of 33 percent for 2017-2023. This according to a report by Infinium Global Research, which includes analysis of North America, Europe, Asia-Pacific and RoW (rest of world) nations—more than 35 different markets in Southeast Asia, Asia-Pacific, Africa and the Middle East.

Meanwhile, the 3D Printing Software 2018-2028: Technology and Market Analysis report by Research and Markets analyst forecasts that the global market for 3D-metal-printing market will grow at a compounded annual rate of 22 percent and will be worth $966 million by 2028. Driving growth, according to the report, is "the push to develop software that enables design for additive manufacture in order to fully leverage the design freedoms offered by 3D printing."




Sponsors
Visit 3Dprintforums.com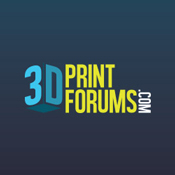 The peer-to-peer resource for 3D printing and additive manufacturing discussions, news, and product information just got a whole new look. See it now and register for your free membership at
3Dprintforums.com
to get the inside scoop and latest trends.
Industry News
☉
CI Expands AM Efforts with Acquisition of NVBOTS
☉
Renishaw and Identify3D Collaborate to Enable Secure Digital Manufacturing
☉
GE Additive Acquires GeonX
☉
Matsuura Machinery USA Names Ethen Lumex Application Engineer
☉
Trumpf Announces Collaborative Agreement With A3DM Technologies
You Ought to Know
UM Dedicates 3D Lab
The newly opened University of Miami (UM) College of Engineering-Johnson & Johnson 3D Printing Center of Excellence Collaborative Laboratory will support joint research, materials development and testing of 3D-printing technologies and processes. The 5850-sq.-ft. facility in Coral Gables, FL, includes two 3D metal printers—one using titanium powder and the other, stainless steel. Students will work alongside Johnson & Johnson engineers and scientists.

During the facility's dedication, Joseph Sendra, worldwide vice president of manufacturing engineering and technology at Johnson & Johnson, noted the significant progression of 3D printing over the years. "What's different today is the cyber-physical interconnectivity between man and machine. It's the digital coming together with what's real," said Sendra, who graduated from UM's College of Engineering with a degree in Industrial Engineering in 1993 and is one of three UM alumni who helped bring the new Collaborative Laboratory to the university.



Register Now
Laser Additive Manufacturing Conference
March 27-28, Schaumburg, IL
Presentations on when, where and how to use laser additive manufacturing will cover design, materials, modeling and manufacturing. Applications will be discussed. Learn more about the event and register.


In This Issue
Educating AM Customers
Concurrent Technologies Corporation's additive-manufacturing (AM) operations focuses on developing engineered AM solutions for customers, but only after teaching them how to specify, design and purchase 3D metal-printed parts.
TCT Recap
The 2017 edition of this 3D-printing event, held annually in Birmingham, United Kingdom, had plenty to offer for fans of metal additive manufacturing.
In The Next Issue
☉

GE Additive Efforts Taking Flight—An advanced turbo-prop project is a result of disruptive engineering, with nature providing key sources of design-engineering inspiration.


☉

AM for the OR—University of Louisville business incubator team collaborates with Concept Laser, Inc. to deliver 3D- printed laparoscopic instruments.
Become Involved
☉
Subscribe to the Magazine
☉
Become a Sponsor
☉
2018 Media Kit
Published by

See also: Arcam AB, Markforged