3D Metal Printing Newsletter
November 2017
Wednesday, November 1, 2017

November 1, 2017 | Subscribe | Become a Sponsor
Read All About It
United Technologies Corp. Commits to 3D Printing
United Technologies Corp. announced that its newly renovated and expanded $60 million, 185,000-sq.-ft. research center in East Hartford, CT, includes a focus on 3D metal printing, specifically the repair of machines and jet engines, as well as a process for printing magnetic material for aerospace applications.

"We're reinventing old technologies, coming up with new technologies, and seeking to bring in the next generation of talent," says David Parekh, corporate vice president for research and director of the United Technologies Research Center, describing the expansion and focus on additive manufacturing.

Share this Article on Twitter




Sponsors
Whitepaper: Advancing Thermal Management with Additive Metals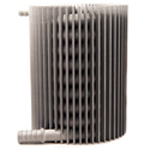 An integral engineering element across major industries, thermal management continues to challenge designers in several applications. Additive manufacturing (AM) offers a unique solution for next-generation thermal control. Learn how AM creates parts that increase performance of thermal control systems.
Download Now
Industry News
☉
Renishaw's Innovation Fest Highlights AM Advancements
☉
GKN and GE Additive Sign MoU for Additive Manufacturing Collaboration
☉
President's "E" Award Goes to Skiaky
☉
EOS/Hartwig Partnership Expands AM Equipment Distribution
You Ought to Know
Global 3D CAD Software Market Growing to 2025
The global 3D CAD software market is expected to grow at a 5.8-percent compounded annual rate through 2024, and reach $13.12 billion by 2025. This, according to the 3D CAD Software Market report by Research and Markets. The report also forecasts that the Asia Pacific 3D CAD software market will emerge as the fastest-growing regional market.
Share this Article on Twitter

Register Now! Additive Manufacturing Americas 2017
December 6-7, Pasadena, CA
This is the business show for additive manufacturing and 3D printing. Learn more about the event and register. Early bird rate until Nov. 24, plus a special 20-percent discount available to 3D Metal Printing magazine readers. Use promo code MEPR1.
Share this Article on Twitter

Sponsors
VIDEO: How Will it Grow? Metal 3D Printing
Metal 3D printing is revolutionizing the way engineers and designers and produce end-use custom parts, but there are important design considerations to take into account. Watch Xometry's latest video to learn how DMLS 3D printed parts grow using unique support structures to build custom geometries from the bottom up!
Watch Video
Visit 3Dprintforums.com





The peer-to-peer resource for 3D printing and additive manufacturing discussions, news, and product information just got a whole new look. See it now and register for your free membership at

3Dprintforums.com

to get the inside scoop and latest trends.
In This Issue
In The Next Issue
☉

Educating AM Customers--Concurrent Technologies Corporation's additive-manufacturing (AM) operations focuses on developing engineered AM solutions for customers, but only after teaching them how to specify, design and purchase 3D metal-printed parts.


☉

TCT Recap--The 2017 edition of this 3D-printing event, held annually in Birmingham, United Kingdom, had plenty to offer for fans of metal additive manufacturing.
Become Involved
☉
Subscribe to the Magazine
☉
Become a Sponsor
☉
2018 Media Kit
Published by

See also: Arcam AB, Stratasys, Inc.