3D Metal Printing Newsletter
June 2017
Wednesday, June 7, 2017

June 7, 2017 | Subscribe | Become a Sponsor
Read All About It
Part Unitization, Large-Format Printing
on Tap at On-Demand Webinar
In a webinar presented by the Institute of Electrical and Electronics Engineers, Denis Cormier, professor of industrial and systems engineering at the Rochester Institute of Technology, explains that while 3D metal printing of lattice structures promises to reduce weight and create heat sinks, the software code used to develop lattices can be "astronomically large." As a result, not every PC can handle it.

Also addressed in the webinar: part unitization. "You can throw the DFM [design for manufacturing] guidelines out the window," Cormier says. "There is no problem getting the part out of a mold."

However, complex, unitized parts can prove challenging when it comes to removing excess powder from internal channels. The webinar addresses this topic in great detail.

Also up for discussion: the trend toward printing larger parts, where the cost of metal powder can be a limiting factor; and the trend toward simulation-based design, which, says Cormier, can help engineers achieve uniform heating and a uniform microstructure.

Register here to view the on-demand webinar.
Share this Article on Twitter




Sponsors
Streamline your 3-D printing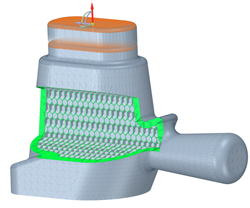 ANSYS SpaceClaim® is an intuitive tool that enables users to work directly with STL files and leverage automated prep tools for 3-D printing. Users can import, export and save other faceted formats, including any CAD file. To experience how SpaceClaim simplifies 3-D printing, try it now.
Industry News
☉
3D-Printing Training Program for Military Vets
☉
MPIF to Form Metal-AM Trade Association
☉
Ready for RAPID + TCT? Here's Some of What You'll See
☉
3Diligent Accepting Orders for HP and Markforged 3D Printers
☉
Bodycote HIP Facility Earns Aerospace Accreditation
You Ought to Know
Webinar: Atomization Improvements for AM Applications
Don't miss this important webinar produced by 3D Metal Printing magazine, slated for tomorrow afternoon (Thursday, June 8) at 2:00 p.m. EDT, describing how a scientific approach to improving powder quality, safety and yield is meeting specific customer requirements for metal additive manufacturing (AM). The webinar, presented by Joel Rieken of Praxair Surface Technologies, will provide information to help attendees:
Understand how to better select powders for their AM processes;
How to properly handle powder; and
How advancements from new atomization techniques improve finished part quality.
Rieken will present information on titanium-, nickel-, cobalt- and iron-based alloys used in multiple AM applications.
Share this Article on Twitter


White Paper: Topology Optimization "Lightweights" Aluminum Part
This white paper posted to the website of 3D Metal Printing magazine describes a titanium topology-optimized (TiTO) 3D-printed satellite mount originally designed as a machined aluminum part. Read about the additive-manufacturing principles used to allow the redesigned part to be printed using the direct metal laser-sintering process, with minimal post-processing required. The result: Topology optimization removed 70 percent of the overall design volume, and reduced part weight by 61 percent.
Share this Article on Twitter




In This Issue
A Metal-AM Industry Expert Peers Toward the Future
The digitization of manufacturing; use of automation to drive enhancements to quality and machine utilization; and education initiatives all are coming together to help move 3D metal printing out of the R&D lab and into mainstream manufacturing.
A Role in Military-Fleet Readiness
Printed stainless-steel exhaust stacks for a 1944-vintage warbird help to validate the value that 3D metal printing can bring to the military in terms of operational readiness--critical in an era of budget constraints, aging apparatus, and supply-chain and logistics challenges.
Conversation with 3D Material Technologies
Grimm's 3D Metal Printing Tales
In The Next Issue
☉

AM for Medical Applications


☉

A Report from Buffalo Manufacturing Works on the EWI AM Consortium


☉

TCT Show Preview


☉

New Column: Reader Q & A
Become Involved
☉
Subscribe to the Magazine
☉
Become a Sponsor
☉
2017 Media Kit
Published by

See also: Ansys, Inc.