3D Metal Printing Newsletter
October 2017
Wednesday, October 4, 2017

October 4, 2017 | Subscribe | Become a Sponsor
Read All About It
Medtech Is Healthy;
Expert Encourages Greater Use of AM
A medical technology (medtech) industry analyst says additive manufacturing will play a key role in that industry's future growth.

U.S.- and Europe-based medtech companies performed well in 2016, with the market increasing by 5 percent to $364.4 billion, after a 3-percent decline in 2015, according to the Pulse of the Industry medtech-industry report by Ernst & Young (EY) LLP. Reasons for the uptick, as cited by the report, include mergers and acquisitions, increased availability of financing for startups, and research and development (R&D) investments.

However, to achieve sustainable growth, medtech companies must do more, says Pamela Spence, EY global life sciences industry leader. "They need to balance internal R&D investments with innovations in the new, connected economy, such as additive manufacturing, augmented reality and artificial intelligence, so that their R&D bets deliver a lasting, competitive edge," Spence explains. "Embracing the fourth industrial revolution, which fuses the physical, digital and biological, is a current, not future, imperative."
Share this Article on Twitter

Sponsors
Industry News
☉
Sintavia and Trumpf Announce TruPrint Agreement
☉
PostProcess Opens New Worldwide Headquarters
☉
AP&C Receives ISO 13485 Certification
☉
DOE Laboratory to Use Senvol's AM Data-Collection Procedures
You Ought to Know
Report: 3D Printing Market to Top $11 Billion by 2022
The global 3D-printing market is expected to grow at a compounded annual growth rate of 27 percent, and will top $11 billion, according to the 3D Printing Market—Global Outlook and Forecast 2017-2022 report by Research and Markets. Reasons for the significant spurt include high demand from North America and Europe, coupled with rising awareness of the technology in countries throughout Southeast Asia, Asia Pacific, Africa and the Middle East. The report goes on to cite increasing vertical applications, growing market consolidation, and increasing demand for mass customization and production as some of the trends that are likely to accelerate market growth during the forecast period. 3D-system vendors profiled in the report are 3D Systems, Stratasys and EOS GmbH.
Share this Article on Twitter

Register Now! Additive Manufacturing Americas 2017
December 6-7, Pasadena, CA
This is the business show for additive manufacturing and 3D printing. Learn more about the event and register. Early-bird rate until Nov. 24, plus a special 20-percent discount available to 3D Metal Printing readers. Use promo code MEPR1.
Share this Article on Twitter
Sponsors
Visit 3Dprintforums.com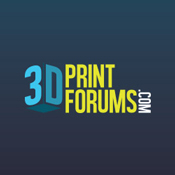 The peer-to-peer resource for 3D printing and additive manufacturing discussions, news, and product information just got a whole new look. See it now and register for your free membership at
3Dprintforums.com
to get the inside scoop and latest trends.
FABTECH 2017 Adds Additive-Manufacturing Pavilion
Additive Manufacturing is one of the fastest-growing technologies of the 21st century and FABTECH has taken notice. To accommodate the increasing interest in this technology, FABTECH has added a new 3D/Additive Manufacturing Pavilion. For more information about the pavilion and for exhibiting opportunities,
click here
.
In This Issue
In The Next Issue
☉ Post-Processing Advancements—New post-processing technology from PostProcess helps Harbec, a unique company in Buffalo, NY, develop and manufacture injection-molding tooling and other products.
☉ TCT Recap—We bring you some of the most impressive 3D innovations seen by about 10,000 visitors to TCT 2017 in Birmingham, UK. If you weren't there, and even if you were, don't miss our review of this event.
Become Involved
☉
Subscribe to the Magazine
☉
Become a Sponsor
☉
2017 Media Kit
Published by

See also: Solar Atmospheres, Arcam AB