3D Metal Printing Newsletter
May 2017
Wednesday, May 3, 2017

May 3, 2017 | Subscribe | Become a Sponsor
Read All About It
Project Aims to Optimize Design
for Digital Manufacturing
The Defense Advanced Research Projects Agency (DARPA) has commissioned Xerox company PARC to develop, together with partners Intact Solutions and Oregon State University, a new computational paradigm for design. The project will involve creating tools for analyzing material structures, geometric-design complexity, and advanced manufacturing processes such as 3D printing, particularly the combined processes of metal printing and machining. PARC expects the project to have significant implications for computer-aided engineering.

"With this work, we aim to disrupt part, assembly and system design for conventional and modern manufacturing processes," says PARC research area manager Saigopal Nelaturi. "The computational innovations in modeling, planning, synthesis and performance analysis will be developed to support the increasing freedom of manufacturing with unprecedented geometric and material complexity."

The project, called FIELDS (Fabricating with Interoperable Engineering, Planning, Design and Analysis), aims to transform product design by creating a system that automatically generates designs based on selected parameters. The result will be improved product performance and a shortened time-to-market.

Here's more.
Share this Article on Twitter



Sponsors
Metal AM Conference
in Las Vegas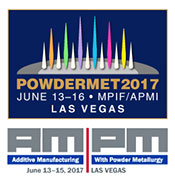 The Additive Manufacturing with Powder Metallurgy conference (
AMPM2017
) features worldwide industry experts presenting on the fast-growing field of metal additive manufacturing. Join the metal AM industry in Las Vegas, June 13–15, 2017, for keynote speaker Todd Grimm, T.A. Grimm & Associates; 75 technical presentations; over 100 exhibitors, and more!
Industry News
☉
Norsk Titanium to Deliver 3D-Printed Structural Titanium Components to Boeing
☉
LAI International Completes First Step in NADCAP AM Certification
☉
3Diligent State of the Industry Report Now Available
☉
Premium Aerotec, EOS and Daimler Partner for NextGenAM Project
☉
GoEngineer and Concept Laser Enter Partnership
Sponsors
3D Print Metal Parts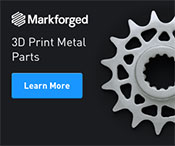 Markforged
announces a breakthrough technology in metal manufacturing – Atomic Diffusion Additive Manufacturing (ADAM), along with the introduction of the Metal X – the first ADAM 3D printer. Extending the success of its revolutionary carbon fiber printing technology,
Markforged
now provides a rapid technique to produce metal parts for manufacturers in demanding industries. Leverage the technology of a
Markforged
printer to streamline your shop floor, save time and costs, and increase your overall productivity.
Watch Video
Your Partner for Innovative Additive Manufacturing Products

Renishaw Solutions Centers
provide a secure development environment in which you can build your knowledge and confidence using additive manufacturing (AM) technology. Equipped with the latest AM systems and staffed with knowledgeable engineers Renishaw will support you throughout your investigation to gain the evidence you need for your business development process.
Break through the CAD engineering bottleneck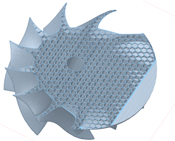 ANSYS SpaceClaim® is an intuitive tool that enables users to work directly with STL files and leverage automated prep tools for 3-D printing. Users can import, export and save other faceted formats, including any CAD file. To experience how SpaceClaim simplifies 3-D printing,
try it now
.
You Ought to Know
Metal Printing for Power-Plant Maintenance
Power magazine offers up this in-depth look at several 3D metal-printing processes finding application in power plants for component repair or replacement, including selective laser melting, laser metal deposition, direct metal laser melting and electron beam melting.

"Additive manufacturing allows us to develop parts and products more efficiently," explains Massimiliano Cecconi, materials and manufacturing technologies executive at GE Oil & Gas, "with better performance and cost-effectively, and it accelerates the speed at which we can bring products to market. Production times are drastically reduced—the finished product can be completed in weeks instead of months, significantly reducing production cycles, which ultimately benefits the customer."

Learn here how a nuclear power plant reverse-engineered and replaced the impeller of its fire-protection pump, which had been in operation since 1981 and was no longer in production, rather than replace the entire pump.
Share this Article on Twitter


Canada Makes Funds Micro-Metal AM Program
Shimifrez Inc., a manufacturer of precision photochemically etched and electroformed micro-metal components, announces the kickoff of a $750,000 expansion that will create eight additional jobs at its facility in Vaughan, Ontario, Canada. Canada Makes helped fund the company's expansion, through its Metal Additive Demonstration Program (MADP). It employs the photo-electroforming process to fabricate copper parts.

The electroforming process, ideal for producing complex and thin metal parts, generates a highly accurate negative replica from a mandrel or master surface. The high resolution of the conductive patterned substrate allows production of fine geometries, with tight tolerances and superior edge definition, say Shimifrez officials.



Sponsors
Webinar: Atomization Improvements
for Additive Manufacturing Applications
June 8 • 2 p.m. EDT
Praxair's webinar
will provide information to help attendees understand how to better select powders for their AM processes, how to properly handle powder, and how advancements from new atomization techniques improve finished part quality. The webinar will include information on titanium-, nickel-, cobalt- and iron-based alloys used in multiple AM applications.
In This Issue
Caterpillar's Grand AM Plan
...includes building the infrastructure to ensure that 3D printing nourishes the company's engineering teams as it strives to continually innovate. The Caterpillar hub-and-spoke AM model features a newly minted inhouse AM factory, supported by a service-bureau network that's moving AM ideas from the design suite into production.
Quick Simulation Pays Dividends
Able to rapidly assess part buildability and performance, simulation software is an ideal addition to any AM user's toolkit.
RAPID + TCT 2017
In Pittsburgh in May, it's the must-attend event for additive-manufacturing technology, knowledge and networking.
In The Next Issue
☉

A Roundup of the Issues Surrounding AM for Medical Applications


☉

A Visit with the Innovation Team at Buffalo Manufacturing Works


☉

TCT Show Preview


☉

New Column: Reader Q & A, with Caitlin Oswald, AM Specialist, LAI International
Become Involved
☉
Subscribe to the Magazine
☉
Become a Sponsor
☉
2017 Media Planner
Published by

See also: Solar Atmospheres, Praxair Surface Technologies, Markforged, Renishaw Inc., Ansys, Inc., UL LLC