3D Metal Printing Newsletter
April 2017
Wednesday, April 5, 2017

April 5, 2017 | Subscribe | Become a Sponsor
Read All About It
Deloitte's Manufacturing Outlook
Highlights AM Technology
A new white paper from Deloitte University Press titled, "The Future of Manufacturing—Making Things in a Changing World," places the spotlight on the fundamental shift in the way companies do business. Such are the results of changes in consumer demand, the nature of products, and the economics of production and of the supply chain. The landscape is now full of distributed small-scale local manufacturing centers, and the emphasis is shifting toward increasing speed to market and focusing on customer engagement.

Additive manufacturing gets plenty of play, including a graph designed to offer a breakeven analysis, based on cost per unit manufactured and the number of units manufactured, comparing conventional and additive-manufacturing processes. "Complexity is free," the authors note. "In the coming years we expect the range and scale of AM deployments to extend to lower-value, high-value items."

Download this white paper as a .pdf—it's 50 pages of wisdom offering a great look at what's coming for manufacturing, and in many ways what's already here.
Share this Article on Twitter

Sponsors
3D Print Metal Parts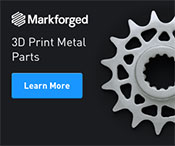 Markforged
announces a breakthrough technology in metal manufacturing – Atomic Diffusion Additive Manufacturing (ADAM), along with the introduction of the Metal X – the first ADAM 3D printer. Extending the success of its revolutionary carbon fiber printing technology,
Markforged
now provides a rapid technique to produce metal parts for manufacturers in demanding industries. Leverage the technology of a
Markforged
printer to streamline your shop floor, save time and costs, and increase your overall productivity.
Watch Video
Industry News
☉
Karl Lindblom Appointed General Manager of Arcam EBM
☉
BeAM North American Solutions Center Takes Delivery of DED Machine
☉
SoCal Service Provider Adds Metal-AM Trio
☉
RFQ Report Shows Metal-Printing Market on the Rise
☉
New Renishaw Digs to Feature AM Solutions Center
You Ought to Know
Nearly Half of AM Service Providers Print Metal
…according to the recently released Wohlers Report 2017, from Wohlers Associates, Inc. Of the companies surveyed, 19.8 percent print metals, another 29.2 percent print metals and polymers, and 51 percent print polymers. The report also notes that 97 manufacturers produced and sold industrial additive-manufacturing systems in 2016, up from 62 companies in 2015 and 49 in 2014.
Overall, the AM industry grew by 17.4 percent in worldwide revenues in 2016, down from 25.9 percent growth the year before. Input was collected from 100 service providers, 61 industrial-system manufacturers, and 19 producers of third-party materials and low-cost desktop 3D printers.
The 344-pg. report includes 28 charts and graphs, 26 tables and 232 photographs and illustrations.
Share this Article on Twitter
Army's RAMBO Project—
Printed Grenades and Launcher
Researchers at the U.S. Army Armament Research, Development and Engineering Center recently fired the first 3D-printed metal grenade, from a printed-metal launcher nicknamed RAMBO (Rapid Additively Manufactured Ballistics Ordnance). The project culminates six months of collaborative effort by the U.S. Army Research, Development and Engineering Command (RDECOM), the U.S. Army Manufacturing Technology (ManTech) Program and America Makes.
Among the printed components in the grenade launcher, the barrel and receiver were fabricated in aluminum using direct metal laser sintering. Other components, including the trigger and firing pin, were printed in Type 4340 steel. In all, the launcher comprises 50 components; all except springs and fasteners were 3D printed. Here's more details on the printing and finishing processes used.
Here's a 1-min. video showing the launcher in action.
Share this Article on Twitter
Sponsors
Metal AM Conference in Las Vegas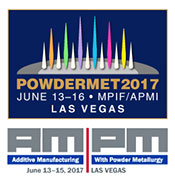 The Additive Manufacturing with Powder Metallurgy conference (
AMPM2017
) features worldwide industry experts presenting on the fast-growing field of metal additive manufacturing. Join the metal AM industry in Las Vegas, June 13–15, 2017, for keynote speaker Todd Grimm, T.A. Grimm & Associates; 75 technical presentations; over 100 exhibitors, and more!
Quick Tips for Designing
Custom 3D Printed Metal Parts
Direct Metal Laser Sintering (DMLS) 3D printing is a revolutionary technology that is changing the way manufacturers create prototypes and end-use metal parts. Our team of engineering experts created a free Design Guide on metal 3D printing to help you design your custom parts as efficiently as possible.
Download the Guide!
In This Issue
3D Metal Printing—What's Next?
Initially inspired and driven by the needs of the aerospace industry, the NextManufacturing Center at Carnegie Mellon University focuses on several specific challenges of 3D metal printing, including process mapping, monitoring and control, and predicting and controlling porosity.
Designing for Additive Manufacturing, Part II: Consideration for Manufacturability
Follow these guidelines for designing support structures and for specifying part layout and orientation on the build plate, when exploring the design and manufacturability guidelines required to tackle build geometries.
In The Next Issue
☉

HIPing of Titanium Parts


☉

Trends Driving Innovation in Metal Printing


☉

RAPID+ tct Event Preview


☉

A Visit to the Caterpillar AM Factory
Become Involved
☉
Subscribe to the Magazine
☉
Become a Sponsor
☉
2017 Media Kit
Published by

See also: SLM Solutions NA, Inc., Markforged, Ansys, Inc.