3D Metal Printing Newsletter
March 2017
Wednesday, March 1, 2017

Read All About It
Metal-Printer-Equipped Field Lab
Reshaping the Shipping Industry
From the NauticExpo e-magazine comes this story on Ramlab—cited as the "first field lab equipped with 3D metal printers to serve maritime and port-related industries."
Ramlab (the Rotterdam Additive Manufacturing Laboratory), at the Port of Rotterdam in the Netherlands, carries out research and development aimed at making wire-arc additive manufacturing (WAAM) commercially viable. The lab operates two WAAM systems—one working from 6-m-long rails to manufacture lifting hooks and other large objects, and the other with a manipulator traversing a 3 by 4-m space to manufacture propellers to 2-m dia.
Learn here how Ramlab leaders expect the facility to "reshape industry" by focusing on two challenges: investigating routes to regulatory approval for metal-AM parts; and the ability to develop metal-AM parts that can be welded to conventionally made parts and put into service.
Read more.
Share this Article on Twitter
You Ought To Know
Titanium 3D Printing Gives Birth
to Groundbreaking Hearing Aids
Swiss hearing-aid manufacturer Phonak has launched a new titanium model that it says is the "tiniest custom instrument" it has ever produced, using 3D metal printing to manufacture the thin shell.
"The titanium shell is half as thin as traditional shells," says a company press release, "and the overall size is reduced significantly, increasing invisible-in-the-canal fit rate."
Here's a 1-min. YouTube video showing the titanium hearing-aid shell being printed.
Share this Article on Twitter
Moog Blog Outlines Metal-AM
Opportunities and Challenges
Titled, A New Way of Looking at Metal Additive Manufacturing Processes, this post by Moog principal engineer George Small describes the firm's storied and 15-plus-yr. history with 3D metal-printing technology, then defines several opportunities/benefits and challenges/complexities related to expanding the use of AM production of metallic parts. Among the most significant challenges noted by Small: lack of standards, design allowables and powder specs.
Finally, Small presents an interesting case study describing metal-AM parts recently processed by Moog—15-5PH stainless-steel cylinders for hydraulic flight-control actuators. Learn how metal-AM improved part performance compared to the previously forged parts.
Share this Article on Twitter
Sponsors
3D Print Metal Parts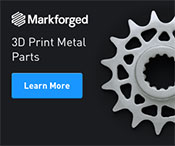 Markforged announces a breakthrough technology in metal manufacturing – Atomic Diffusion Additive Manufacturing (ADAM), along with the introduction of the Metal X – the first ADAM 3D printer. Extending the success of its revolutionary carbon fiber printing technology, Markforged now provides a rapid technique to produce metal parts for manufacturers in demanding industries. Leverage the technology of a Markforged printer to streamline your shop floor, save time and costs, and increase your overall productivity. Watch Video
AMUG to be held March 19-23, 2017, in Chicago, Illinois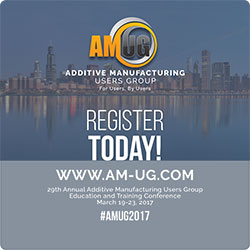 The Additive Manufacturing Users Group (AMUG) will take place March 19-23, 2017, at the Hilton Chicago. The AMUG Conference will include keynote presentations, technical sessions and hands-on workshops designed to help users get more from their AM technologies. Through technical competitions and the annual Awards Banquet, excellence in applying AM and contributions to the industry will be recognized. The five-day event also includes the two-night AMUGexpo, networking receptions and catered meals.

Get more information and register at www.am-ug.com.
In This Issue
3D Metal Printing—What's Next?
Initially inspired and driven by the needs of the aerospace industry, the NextManufacturing Center at Carnegie Mellon University focuses on several specific challenges of 3D metal printing, including process mapping, monitoring and control, and predicting and controlling porosity.
Additive and Finishing
—You Name It, They Have It
With 3D metal printing leading the way, service bureau Forecast 3D employs processes galore to bring new products to life.
In The Next Issue
Metal AM in the Automotive Industry
Designing for Additive Manufacturing Part III: Leveraging Optimization Methods
Trends in 3D Metal Printing—Capabilities and Applications
Preview: RAPID + TCT, May 8-11, 2017, Pittsburgh, PA
An Inside Look at the Caterpillar Additive Manufacturing Factory in Mossville, IL
Published by