3D Metal Printing Newsletter
January 2017
Wednesday, January 4, 2017
Read All About It
Big Business for Metal-Powder Companies
The Wall Street Journal ran an article last week detailing recent forecasts showing that the global 3D-printing powder market will grow from $250 million in 2016 to $5 billion by 2025. Noteworthy is a statement by General Electric CFO Jeff Bornstein, who expects that 40 percent of the company's 3D-printing business eventually will come from providing 3D-printing services, including materials and powders.
Another significant finding presented in the article, taken from a recent KPMG report: 53 percent of "metals organizations" either already have invested or plan to invest in additive-manufacturing R&D, and another 40 percent are considering such an investment.
Share this Article on Twitter
Sponsor
AMUG to be held March 19-23, 2017, in Chicago, Illinois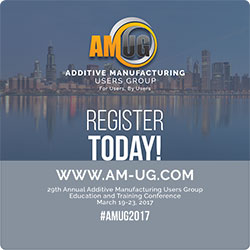 The Additive Manufacturing Users Group (AMUG) will take place March 19-23, 2017, at the Hilton Chicago. The AMUG Conference will include keynote presentations, technical sessions and hands-on workshops designed to help users get more from their additive manufacturing technologies. Through technical competitions and the annual Awards Banquet, excellence in applying additive manufacturing and contributions to the industry will be recognized. The five-day event also includes the two-night AMUGexpo, networking receptions and catered meals.

Get more information and register at www.am-ug.com.
You Ought To Know
Ansys, Univ. of Pitt to Study
DMLM Microstructures with Inconel 718
Researchers at the University of Pittsburgh's Swanson School of Engineering will partner with simulation-software provider Ansys, Inc., on a 3-yr. study titled, "Prediction of Microstructure Evolution in DMLM (Direct Material Laser Melting) Processed Inconel 718 with Part Scale Simulation." Funded by an Early Stage Innovations grant from NASA, the research will aim to develop "a simulation tool to predict the microstructure evolution and stability of Inconel 718," says principal investigator Dr. Albert To, director of the Ansys Additive Manufacturing Research Laboratory. Applications, as described in this press release, include jet-engine parts. The goal is to enable simulation-based certification of AM parts, while reducing the expense of certification.
Share this Article on Twitter
Published by