3D Metal Printing Newsletter
November 2016
Wednesday, November 2, 2016

Read All About It
Peugeot Partners with Divergent 3D
to Develop Automotive Metal-AM Projects
Fortune.com carried this article describing the partnership between French carmaker PSA and Divergent 3D, Los Angeles, CA, to develop 3D metal-printing processes for PSA production lines. According to the article, Divergent has developed "a software-hardware platform enabled by 3D printing that radically transforms the economics and environmental impact of designing and manufacturing complex structures such as cars."
In related news, last week Divergent 3D entered into a global development project with R & D company Altran North America. Says Altran CEO Rob Vatter: "The dramatic transformation the auto industry is facing must take into consideration not only how to leverage disruptive innovation, but also how to reduce the capital required to bring connected and intelligent vehicles to market. This partnership will address both considerations by streamlining the process of creating and integrating complex systems that will make up the cars of the near and distant future."
You Ought To Know
Metal Printing for Manufacturing
and Repair of Power-Gen Components
Power Engineering International takes readers inside the Siemens Industrial Turbomachinery facility in Finspang, Sweden, where several EOS 3D metal printers support the manufacture and repair of the company's lineup of industrial gas turbines. Says Dr Vladimir Navrotsky, CTO of the Distributed Generation Services business and Siemens' Innovator of the Year for 2015: "Additive manufacturing offers a number of benefits for the component repair process, including reduced lead time, fewer process steps (for example, no casting is involved), savings on materials, elimination of tools, and on-demand (or 'instant decentralized') production."
The first commercial product printed at the facility was a spare part—a burner tip. Rather than manufacture a new head and weld-assemble it to the burner, technicians cut off the old head and 3D-printed a new head directly onto the burner.
Share this Article on Twitter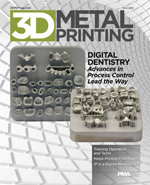 In This Issue
Mass Customization Comes to Dentistry
...thanks to digitization and quick-changeover 3D metal-printing machines. This industry-leading digital outsourcing center employs 16 metal-printing machines worldwide (12 at its manufacturing facility in Southern California) to keep up with growing demand for printed dental-restoration devices.
There's a Dearth of Operators
Trained in 3D Metal Printing
...but not for long, thanks in part to the efforts of the recently opened training facility on the campus of the University of Louisville. There, students learn the process from soup to nuts, including design, setup, build and post-processing.
A Unique Take on 3D Metal Printing: Custom Materials Engineering
Ultrasonically bonding thin layers of metal foil allows users to essentially create new metal alloys with unique combinations of mechanical properties. Imagine a "superalloy" with an optimum combination of coefficient of thermal expansion, ballistic response, strength and weight.
In The Next Issue
Focus on the Aerospace Industry
An Inside Look at the Next Manufacturing Center at Carnegie Mellon University
AMUG User Conference Preview
HIP of Titanium Parts
Design for AM, Part II
Published by

See also: UL LLC, Concept Laser GMBH