3D Metal Printing Newsletter
October 2016
Wednesday, October 5, 2016
Read All About It
Contest: Design a Launch-Support Bracket for AM
If you have ideas on how to design for aerospace additive manufacturing (AM), United Launch Alliance (ULA) is looking. The launch-service provider to NASA and other space agencies has announced another launch: the 3-2-1 Liftoff! ULA Rocket Hardware Challenge, inviting participants to design a launch support attachment bracket for ULA's Atlas V rocket, according to SpaceDaily.com. Offered via GrabCAD, a digital manufacturing hub and division of Stratasys, the challenge seeks a design that subsequently will be evaluated for application on ULA's next-generation Vulcan Centaur rocket.
Share this Article on Twitter
You Ought To Know
Oberg, Pitt Partner for AM R&D
In yet another sign of how manufacturers are working with academia to advance additive manufacturing (AM) and position it as a viable commercial process, Oberg Industries and the University of Pittsburgh's Swanson School of Engineering have partnered to tackle various AM issues. The partnership combines Oberg expertise in manufacturing complex tooling and precision machined or stamped metal components with Pitt's Ansys Additive Manufacturing Research Laboratory (AMRL).
Through the partnership with the Swanson School, for the next two years Oberg will have full-time employees onsite at the Ansys AMRL, an AM lab equipped with advanced devices that utilize metals, alloys, polymers and other materials to print components for various industries. Oberg will promote the partnership to its customer partners to broaden corporate activity at Pitt while maintaining priority industrial access for its education, training, prototyping, testing, design and production uses. Oberg and Pitt's collaborative work was initiated with funding from the federal government via America Makes (the National Additive Manufacturing Innovation Institute).
Share this Article on Twitter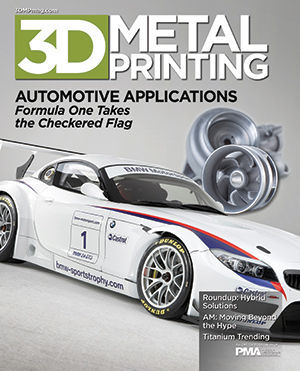 In This Issue
3D Metal Printing Revving Up the Auto Industry
Formula 1 teams lead the way in developing creative 3D metal-printing applications to shave weight while improving performance. And at least one innovative manufacturer has developed a space-frame concept using 3D-printed metal nodes. What's coming next?
Titanium Taking Off
Machining titanium into aerospace parts can create a buy-to-fly ratio upwards of 10 to 1, as machine shops turn expensive metal into chips. Often 3D metal printing makes more sense, but only as long as titanium-powder producers can meet the growing demand for powder that's fit for metal printing.
In The Next Issue
Focusing on 3D Metal Printing in the Medical Industry…

Mass Customization Comes to Dentistry
…thanks to digitization and quick-changeover 3D metal-printing machines. This industry-leading digital outsourcing center employs 16 metal-printing machines worldwide (12 at its manufacturing facility in Southern California) to keep up with growing demand for printed dental-restoration devices.
The Right Prescription for Medical
GPI Prototype & Manufacturing Services thinks it has found just that, with its 10 3D metal printers and years of expertise positioning it well to serve that industry as well as aerospace and others.

Published by

See also: 3D Systems