3D Metal Printing Newsletter
July 2016
Wednesday, July 6, 2016

Read All About It
Oil & Gas: Next Big AM Driver?
Yes, according to Research and Markets, which has released a new report, Additive Manufacturing Opportunities in Oil & Gas Markets 2016: A Ten-Year Forecast. The oil and gas industry, reads the report, will be the next big adopter of additive manufacturing (AM) technologies as evidenced by the increasing use of AM in this sector for the past 12 months.
"GE is already printing a variety of metal components for use in its oil and gas operations," it reads, "while oilfield services companies such as Halliburton are actively exploring the use cases for both rapid prototyping as well as field production of parts. Advocates of AM at these companies believe that AM has the potential to radically alter the cost structure of oil exploration and drilling operations."
Read more.
Share this Article on Twitter
Pitt, Ansys Partner for Improved AM Simulation
A new collaboration between software developer Ansys and the University of Pittsburgh is expected to tackle some of the most vexing additive manufacturing challenges, aided by the opening of a 1200-square-foot additive manufacturing lab in the university's Swanson School of Engineering. In the new Ansys Additive Manufacturing Research Laboratory, the two will team to simulate laser-induced metal deformations prior to 3D metal printing with the goal to ensure that a product has not only the desired shape, but performs as expected.
While a laser optimizes the density of a metal for a particular application during the printing process, it also can melt the metal in unexpected ways, causing a product to fail. In addition, the rapid heating and cooling causes stresses that can deform an end product. Robust, proven simulation can go a long way toward making 3D printing viable in a host of critical metal-part applications.
The partnership also will support faculty and students conducting collaborative research with Ansys and other industry partners, including those in the biomedical, aerospace and defense industries. This project, including the lab, was initiated with funding from the federal government via America Makes.
Read more.
Share this Article on Twitter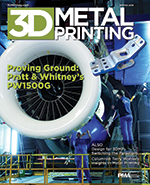 In This Issue
Aerospace Metal 3D Printing:
Materials, Machines and Methods
Metal 3D printing has become a game changer for aerospace OEMs, by drastically reducing the time and cost to develop prototypes and tooling, and powering through the development cycle. The thrust to print metal parts has spread quickly throughout the sector.
Future is Sky High for AM in Aerospace
That's the message 3D Metal Printing heard at the 3rd Additive/Aerospace Summit. Institutional and commercial buy-in has propelled additive manufacturing in the aerospace sector, but more work, such as the need for standardization and proper quality testing, is needed.
In The Next Issue
3D Metal Printing: Revving Up the Auto Industry
Formula 1 teams lead the way in developing creative 3D metal-printing applications to shave weight while improving performance. And at least one innovative manufacturer has developed a space-frame concept using 3D-printed metal nodes. What's coming next?


Focus on 3D Metal Printing in the Automotive Industry
Published by