3D Metal Printing Newsletter
May 2016
Wednesday, May 4, 2016

Read All About It
Biggest-Ever Commercial Jet Engine
Bristles with 3D-Printed Parts
In April, General Electric began testing what is thought to be the largest commercial jet engine ever built, a behemoth that benefits from 3D metal-printing technology, specifically used to create 19 fuel nozzles. The GE9X, engine, as reported online at Quartz, is claimed to be more efficient, more powerful and more heat-resistant than previous engines. At an Ohio test site, GE fired up the 11-ft.-dia. engine that generates 100,000 lb. of thrust. Besides the fuel nozzles, the company uses 3D printing to produce the engine's 16 carbon-fiber fan blades. The GE9X is designed for the Boeing 777X airliner, which is expected to take to the skies by the end of the decade.
Share this Article on Twitter
Coming Soon:
Custom 3D-Printed Wheelchairs Ordered via App
British industrial designer Benjamin Hubert, founder of design agency Layer, has developed a prototype for what's described as the world's first 3D-printed consumer wheelchair. Hubert collaborated on the project with Materialise, a 3D-printing software and services company with U.S. offices in Plymouth, MI.
According to an article at Slate.com, the customer is body-mapped with results converted to 3D digital data, then the customer uses an app to choose colors and options. Once ordered via the app, the chair can be built and delivered within two weeks.
Metal-printed components include a titanium foot bay and titanium frame.
"We saw an opportunity to really progress the manual mobility category for users with disabilities, and to use 3D printing technology to solve significant and meaningful problems," says Hubert.
Share this Article on Twitter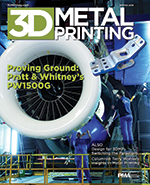 In This Issue
Future is Sky High for AM in Aerospace
That's the message 3D Metal Printing heard at the 3rd Additive/Aerospace Summit. Institutional and commercial buy-in has propelled additive manufacturing in the aerospace sector, but more work, such as development standardization and proper quality testing, is required.
Designing for Additive Manufacturing: Considerations for the Full Value Stream—Part One
This two-part series condenses some of the limitless design possibilities inherent in additive manufacturing and captures advancing design strategies. Part One explores the design cycle and how pieces of that cycle interact and correlate, as well as designing for material properties and post-processing.
In The Next Issue
Focus on 3D Metal Printing in the Automotive Industry
Five Things Manufacturers Need to Know about Metal Additive Manufacturing
Metal additive manufacturing is revolutionizing how companies design, test, manufacture and distribute products. With all of the hype surrounding this disruptive technology, how does AM really affect the manufacturer and what are the key takeaways? All users new to 3D metal printing should understand these five things upon entering the AM workspace.

Published by