3D Metal Printing Newsletter
April 2016
Wednesday, April 6, 2016

Read All About It
Tackling Internal-Quality Concerns
Key to Bringing 3D Metal-Printed Parts Mainstream
That's why researchers at Carnegie-Mellon University in Pittsburgh, PA, are busy at Argonne National Laboratory in Chicago peering into thin slices of 3D-printed titanium parts.
The group is examining defects in the printed metal that are invisible to the naked eye, according to Hanna Diorio-Toth's article at www.phys.org. The tiny pores can increase susceptibility to breakage—not an option when such parts are slated for safety- and performance-critical applications such as jet engines.
As Diorio writes, "improving the internal structure of 3D-printed metal parts is one of the several challenges that need to be met in order for this manufacturing process to be adopted in a more mainstream way," beyond prototypes. Part quality and quality-testing methods are big issues in the adolescent industry right now.
Read more.
Share this Article on Twitter
NEW! 3D Metal Printing Conference and Technology Tour
August 18-19, 2016, Livonia, MI
Interact directly with industry experts, learn about the latest technology developments for 3D metal printing, and participate in exclusive plant tours to engage with company representatives and view 3D metal-printing machines in action. Learn more about the event and register today!
Share this Article on Twitter
Sponsors
UL AMCC Offers AM Training on Metal Part Production


The UL Additive Manufacturing Competency Center (AMCC), a first-of-its-kind AM training facility providing hands-on AM training and the result of a partnership between UL and the University of Louisville, now offers Advanced Training on Metal Part Production as part of UL's AM Training & Professional Certification Program. Visit UL.com/ULAMCC.
3D Printing White Paper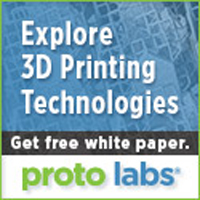 Industrial-grade 3D printing has an important place in product development alongside CNC machining and injection molding. At Proto Labs, customers have the option to produce their products with several different plastic and metal materials through various additive manufacturing technologies. Download our free white paper to review the pros and cons of commonly used 3D printing technologies.
You Ought To Know
Direct-Metal-Transfer Process Brings Implant Benefits
The introduction of direct metal transfer (DMT), a 3D metal-printing process, to apply coatings to orthopaedic implants, has brought strength and porosity benefits that promote bone-tissue ingrowth and long-term implant stability. That's the word from UK-based TLM Laser (www.tlm-laser.com), whose InssTek MPC printer used the DMT process to apply pure titanium in a thickness of 0.7 mm. An a comparative study, the machine's output was measured against that of a titanium-plasma-spray (TPS) process. Results showed that the 3D metal printing process delivered an 83-percent improvement on porosity, a key attribute in the promotion of bone tissue ingrowth. Tensile stress showed a 17-percent improvement and sheer stress a 7-percent improvement.
Further improvements in economy come from the fact that the InssTek MPC is less expensive than most TPS machines. Also, the cycle times for the 3D coating process on the acetabular cups was between 12 and 18 min.—considerably faster than alternative technologies with a commensurate increase in productivity.
For more details, click here.
Share this Article on Twitter
Sponsors
Win Free 3D Printed Part: Visit 3Discovered @ RAPID 2016, Booth #876



3Discovered is a cloud-based 3D printing platform. We solve supply chain problems for Design Holders, Service Bureaus and Customers through distributed 3D manufacturing. Our software platform protects IP, drives down unnecessary cost and accelerates the 3D printing process. Parts are produced when and where you want them, at the right price.
3D Printing Technologies


Methods3D, a subsidiary of Methods Machine Tools, Inc. has recently partnered with 3D Systems. Methods3D provides a wide range of 3D printing technolo gies including plastic and metal printers and materials to its customers, taking the 3D process to the next level via full integration with conventional machining solutions.
Methods3D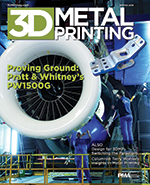 In This Issue
Aerospace Metal 3D Printing:
Materials, Machines and Methods
Metal 3D printing has become a game changer for aerospace OEMs, by drastically reducing the time and cost to develop prototypes and tooling, and powering through the development cycle. The thrust to print metal parts has spread quickly throughout the sector.
Pushing the Design Boundaries with Metal AM
Greater design freedom is recognized as one of the key benefits of using additive manufacturing (AM) for the final production of parts. Reducing the need for tooling and being able to more freely add and subtract material means that parts can be made with more geometric features than when manufacturing them with conventional processes, and with much greater complexity. This has been exploited in many ways, with value added to the product in one or more ways.
In The Next Issue
Focus on 3D Metal Printing in the Automotive Industry
3D Printing: Feasibility is Getting Closer for Dies
Conventional metalforming techniques are very capital intensive due to expensive tooling. Selection of manufacturing processes, material and tooling for targeted volumes is critical for managing production costs. Here we present a sophisticated methodology to assess manufacturing strategies, review design for manufacture, and evaluate cost-benefit of reducing the investment in tooling with 3D metal printing.
Published by

See also: 3D Systems, ProtoLabs Inc, UL LLC, Methods Machine Tools, Inc.