Tech Update
New Jetting Printer Bridges Gap from Process Development to Production With Ford as Early Buyer
Monday, January 4, 2021
Desktop Metal, Inc. has announced that its new P-1 printer is available for ordering and has begun global shipments, joining the company's Production System lineup alongside the flagship P-50 industrial-production printer, which remains on schedule to begin volume commercial shipments in 2021. A major early adopter of the P-1: Ford Motor Co., which received its first P-1 in December 2020.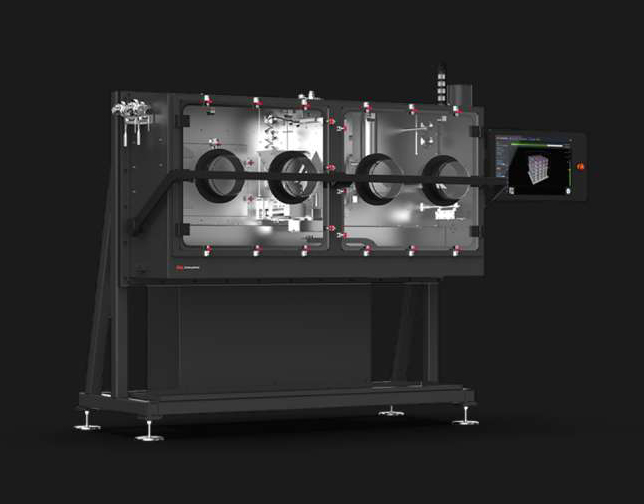 Designed to serve as a bridge from process development to full-scale mass production of end-use metal parts, the P-1 leverages patent-pending Single Pass Jetting (SPJ) for companies and research institutions.
"Adding the P-1 to our Production System portfolio serves as a key enabler for companies looking to develop processes and materials on a smaller scale before ramping up to mass-production volumes," says Ric Fulop, CEO and co-founder of Desktop Metal. "Similarly, many businesses and research institutions also are interested in leveraging the economics and quality of SPJ technology for mid-volume serial production, making the P-1 an ideal fit and a great stepping-stone to broad adoption of Desktop Metal's technology and flagship P-50 printer."
The Production System P-50 reportedly can achieve speeds to 100 times those of legacy powder bed fusion (PBF) additive manufacturing technologies, enabling production quantities of millions of parts per year at costs competitive with conventional mass-production techniques. The P-1 bridges the gap between benchtop process development and mass production available with the P-50, leveraging the same SPJ technology and print carriage design as on the P-50 but with enhanced process flexibility. Also similar to the P-50, the P-1 features a native 1200-dpi print bar that supports a variety of binders, and an inert processing environment to support both nonreactive and reactive materials, a key benefit for businesses and research institutions looking to experiment with a variety of materials.
As a result, materials research and new application development conducted on the P-1 can be transferred directly onto the P-50 to scale to mass production, without the need to take this more industrial manufacturing solution offline for R&D activities, enabling efficient process development and new-product introductions, according to Desktop Metal officials.
SPJ technology on the P-1 is designed to print each layer in less than 3 sec., including powder deposition, powder compaction, anti-ballistics, binder deposition and printhead cleaning. At this maximum build rate, the P-1 reportedly can achieve production throughputs 10 times higher than those of legacy PBF systems, and fast enough to complete a full build in less than 1 hr. The P-1's open material platform and inert process environment allow users to employ third-party metal injection molding powders across a variety of materials, making the P-1 suitable for cost-effective serial production of small and complex parts in addition to smaller-scale process development activities. Powder reclaimed during the printing and depowdering process can be recycled for future use. In addition, the tooling-free manufacturing process on the P-1 facilitates quick turnovers to new jobs along with the ability to print many complex geometries simultaneously with no print supports required, claim Desktop Metal officials.
P-1 users gain access to Desktop Metal's Fabricate build-preparation software, as well as to the company's newly-released Live Sinter application, which simulates the sintering process and automatically generates print-ready geometries that compensate for the shrinkage and distortion that take place during sintering, minimizing process trial and error while improving accuracy.
"For many businesses like Ford, the P-1 will serve as a learning lab for processes as they look to scale up to full production," says Fulop.
"Ford has been active in 3D printing since 1988 with acquisition of the third commercially available stereolithography system; we are very excited to be early adopters of the P-1," explains Cynthia Flanigan, director of vehicle research and technology for Ford Research and Advanced Engineering. "We expect that this new system will serve as an important tool in the development of our future advanced process and alloy implementation, enabling our researchers to investigate additional production opportunities of metal binder jetting at Ford Motor Co. Our early collaboration with Desktop Metal highlighted the need for a lab-scale system that is aligned with the functionality of the production-scale system so we can further develop expertise around this process."
See also: Desktop Metal, Inc.
---
Reader Comments
There are no comments posted at this time.