Tech Update
More Efficient Copper Tool Cooler Dramatically Reduces Milling-Machine Downtime
Thursday, July 30, 2020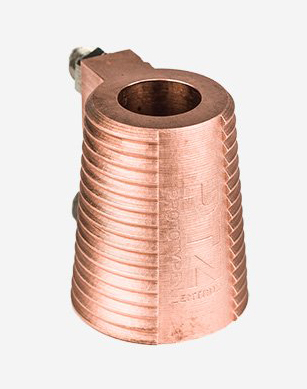 Prototypenzentrum (PTZ) GmbH, Dresden, Germany, needed a new solution for producing a metal tool cooler. Despite a wealth of experience creating metal and plastic prototypes for a range of industries and partners for more than 20 years, this project challenged PTZ. The tool cooler, originally produced from machined aluminum, is tasked with engaging and disengaging a cutting tool in the shank of an endmill through thermal expansion and contraction. The more conductive the cooler, the faster the machine tool can be reconfigured. The machined-aluminum version, though simple to produce, could not achieve PTZ's desired cycle times due to inadequate thermal performance.
Initially, the PTZ team, well-versed in various additive manufacturing (AM) processes, tried using selective laser melting technology to produce a higher-performing design from AlSi10Mg alloy. Better performance resulted from the inclusion of complex internal cooling channels, but the new design didn't hold up to the cooling medium, and the process proved expensive and difficult to implement.
Ultimately, PTZ discovered an ideal component could be produced using Markforged Copper in a Markforged Metal X AM system. This new design features conformal cooling channels, making the tool cooler (pictured) extremely efficient, according to PTZ officials, and withstands the cooling medium while providing 38-percent-faster cooling than previous designs. And, by eliminating roughly 40 tool changes/day across two CNC machines, the tool cooler can save 111 hr./yr. in downtime. Given the average hourly machine rate, implementation of this component can save PTZ nearly $7000 annually in machine time alone.
Given the success of the new tool cooler, PTZ plans to use
Markforged
Copper to develop electrotechnical parts for automotive devices.
See also: Markforged
---
Reader Comments
There are no comments posted at this time.