Industry News
Apply for Free Additive Flow Optimization-Software Beta Program
Wednesday, July 29, 2020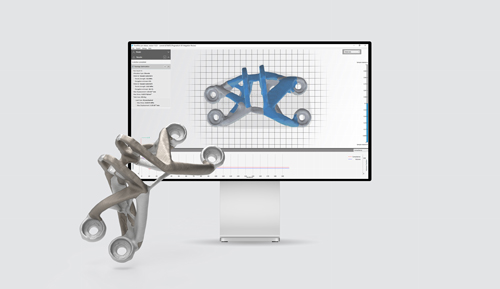 Additive Flow is inviting online applications for inclusion in a competitive beta program for its FormFlow multi-functional additive manufacturing (AM) optimization software. The company has developed a set of digital tools that can consider material properties and geometry simultaneously, and place materials, parameters and structures, subject to hardware systems and constraints, and has completed an alpha program.
FormFlow reportedly optimizes outcomes for AM and conventional production applications, applicable across material systems (metal/polymer/ceramic) and combinations for compatible multi-material applications, within the boundaries of material science where defined materials and material properties can be combined through the manufacturing process. The company has achieved this by combining multi-physics generative algorithms and data science to offer modular digital solutions, reportedly allowing a simplified digital workflow for multi-property manufacturing and design.
"Put simply, FormFlow puts the right material, with the right properties, in the right place—and optimizes part geometry and material properties simultaneously with multi-physics algorithms," says Alexander Pluke, Additive Flow CEO. "Subsequently, FormFlow allows users to simultaneously view productivity, cost, and performance outcomes of different design/production recommendations; allows for multiple materials and different geometry optimizations; and quickly and efficiently produces optimized production files according to multiple user-defined parameters. FormFlow also is AM-process/system agnostic with special generative algorithms that can account for the unique properties in AM materials and can be tailored to work with single- and/or multi-property designs, with the correct data."
Pluke reports positive feedback from partners on the FormFlow alpha program in regard to unlocking orthotropic topology optimization, for achieving significant to achieve significant improvements in weight and performance benefits, and the ability to consider multiple properties within one part, for cost and sustainability improvements.
With the FormFlow beta launch, "we are excited to extend this invitation (for a limited number of free places) to designers and engineers from across the supply chain to trial our FormFlow software," adds Pluke. "While the software is ideally suited to AM applications, it is just as appropriate for use with traditional manufacturing processes such as injection and over molding. As such, we would welcome applications from AM and non-AM designs alike."
Successful candidates will receive free secure access to a live streaming version of FormFlow for an agreed period. Applicants then will be selected to receive one-on-one consultation to ensure that they exploit the full range of FormFlow benefits.
See also: Additive Flow
---
Reader Comments
There are no comments posted at this time.