Industry News
3D Metal Printer Successfully Deployed in Military Field Exercise
Thursday, June 25, 2020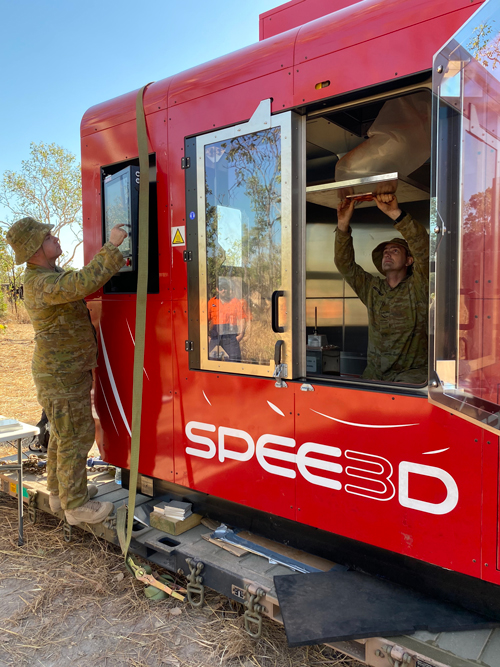 As part of an investment in the technology to assess its battlefield use, the Australian Army employed a Spee3d Warp Spee3d 3D metal printer during a field exercise this week—the first such deployment of a metal additive manufacturing (AM) machine anywhere in the world, according to Spee3d officials. The AM machine reportedly was rapidly deployed and employed successfully by the Australian Army during the exercise in the country's Northern Territory.
The Warp Spee3d large-format printer uses a patented cold-spray technology capable of printing metal parts in weights to 40 kg at speeds to 100 g/mi. During the three-day exercise, it was maneuvered to various bush locations and terrains, and unloaded and operational within 30 min., followed by production of various parts.
The Australian Army announced a $1.5 million investment in a pilot of Spee3d technology in February 2020 with a 12-month trial designed to test the feasibility of deploying 3D metal printers both on base and in the field. The program aims to significantly increase the availability of unique parts to the Australian Army as compared to what the regular supply chain can provide.
"The first field deployment of Warp Spee3d was an important milestone for us," says Byron Kennedy Spee3d CEO. "While our equipment was designed initially for industrial use, this trial proved that it is robust and can endure harsh conditions and rough handling very well. We look forward to future exercises and continuing to learn how we can best serve the Australian Army and defense industry."
A successful pilot program can lead to metal-AM incorporation on the battlefield, with significant ramifications.
"The ability to print repair parts in an environment like this," offers Lieutenant Colonel Kane Wright, commanding officer of the unit responsible for this deployment of the AM machine, "has the potential to significantly reduce our footprint and repair damaged equipment―on the spot―to get us back to our main priority."
See also: Spee3d
---
Reader Comments
There are no comments posted at this time.