Article
Additive Manufacturing--A Path to Sustainable Success
Thursday, May 14, 2020
Followers and proponents of additive manufacturing (AM) have become quite familiar with the benefits in designing for part and product use, without designs constrained by the method of manufacture.
Acknowledging this advantage, and rightly extolling the technology as a means to design and manufacture in a better way tomorrow than possible yesterday, Brian Neff goes a step further. He's by no means the first, but may well be the most vocal in pushing AM as a sustainable manufacturing savior—a true AM cheerleader.
The CEO of Sintavia, a Florida-based AM company focused primarily on the aerospace and defense industry, Neff has promoted AM at every turn since founding the company in 2012. He frequently speaks of the technology's positive environmental impact, especially in aerospace.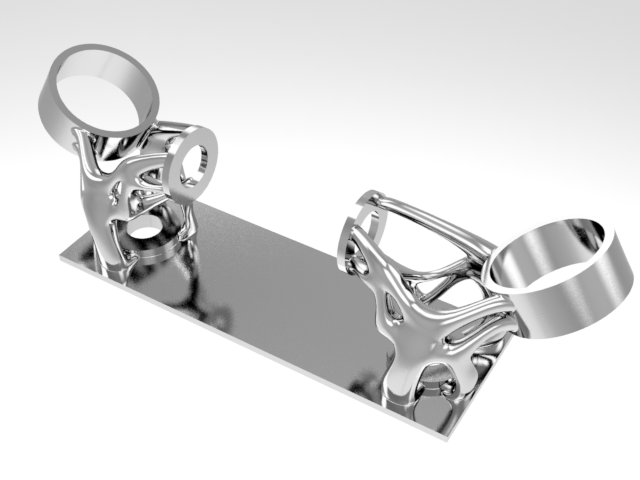 This Inconel 718 aircraft-engine bracket, redesigned and optimized for AM by Sintavia as a test project to explore the environmental impact of AM, offers a 20-percent weight reduction over the original part, with a 50-percent increase in durability. The longer-life part can cut jet-fuel usage dramatically, according to Brian Neff, Sintavia founder and CEO.

"If there ever has been an industry that needs to proactively adopt and embrace the environmental benefits of AM, it is the commercial aviation industry," Neff offered in a late-2019 TedX Talks presentation. "For years, it has been accused of turning a deaf ear to climate change and issues related to its own carbon dioxide emissions. It has gotten to the point that recently, people are asking whether it is immoral to fly on an aircraft or immoral to have parts shipped via air cargo. I don't think it is immoral, but I do think it is immoral to not adapt as fast as you can to superior technology with a much better environmental footprint, which is AM."

As mentioned, the sustainability benefits of AM are touted by many. Here's another proponent: The Millennium Project, a worldwide assemblage of futurists, scholars, business planners and policy makers. To mark the dawn of the 21st century, the project's principals developed a list of global challenges, and also provides annual reports on the topic. The project identified AM as instrumental in overcoming a number of cited challenges. This includes sustainability, as the group forwards these two facts, among others: AM reduces material waste as compared to traditional manufacturing processes, and print-on-demand reduces the need for transportation and related infrastructure.

AMGTA Formed to Promote Sustainable AM

Adding to the chorus, and recognizing the need to promote sustainable 3D printing as a responsible and profitable path forward, at formnext 2019 last November, Sintavia cofounded the Additive Manufacturer Green Trade Association (AMGTA). A noncommercial, unaffiliated organization, AMGTA (www.amgta.org) is open to any additive manufacturer or industry stakeholder meeting the following basic criteria:
Has generated the majority of its manufacturing revenue through AM over the most recent fiscal year

Has adopted proactive internal policies relating to waste reduction and operational sustainability

Is considering membership in, or is a member of the Green Business Bureau or another similar certifying agency, and/or is considering ISO 14001 certification where environmental impact is measured and can be improved

Is willing to actively participate in the advancement and non-commercial promotion of the environmental benefits of AM within end markets and with the general public as a whole.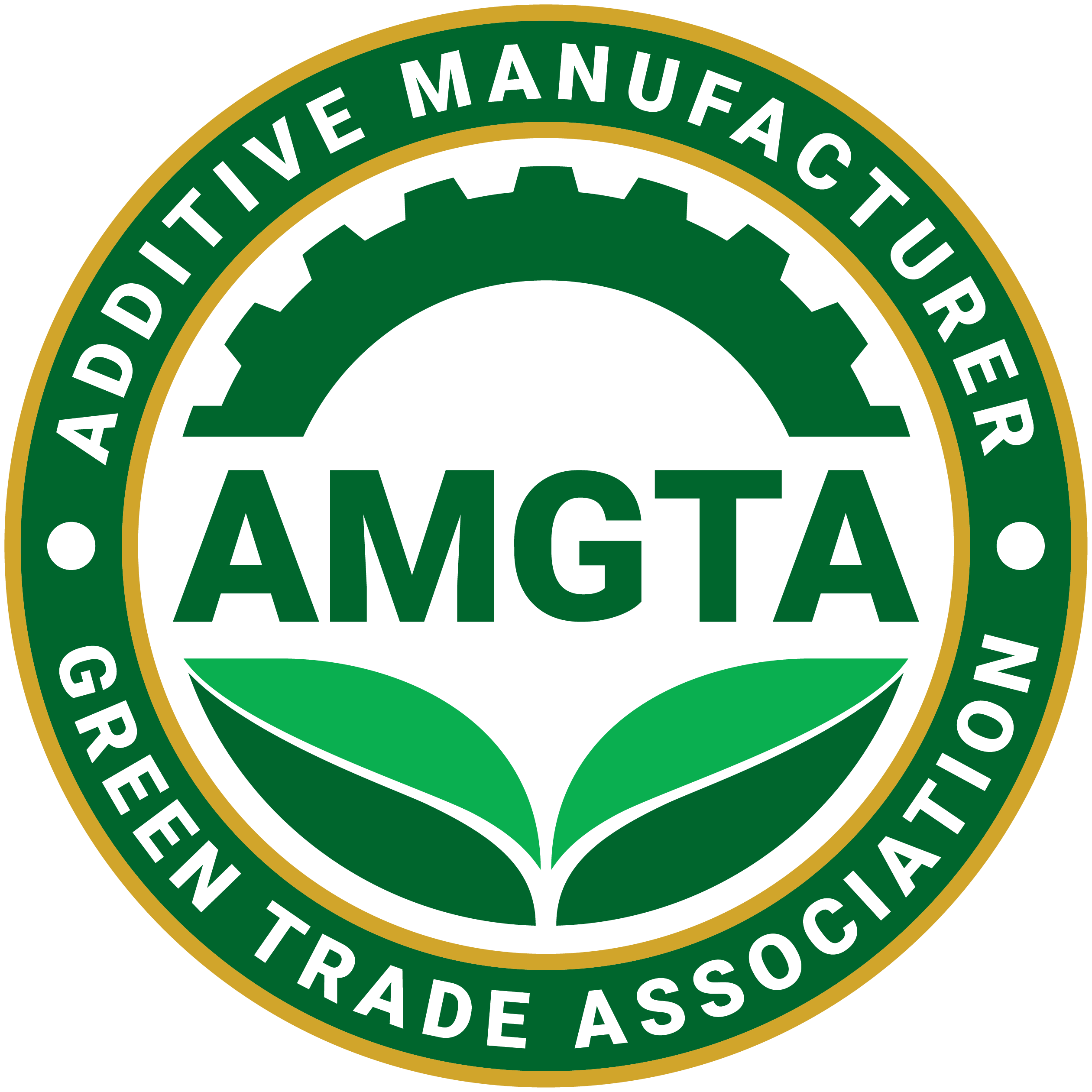 Formed in late-2019, the Additive Manufacturing Green Trade Association (AMGTA), with Sherry Handel as executive director, works to raise awareness of AM's sustainability benefits within end-market segments, in order to accelerate the adoption rate of the technology.

"Very often in AM we focus on the cost and time benefits of the technology, and do not equally consider the very real environmental benefits of AM over traditional manufacturing," said Neff, chair of AMGTA, in announcing the association's founding. "These benefits include improved end-use design utility and improved industrial ecology of the fabrication process itself. The AMGTA's purpose will be to raise awareness of these benefits within end-market segments, in order to accelerate the adoption rate of the technology."

In February 2020, AMGTA hired Sherry Handel as its first executive director. With board-level experience in scaling nonprofits in the sustainability and tech-startup sectors, Handel is cofounder and previous chief operating officer of Energy Harvesters LLC, a clean-tech startup developing the Walking Charger, which charges mobile-device batteries as the user walks. She earned a bachelor's degree in Business Administration from Northeastern University and studied sustainability at the University of Vermont and Boston Architectural College.

As AMGTA executive director, Handel focuses on educating the public and industry about the positive environmental benefits of AM; promotes the adoption of AM as an alternative to traditional manufacturing; develops best practices for AM; and helps the organization's members grow their businesses and acquire new customers. Through her leadership, AMGTA engages in marketing and advertising campaigns, sponsors and conducts research and publishes the results, and works to grow the organization's membership.

"It's exciting to build the AMGTA as a member-driven trade association whose mission is to promote the positive environmental benefits of AM," says Handel, highlighting the 2020 commissioning and publicizing of academic research data that proves the eco-friendliness of AM over older manufacturing methods as an important avenue of promotion. "In addition, this university research can reveal what areas we need to improve upon in order to reduce our environmental footprint."

Toward that end, Handel is developing the work scope for an AMGTA-commissioned university-research case-study project using a cradle-to-grave lifecycle assessment to determine the environmental impacts of producing a part using metal AM versus traditional manufacturing (subtractive) processes. The positive environmental impacts of this research will be announced at formnext 2020, November 10-13 in Frankfurt, Germany, and shared with AMGTA members and other industry stakeholders.

A second AMGTA-commissioned research project, reports Handel, involves a university literature review of prior research that describes where metal AM provides environmental benefits compared to older manufacturing methods.

To promote AMGTA and highlight AM sustainability, Handel will moderate panel discussions on the topic at the International Manufacturing Technology Show (IMTS), Sept. 14-19, 2020, in Chicago, IL, and at formnext 2020.

"Building the AMGTA requires that my efforts focus on member recruitment and industry-outreach efforts," says Handel, summarizing her duties and the near-term path forward for AMGTA. "And, we will publicize and promote the positive environmental impacts of AM revealed in research projects with in our membership, in press releases, at events, on the AMGTA website, and via social media and other marketing efforts."

Rest assured, we'll be hearing plenty from AMGTA regarding AM's environmental impact.

AM Optimization Delivers Fuel Savings

Neff himself can speak with experience on the environmental impact of AM, and why it's time for an association to trumpet the advantages. In his TedX speech, and at industry trade events such as formnext 2019, Neff has cited specific examples. One involves an experiment undertaken at Sintavia to optimize engine brackets—12 brackets for each of two engines—on a Boeing 767 airliner.

"We see excess wall thickness and excess corners (on these brackets)," he says, noting that this particular component doesn't seem optimized for its role. "We decided to see what this bracket should look like—scanning it, running it through optimization software and printing it from Inconel 718."

Besides yielding a unique, organic-looking part, testing revealed surprising gains: 20-percent lighter than the original part, and 50-percent more durable.

He cites an industry study showing that for every kilogram of weight reduced on a typical large-fleet size of 600 aircraft, fuel consumption drops by 24,000 gal. and carbon-dioxide emissions by 250 tons.

"My little part experiment, extrapolated out to such a fleet, would save about 720,000 gal./yr. of fuel," Neff says. "Apply that experiment mindset across the tens of thousands of parts on each engine and airframe out there…it is a revolutionary concept for aviation and has a direct environmental impact."

Passes the Eye Test

Weight savings resulting from optimized design and improved manufacturability addresses one aspect of AM's environmental advantages. Another aspect, relates Neff, focuses on the processes that AM can replace.

"AM grows from nothing into a final part," he says. "Subtractive (manufacturing) removes material to reach a final part."

Using laser powder-bed fusion, a main process at Sintavia, as an example, Neff notes that once parts exit the build chamber, unused and sieved powder is ready for reuse—"80-percent less wasteful than subtractive," he says. The eye test also speaks well of AM, according to Neff, as the process seemingly occurs in a surgical setting, unlike hot, smoky casting environments.

Harkening back to the experimental redesign of the aircraft-engine bracket, Neff sees the ultimate true advantages of AM not in today's aircraft, but in tomorrow's.

"The benefit is the complete redesign of the entire aircraft—airframe and engine," he says. "(Via AM), we will see a hybrid commercial jet engine by 2030, using jet fuel to take off and ascend, and then switch to electric to cruise and descend. And, a fully electric engine by 2040. That can happen only via AM, which provides a lower-risk opportunity than other manufacturing processes to try and fail and try and fail until you achieve." 3DMP

See also: Sintavia LLC
---
Reader Comments
There are no comments posted at this time.