Article
AM Material Development--Full Speed Ahead
Thursday, May 14, 2020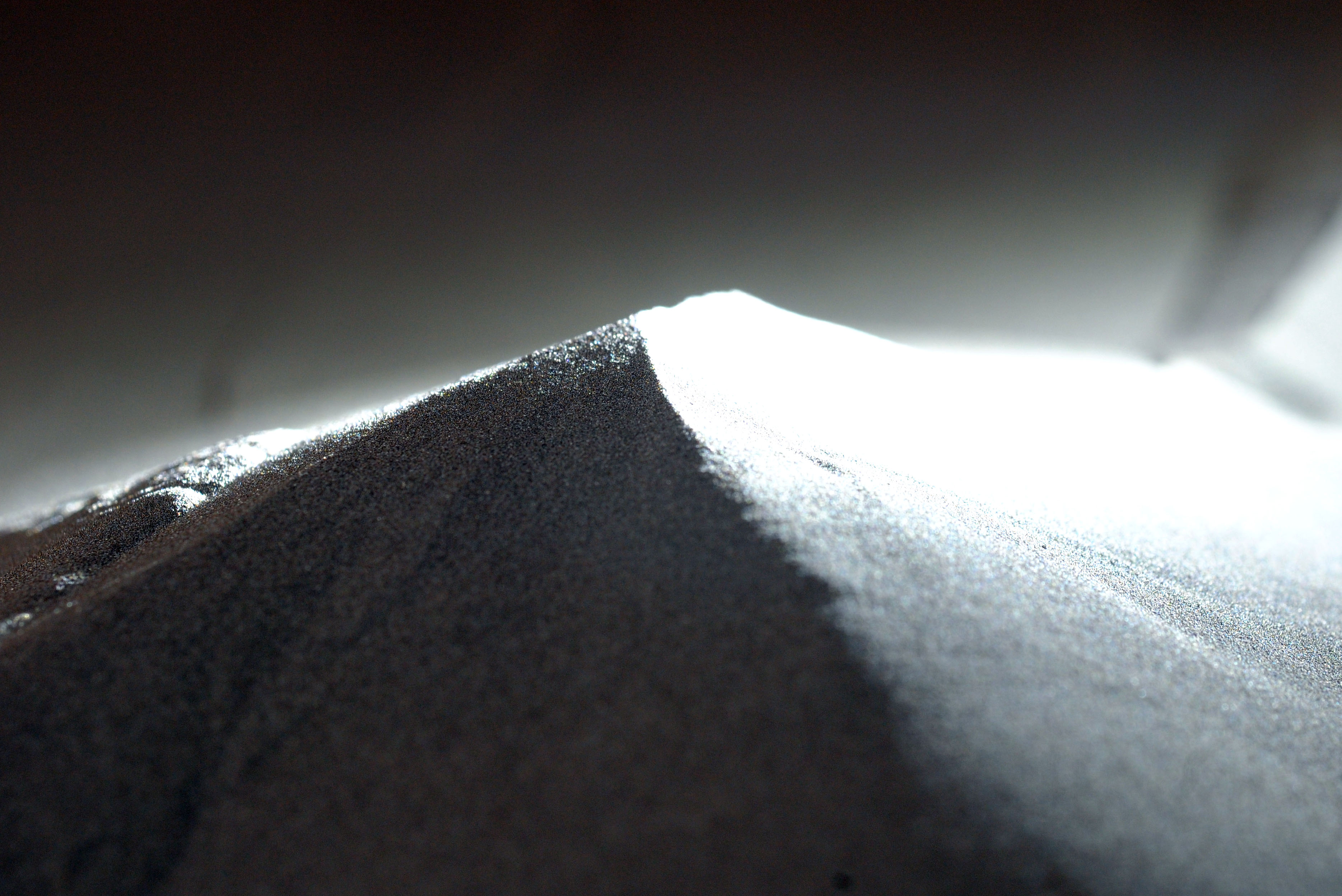 Photo courtesy of Carpenter Additive


Additive manufacturing (AM), like any other process, relies on quality input to achieve quality output, especially on the material side. Here's a look at some of what's noteworthy with AM materials R&D…and we'll have plenty more online and in future issues of 3D Metal Printing.

Carpenter's ETC Up and Running

In October 2018, Carpenter Technology acquired metal-powder developer and supplier LPW Technology Ltd., with Tony R. Thene, Carpenter's president and chief executive officer noting at the time that the purchase signaled "our aggressive development in key aspects of AM."

Backing up that claim, in December 2019, the company opened its 50,000-sq.-ft. Emerging Technology Center (ETC) in Athens, AL, offering what officials described as "true end-to-end AM capabilities." The $40 million ETC, able to atomize specialty alloys into metal powders and produce finished parts via AM at industrial scale, features formidable downstream capabilities that include a quick-cooling hot isostatic press system as well as vacuum heat treating. Critically, the ETC is designed to maintain full traceability and provide analytical insights throughout the manufacturing process via a digital thread, according to company officials. And, it sits alongside Carpenter Technology's 500,000-sq.-ft. Athens manufacturing facility, including extensive quality test labs, thus providing valuable symmetry and consolidation of resources and expertise.


Carpenter Technology's new Emerging Technology Center in Alabama reports successes in refining standard material families while developing new powder formulations for high-temperature nickel alloys, high-strength aluminum and other materials. Photo courtesy of Carpenter Additive

With nearly a half year of active operations under its belt, the ETC is making valuable contributions. Providing an update to 3D Metal Printing is Ben Ferrar, vice president and general manager of the Carpenter Additive business unit.

"We're able to access 130 years of Carpenter Technology material experience in developing superalloys and specialty alloys into AM powders for critical applications," Ferrar says. "In addition, with the scale-up of manufacturing capability at a critical quality level representing one of AM's biggest challenges, we can deploy much of that materials experience and expertise toward that challenge."

The company's ability to manufacture parts provides valuable intellectual property and greatly assists in powder development, according to Ferrar, who stresses that differentiated material development, and not commodity-service manufacturing, remains the long-term goal for Carpenter Additive.

Key to that development, Ferrar explains, "is the ability to provide standard base materials that give users the widest possible process window for producing parts of equivalent material. A manufacturer can buy various lots of superalloy Ni-718 that all meet any global standard specification, but they could all perform differently in AM. That's challenging for the AM industry to overcome and is still a major focus area of our research and process-engineering work."

Another AM materials-development challenge forwarded by Ferrar: understanding what happens to raw materials as they're recycled in the AM process.

"We want to develop a material that can be used as many times as reasonably possible to hit the same mechanical properties," he says.

Carpenter Additive's initial focus at the ETC, according to Ferrar, involves demonstrating "repeatable, reliable AM of mission-critical components using existing materials, including the use of multiple feedstock batches and multiple recycles—eventually building a degree of robustness and confidence in the end-to-end manufacturing process."

That said, Carpenter Additive also maintains R&D programs where current AM material performance gaps exist. These gaps, as explained by Ferrar, include:
Highly alloyed, high-temperature nickel alloys, susceptible to cracking in AM. Success in developing these alloys can lead to greater use of AM to produce complex parts for hot-gas-path components in industrial gas turbines and aerospace engines.

High-strength-aluminum alloys, which can replace castings in instances where the benefits to the end application justify the cost differential. Given lower material costs, AM can make gains in airframe and automotive applications.

Ultra-high strength, corrosion-resistant and wear-resistant steels, which, though challenging to process, provide strengths exceeding 25 percent greater than current stainless steels for critical defense, medical and tooling applications.

Titanium alloys, which need a small amount of dissolved oxygen to impart high strength, but too much oxygen makes them become brittle. With titanium powder exposed to oxygen in the AM machine and reacting with it during the process, recyclability becomes limited, which negatively impacts the economics. It also challenges the ability to obtain repeatable mechanical properties over a number of recycles. Solving these challenges can mean greater opportunities in medical, aerospace and other markets. Toward that end, Carpenter Additive has launched two proprietary grades of titanium alloy, 5+ and 23+ powder, targeted at the medical and aerospace segments, respectively. These custom compositions of the widely used Ti 6Al-4V alloy were developed specifically for AM reportedly to provide higher tensile strength and longevity with lower oxygen content as compared to the industry-standard grade.
Materials Recommendation Chart for Biocompatability
3D Systems, acting upon concerns regarding use of non-biocompatible materials for medical devices, has released the Material Technology Recommendation Chart, on its COVID-19 response page at www.3dsystems.com. It prepared the chart to identify the best candidates for printer-material combinations for which either Class VI and/or ISO 10993 certifications are possible, including potential solutions to applications in emergency situations though the materials are not Class VI- and/or ISO 10993-certified.
Recently, the U.S. Food & Drug Administration (FDA) has issued several emergency-use authorizations for items such as PPE for healthcare providers, allowing providers to receive clearance more quickly than previously possible. Additionally, FDA, the U.S. Dept. of Veterans Affairs, America Makes and the Centers for Disease Control all have published guidance, with 3D Systems collaborating with all these organizations in its response efforts.
ExOne Reports New Qualifications, Can Print More Than 20 Powder Materials
ExOne reports qualification of 15 new materials for printing on the company's family of 3D printers. Among the additions: M2 tool steel, Inconel 625, tungsten carbide-cobalt and silicon carbide.
In all, ExOne metal binder jetting systems now 3D print 10 single-alloy metals, six ceramics and five composites, according to company officials. Additionally, 21 powdered materials have been qualified for 3D printing in controlled R&D environments, including aluminum and Inconel 718.
The diversity of powdered materials available for the company's metal binder-jet systems, according to company officials, owes to its portfolio of specialty fuse binders. The binders must deliver certain characteristics that work harmoniously with the powder material being printed, with considerations including viscosity, saturation, bleeding in X and Y, as well as other debinding characteristics.
ExOne officials offer that the ability to 3D print some materials, such as aluminum, at high speeds will have a transformative, sustainable effect on the automobile and aerospace industry.
Trumpf, Heraeus Amloy Team to Optimize Amorphous Metals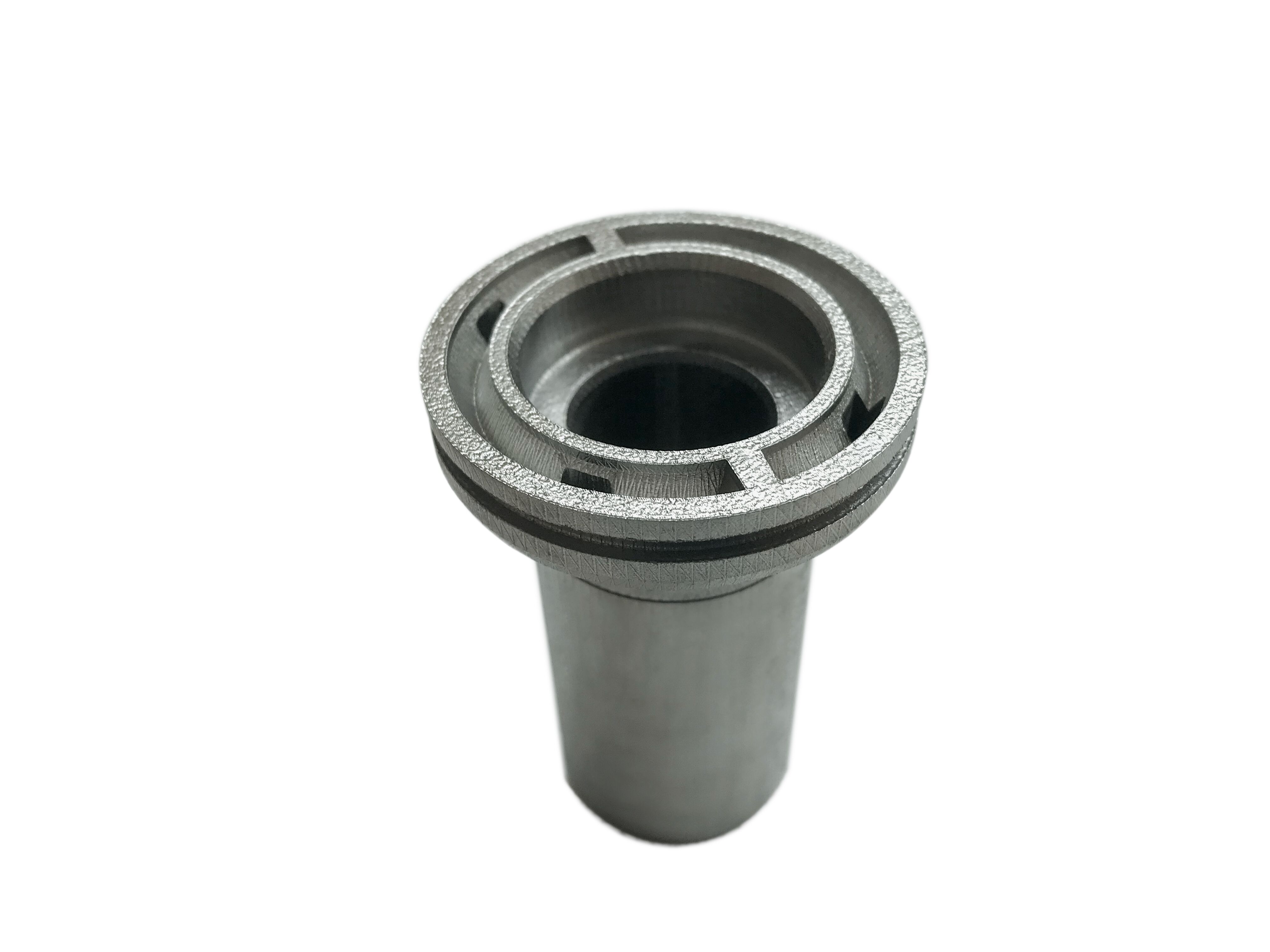 A collaboration between Trumpf and Heraeus Amloy seeks to boost processing capability and cost efficiency of amorphous-metal parts for industry. Photo courtesy of Trumpf Group

Amorphous metals, known as metallic glasses, form by rapid cooling of molten metal. Via 3D printing, unlike other processes, the metals can be built into large, complex parts, with beneficial lightweighting possibilities. The technology enables users to build parts in one piece instead of making components one by one and then assembling them into a finished part. With all of that in mind, Trumpf and Heraeus Amloy have collaborated to boost processing capability and cost efficiency of amorphous parts for industry.

Twice as strong as steel, yet significantly lighter and more elastic, according to officials from both companies, amorphous metals exhibit isotropic behavior. This means that their material properties remain identical, regardless of the direction in which the 3D printer builds the workpiece. Benefits include creation of lightweight parts subject to significant stresses, such as found in aerospace applications. These materials also prove ideal for medical devices due to their biocompatibility.

The collaboration combines Heraeus Amloy's expertise in producing and processing amorphous metals with Trumpf's experience in AM. Heraeus Amloy has optimized its amorphous alloys for 3D printing and tailored them for use with Trumpf's TruPrint AM systems. Trumpf touts its latest-generation TruPrint 2000 machine an ideal choice for printing amorphous metals, noting that the machine enables preparation of excess powder in an inert-gas environment for the subsequent building process. This protects the powder from any adverse influences, a key benefit for amorphous metals because they react so quickly with oxygen. The TruPrint 2000's two 300-W lasers scan the machine's entire build chamber in parallel using a laser focal diameter of only 55 micrometers, enabling low- and high-volume production of amorphous parts with high surface quality. The machine's Melt Pool Monitoring function automatically monitors the quality of the melt pool, enabling any process errors to be spotted at an early stage.

Those with a Trumpf 3D printer now can use it to process zirconium-based alloys from Heraeus Amloy. Also, 3D-printed amorphous parts can be ordered directly from the company. The two partners plan near-future availability of copper- and titanium-based alloys.

Beamit, Praxair Surface Technologies Collaborating for Aviation Components

Beamit has announced a collaboration with Praxair Surface Technologies designed to better serve the aviation industry through AM-component supply. Praxair's TruForm gas-atomized metal powders, designed for AM and engineered for all AM processes, can be customized and are available in various capacities, including large lot sizes. With Beamit specializing in production of aviation components via AM, and Praxair offering expertise in advanced coating solutions as well as specialized materials and equipment, the companies, through this collaboration, can offer an extended range of services to the aeronautical sector.

This cooperation also provides the ability to offer integrated services for OEMs and Tier Ones worldwide, enabling them to reduce their supplier portfolios.

Recycled Materials Yield Highly Spheroidized Metal Powders

6K has acquired a complementary operation in Pittsburgh, PA, to recycle waste material from subtractive-manufacturing processes, reclaiming and upscaling it as nickel and titanium feedstock for powders produced by the company. The plant provides reclamation capacity of 3 million lb./yr., with 6K currently recycling 1 million lb. of titanium annually. The technology behind this plant's operation, and the resulting production of highly spheroidized metal powders, including high-entropy alloys, was detailed by Sunil Badwe, 6K chief metallurgist, in a presentation during Digital Additive Manufacturing Marathon online event.

The 6K process, combining mechanical alloying with the company's UniMelt process, converts machined millings, turnings and other recycled feedstock sources into AM-ready metal powder, including powders engineered from non-eutectic alloys such as high-entropy alloys, or designer aluminum alloys capable of printing in powder bed fusion systems, say company officials. Attempting this via conventional mechanical alloying alone, they claim, yields non-spherical material not usable for AM.

High-entropy alloys, as detailed in Badwe's talk, combine five or more elements in varying concentrations to offer a combination of strength and density properties beyond those of conventional alloys. Engineered powders available for AM include stainless steels as well as cobalt, titanium and nickel alloys.

AS 9100D Aerospace Certification for New Sandvik Powder Plant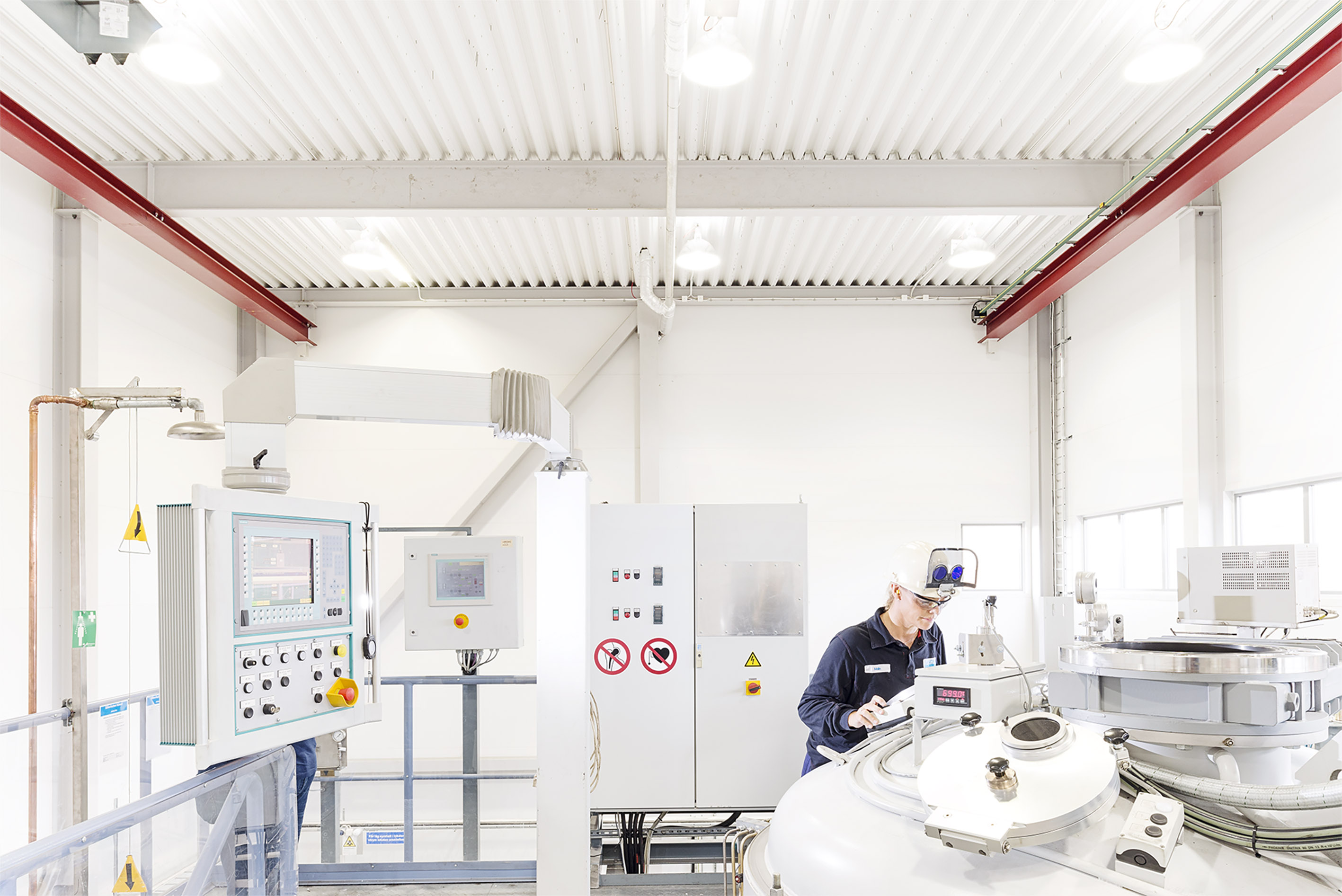 Recently achieving AS 9100D aerospace certification, Sandvik's plant in Sweden produces the Osprey titanium-powder line as well as nickel-based superalloys.


Sandvik's state-of-the art powder-production plant in Sandviken, Sweden, commissioned at the end of 2019, has achieved AS 9100 Revision D certification for deliveries to the aerospace industry. The plant produces Osprey titanium and nickel-based superalloys.

Though offering exceptional material properties and being biocompatible, the cost and complexity of machining titanium from billet have restricted its use to high-value, low-volume industries such as aerospace, medical and defense. But the launch of titanium powders for AM, note Sandvik officials, supports a growing trend toward the 3D printing of titanium parts, and the shift toward sustainable manufacturing—enabling its use in automotive and tooling applications.

With traceability of vital importance in the aerospace industry, Sandvik provides full traceability for its titanium powder, made possible by having the full supply chain inhouse, from titanium sponge to finished powder. Its new titanium powder process reportedly uses advanced electrode inert-gas atomization technology to produce highly consistent and repeatable powder with low oxygen and nitrogen levels. The automated production process also is supported by several industrial robots and a dedicated downstream sieving, blending and packing facility.

"Our highly automated manufacturing process ensures excellent consistency—and the powders demonstrate optimal particle size distribution," says Keith Murray, vice president of global sales for Sandvik Additive Manufacturing.

Osprey Ti-6Al-4V Grade 5 and Osprey Ti-6Al-4V Grade 23 represent the first two titanium powders produced at the plant, along with nickel-based superalloys including Osprey Alloy 625 and Osprey Alloy 718. Other alloys are available on request.

Equispheres to Use New Funding for Metal-Powder Production Scaling, R&D

Equispheres, Ottawa, Canada, announced Series B investment and funding totaling $30 million (Canadian), which it will use to scale metal-powder production capacity and facilitate R&D efforts with strategic industry partners. This round of funding was led by advanced-materials and sustainable-technology investor HG Ventures, with participation from Sustainable Development Technology Canada; BDC, Canada's bank for entrepreneurs; and other undisclosed contributors.

"HG Ventures' extraordinary combination of research capability and venture-capital experience makes it an ideal partner to understand both the technical and market potential of our product across the transportation industry," says Kevin Nicholds, President and CEO of Equispheres. "We are also grateful to have the support of the Canadian government, enabling us to leverage investor financing to achieve our objective of providing a high-quality product at volume levels demanded by the marketplace."

With this funding, Equispheres plans to focus on improving reactors for higher-volume and lower-cost production; accelerating R&D projects with strategic partners in the automotive, aviation, space and defense industries; hiring and developing talent; and developing application-support services for its targeted industries.

Within the last year, Equispheres has released two major reports (available on its website), one outlining how its powder performed in AM aerospace-ready quality tests, and another detailing its success in developing an aluminum-alloy powder suitable for binder-jet printing.

Sumitomo Invests in Elementum 3D

Sumitomo Corp. of Americas announced its investment in Elementum 3D, which specializes in the creation of advanced metals, composites and ceramics. Elementum 3D holds a patent for a metal powder blended with ceramics that reportedly enables faster printing speed, stronger mechanical properties and a wider usage of metal grades not traditionally suitable for AM.

"This investment is an excellent complement to our growing portfolio in the AM space," says Kazuaki Tsuda, senior vice president and general manager of the steel and nonferrous metal group at Sumitomo. "Elementum is pioneering new intelligence related to the raw-materials supply chain in AM, and we see abundant opportunity for these applications in the near future."

3D-Printed Copper Cladding Battles Virus That Causes COVID-19

Citing studies showing that copper rapidly kills SARS-CoV-2, the virus that causes COVID-19 disease, Spee3d has introduced Activat3D copper and a process to clad it to existing parts via the company's printers. This discovery has led to a renewed interest in employing copper fixtures and fittings in communal areas, according to Spee3d officials.

Spee3d has developed new algorithms that allow its printers to coat existing metal parts with copper, reportedly a more efficient than printing solid copper parts from scratch, and enabling the coating of stainless-steel door touch plates and other handles in only 5 min.

Laboratory tests, claim Spee3d officials, have shown that Activat3D copper contact-kills 96 percent of SARS-CoV-2 in 2 hr., and 99.5 percent in 5 hr., whereas stainless steel, typically used in hygienic environments, showed no killing power in the same timeframe.


Addalloy AL Powder Named 2020 Edison Awards Gold Winner

Addalloy, an aluminum powder from NanoAl, has won a Gold Edison Award in the 3D Printing Enhancements category. The Edison Awards, which has recognized innovators worldwide since 1987, selected Addalloy via a panel of 3000 business executives from around the world.

The Addalloy family of aluminum-alloy powders are designed and developed specifically for additive manufacturing, including selective laser melting (SLM). The proprietary compositions, according to NanoAl officials, take advantage of the atomization and SLM printing processes to create advanced microstructures with nontraditional strengthening mechanisms that enhance the performance of 3D-printed components.

"After a thorough review, the Edison Awards judges recognize NanoAl Addalloy powder as a game-changing innovation standing out among the best new products and services launched in their category," said Frank Bonafilia, executive director of the Edison Awards, in announcing Addalloy as a winner.

NanoAl is a subsidiary of Braidy Industries and serves as its R&D division, responsible for developing new aluminum alloys. 3DMP
See also: Carpenter Technology, 3D Systems, ExOne, TRUMPF Inc., Heraeus, Praxair Surface Technologies, Beamit, Sandvik Coromant Company, Elementum 3D, Spee3d
---
Reader Comments
There are no comments posted at this time.