Article
Largest formnext Yet--Plenty of Metal AM on Display
Monday, February 3, 2020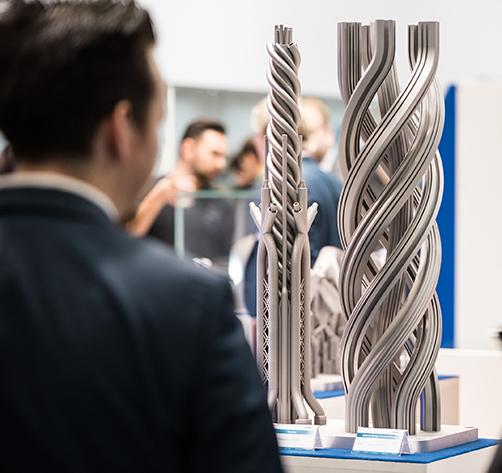 Formnext 2019, held last November in Frankfurt, Germany, welcomed 34,532 visitors representing aerospace, automotive, energy, medical and other markets, and 852 exhibitors from more than 30 nations. The numbers represent a 28-percent jump in attendance and a 35-percent gain in exhibitors over last year, and position the 2019 edition as the largest formnext yet.
Walking the aisles revealed exhibit after exhibit touting new metal AM machine technology, new powdered metal alloys, new software to optimize metal builds, and other products such as finishing equipment geared toward metal-part post-processing.
"In its fifth year, formnext continues its impressive success story," says Sascha F. Wenzler, vice president-formnext at event organizer Mesago Messe Frankfurt GmbH. "AM definitely has arrived."
The event promoted the United States as a partner country, with visitors experiencing a varied supporting program designed by the U.S. Commercial Service and numerous industry groups. More than 50 U.S. exhibitors dotted the show floor and the U.S. pavilion.
"Formnext is very important for the industry and for U.S. companies," says Ken Walsh, principal commercial officer and head of the commercial section for the U.S. Commercial Service. "Participation of U.S. exhibitors grew by almost 40 percent as compared to 2018 (with the number of U.S. visitors increasing by 25 percent)…we could really show the variety of innovative products and services offered by American companies."
The still-young world of AM also is attracting more and more investors, with formnext 2019 seeing a significant increase in interest from venture-capital and industrial firms looking to become strategic partners for young companies, according to show organizers. To assist, formnext offered the Start-up Challenge and the Start-up Area, platforms that enabled startups to introduce themselves to the international AM community as well as to potential investors.
And, the transatlantic AM Standards Forum, taking place for the second time at formnext 2019, further advanced the development of crucial uniform norms and standards for AM.
Here's some of what 3D Metal Printing saw at formnext. Look for more in future issues of 3DMP, in the AM Software Roundup article and in the online version of this article at www.3dmpmag.com/formnext-19. Formnext 2020 takes place November 10-13 in Frankfurt.
Sintavia Launches Green Group
Sintavia, LLC, a manufacturer of metal 3D printed aerospace and defense parts, announced launch of the Additive Manufacturer Green Trade Association (AMGTA, www.amgta.org), a noncommercial, unaffiliated organization open to any additive manufacturer that meets certain criteria relating to production sustainability.
"Very often in AM we focus on the cost and time benefits of the technology, and do not equally consider the very real environmental benefits of AM over traditional manufacturing," says Sintavia CEO Brian Neff. "AMGTA's purpose will be to raise awareness of these benefits within end-market segments, to accelerate the adoption rate of the technology."
It is expected that the organization will begin operations in full by the second quarter of 2020.
To qualify for AMGTA membership, a company must have generated the majority of its manufacturing revenue through AM over the most recent fiscal year; have adopted proactive internal policies relating to waste reduction and operational sustainability; be a member of the Green Business Bureau or another similar certifying agency; and be willing to actively participate in the advancement and noncommercial promotion of the environmental benefits of AM within end markets and with the general public as a whole.
New Quad-Laser AM Machine Headed to BeamIt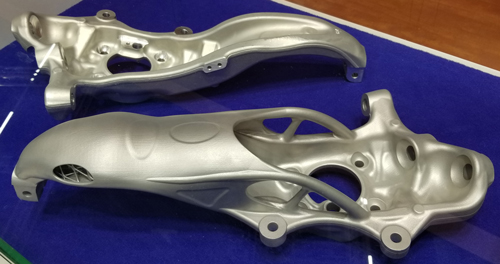 SLM Solutions showcased the handiwork of its SLM 500 quad-laser machine, including these automotive steering knuckles. Build time for each part: 2 days, 7 hr. and 23 min., and produced from AlSi10Mg powder in a layer thickness of 60 microns.
Debuting at formnext, the SLM 500 production series from SLM Solutions features innovative gas-flow technology and a quad-700-W laser array, with the company announcing that AM supplier BeamIt has purchased a quad-laser AM system. This follows acquisitions earlier this year of another SLM 500 as well as a twin-laser SLM 280 system, bringing to eight the number of SLM Solutions machines in the BeamIt stable. The purchase assists BeamIt as it works to develop high-speed build parameters for special aluminum alloys.
Holding a number of quality certifications, including ISO 9100 for aerospace, energy and automotive, BeamIt will use its newest selective laser melting machine to further expand into the motorsport and automotive market. To target these segments, the company plans to use the open-parameter access of the SLM 500 to develop custom, high-speed build parameters for Al2024X and Al6061.
"This summer we announced that Sandvik acquired a stake in BeamIt due to our expertise in metal AM, and our partnership with SLM Solutions allows us to further leverage that expertise," says Mauro Antolotti, BeamIt chair and founder. "With the advanced material knowledge of Sandvik and the parameter freedom of the SLM Solutions machines, we plan to develop top-quality parameters targeting the specific needs of our high-performance automotive and racing customers."
Says Meddah Hadjar, CEO of SLM Solutions, "BeamIt purchased two selective laser systems earlier this year to develop parameters for nickel-based alloys, and we are confident that the company will have an equal amount of success in advancing aluminum parameters for the industry on its newest SLM 500."
HP Expands Digital Manufacturing Network, Displays Progress with Metal Jet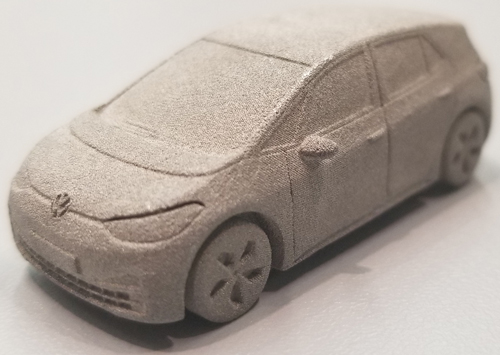 Via the HP Metal Jet system, GKN Powder Metallurgy and HP have supplied 10,000 2-in.-long models of Volkswagen's ID.3 electric vehicle to VW, to be used in marketing efforts.
HP Inc. announced expansion of the HP Digital Manufacturing Network with new partners Prototal in Europe and Solize in Japan. The network includes a worldwide community of digital manufacturing service providers with capability for high-quality, high-volume HP Metal Jet and Multi Jet Fusion part production, according to company officials.
The expansion enables improved access to the distributed network of metal- and plastic-part providers, reportedly allowing users to scale up parts production quickly, whenever and wherever needed.
Also, via the HP Metal Jet system, GKN Powder Metallurgy and HP have supplied 10,000 2-in.-long models of Volkswagen's ID.3 electric vehicle to VW. HP announced the supply as an example of the system's ability to manufacture in production volumes. The miniature models, complete with the detailed VW logo and produced across a 4-week production run, will be used in marketing efforts.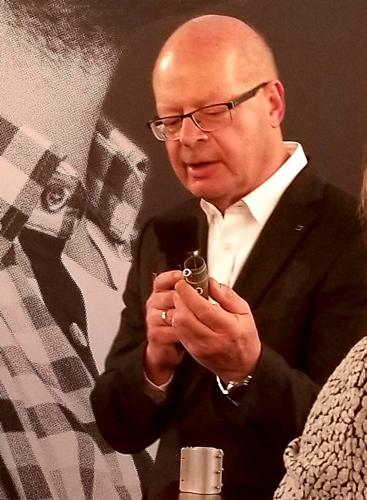 Demonstrating the efficacy of metal AM, Dr. Klaus Parey, managing director of Trumpf Additive Manufacturing, holds a metal AM part previously produced via assembly of 10 separate parts--that component is on the table. Besides cutting component cost by 30 percent, design-and-build capabilities inherent in AM yielded optimal cooling channels that improve the part's cooling efficiency by 20 percent.
Compact Multi-Laser Machine Ideal for Medical, Tooling Applications
Trumpf displayed its compact TruPrint 2000, offering a small, 55-micron-dia. laser beam to provide detailed, high-quality surfaces, according to company officials. The system, with comprehensive process monitoring, including melt pool monitoring, for consistent component quality, provides a cylinder build area of 200 mm dia. by 200 mm high. Two 300-W fiber lasers scan the entire build area. Company officials see the system as ideal for medical devices as well as dental devices and tool and mold making.
The inert-machine concept of the TruPrint 2000, with its powder-preparation station, provides simple powder and parts handling under shielding gas, according to Trumpf officials. In practice with the integrated powder feeder, the component is inertly unpacked directly within the machine. Excess powder collected in the overflow bin is placed in the powder-preparation station and sieved for reuse into the supply cylinder, under shielding gas. The powder circuit closes so that the user does not come into contact with the powder. In simpler terms, an operator can remove excess powder from the component directly within the system rather than removing it and unpacking at a separate station. And with powder processed in an inert environment, contaminants are prevented from infiltrating the powder circuit—key when producing sensitive medical devices.
Design-to-Production Capability, New Facility for Metal Part Production
Materialise highlighted its AM design-to-production capabilities, including redevelopment of a suction gripper. Materialise engineers created a part using less material, eliminating machining steps and integrating internal channels. The resulting part: 94 percent lighter, half the production cost and improved suction. During 3DMP's visit, Jurgen Laudus, vice president of Materialise's manufacturing segment, reported groundbreaking for a new facility in Bremen, Germany, for AM of metal industrial parts. Expected completion: early 2021.
Titanium Hip Cups in 225-Part Builds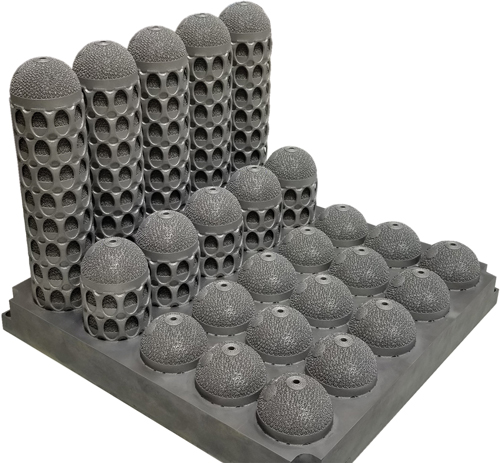 To reduce cost per part, a 3D Systems DMP Flex 350 stack-prints hip cups using the company's LaserForm Ti Gr23 (A), a titanium alloy. Printing in layer thicknesses of 60 microns for the scaffold and 90 microns for solids, the machine produces 225 parts/build when using the full plate, for an average build time per part of 45 min.
The printer features a build volume of 275 by 275 by 420 mm with a maximum achievable part size of 275 by 275 by 380 mm using a standard-height build plate of 40 mm. A unique vacuum chamber heavily reduces argon-gas consumption while achieving oxygen levels of less than 25 ppm. This results in exceptionally strong parts of high chemical purity, according to 3D Systems officials. Designed for R&D projects, application development or for serial production, the machine also is scalable for volume part production. Features include quick-swap build modules and rapid powder recycling to help speed production. A central server manages print jobs, materials, settings and maintenance, enabling 24/7 productivity.
Also at formnext, Vyomesh I. Joshi, president and CEO of 3D Systems, detailed the company's focus on healthcare, dental, aerospace, automotive and durables vertical markets. By the end of 2019, he reported, 3D Systems will have manufactured 200 million production parts, signaling AM's rapid evolution from a one-off or prototype technology.
New Production Binder Jetting Machine
ExOne's production version of the X1 25Pro metal 3D printer, featuring binder jetting technology, debuted at formnext. With build dimensions of 400 by 250 by 250 mm, it is large enough to accommodate production of most metal parts manufactured today, according to company officials. The new system now is positioned as the midsized model within ExOne's growing family of metal 3D printers, also capable of 3D printing ceramics.
The X1 25Pro can binder jet a variety of metal, ceramic and composite fine powders, courtesy of ExOne's Triple Advanced Compaction technology, which reportedly enables consistent part density and repeatability across the entire build area.
To date, the X1 25PRO can print more than six metal alloys that have passed the company's qualification process, including type 316L, 304L and 17-4PH stainless steels. On the fast track to qualification are other beta materials, including Inconel 718 and 625.
Also recently debuting, the company's X1 160Pro, the 10th, and largest, metal 3D printer from ExOne. Also employing binder jetting technology, this printer offers a build area of 800 by 500 by 400 mm, totaling 160 L of build volume. Its open material system prints more than six metals, plus ceramics.
Direct Metal Printing of Large Parts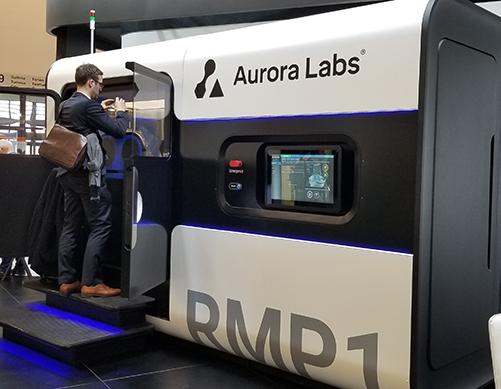 Aurora Labs' Rapid Manufacturing Printer One (RMP-1), a direct metal laser melting (DMLM) AM machine, features Aurora's Multi-layer Concurrent Printing (MCP) technology. MCP allows for direct metal 3D printing at rates much faster than previously possible with the established single-layer DMLM technology, according to company officials.
The RMP-1 features a build zone of 450 mm dia. and 400 mm depth, and employs multiple fiber lasers in several power options with focus diameters to a minimum of 70 microns. The multi-laser system operates over multiple powder layers in parallel, thus reportedly multiplying laser on-time and productivity as compared to non-MCP-equipped DMLM systems. Other features: recirculating argon-gas-delivery system and integrated software to simple print setup and preprint validation.
The advantage of teaming MCP technology with DMLM technology is the reduced requirement for furnace treatments over metal injection molding technologies, according to company officials.
Materials compatible with the RMP-1 include types 316 L, 17-4ph, Inconel 718, Ti grade 1, Ti6Al4V grade 5, AlSi10Mg and AlSi7Mg.
Hardware, Software Modules Designed to Simplify AM-Build Workflow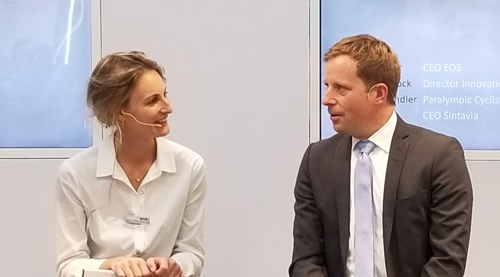 EOS trumpeted EOS Shared Modules, consisting of various hardware and software modules, as a production-ready solution to simplify and parallelize both upstream and downstream workflow of the build process. Especially when operating multiple 3D printing systems, EOS Shared Modules enable manufacture of high-quality metal parts on an efficient, scalable, profitable basis, according to company officials. Look for Shared Modules to be available in the second half of 2020.
At formnext, the company demonstrated Shared Modules for integrating AM with EOS M 400-series systems, with the concept also offered for M 300-series systems in the future. The various modules and transport systems, along with control-center software, enable users to implement equipping, unpacking, transporting and sieving activities parallel to the AM-build process.
As EOS Shared Modules components are set up individually and not as a combined unit, they simultaneously are available for multiple 3D printing systems. EOSConnect ControlCenter software provides users with a continuous flow of key production parameters and seamless part traceability by means of a digital twin. The reported result: significantly increased efficiency, particularly in series manufacturing.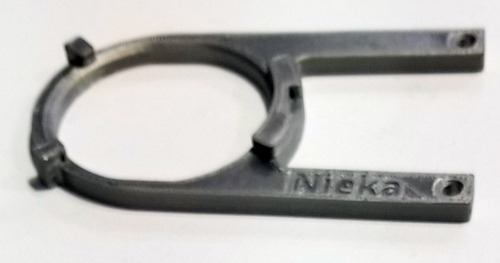 Big Savings with AM Clip Production
At formnext, Markforged CEO Greg Mark used the example of a clip to show the capabilities of the Metal X system, and the ability for 3D printing to provide a productive, cost-saving option for manufacturers. Here, Nieka Systems, via the Metal X, brought small-batch Inconel manufacturing inhouse. Previously, through a DMLS print service, a clip cost $311 to produce, with a 28-day lead time. Now, with inhouse Metal X printing, the same part can be produced for $23 with a 3-day lead time—dramatic reductions in cost and lead time for Nieka.
M Powders From Recycled Millings, Turnings and Other Sustainable Sources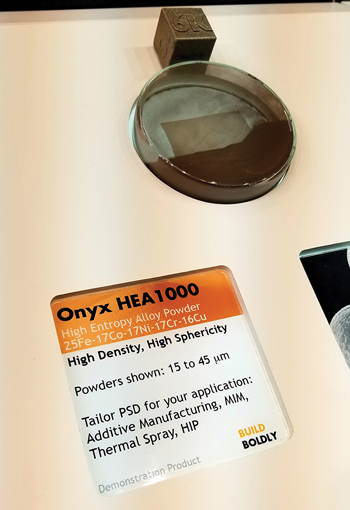 In the 6K Additive booth at formnext, the company showcased microwave plasma technology for production of advanced AM materials, which coincided with an announcement that 6K, along with partner Castheon, have 3D printed what they report as the world's first high-entropy alloy part on a laser powder bed fusion printer.
6K Additive, a developer of microwave plasma technology for producing AM materials, debuted at formnext with its newly launched powders derived from sustainable sources, including Onyx In718 and other metal alloys. Company officials say its process converts machined millings, turnings and other recycled feedstock sources into premium AM-ready metal powder.
6K's platform technology is tailorable for synthesizing nano- and micro-sized powders, spheroidizing and densifying metal and ceramic powders, and depositing these materials onto targeted substrates through plasma-spray deposition.
Other systems, which utilize electrode-based plasma, introduce a source of contamination, according to company officials, who note that ICP-based plasma systems require multiple processing steps, which can lead to diminished quality. 6K's electrode-less system reportedly eliminates this problem and results in high purity of processed materials and uniform one-pass densification.
"If the AM industry is to succeed in expanding to a far greater number of parts and market applications, powder production technology has to advance to provide a far stronger business case," says Dr. Aaron Bent, CEO at 6K Additive. "Part of enabling that expansion will come from a lower total cost structure and higher performance powders, both of which are possible with our process. However, we need to go beyond that, to powders and business models that consider the full production-cycle cost of building AM parts.
"Our ability to reclaim materials and process almost any type of metal, alloy or ceramic feedstock into premium powders puts a powerful tool into the hands of the AM designer," he continues. "Now, any alloy that is machined has the potential to become powder. Furthermore, we can create new AM powders previously not possible: powders engineered from non-eutectic alloys such as high-entropy alloys, or designer aluminum alloys capable of printing in powder bed fusion systems."
At formnext, the company revealed that it is commissioning a powder-manufacturing plant early this year in Pittsburgh, PA, and will debut TiAlV64 later in 2020.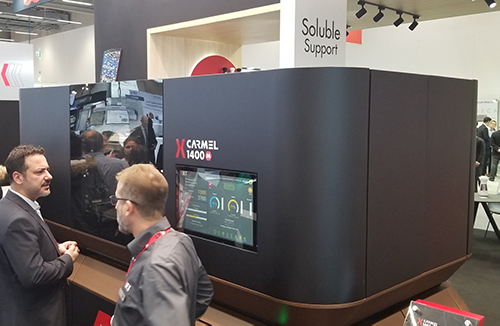 XJet's Carmel 1400M metal AM machine employs the company's NanoParticle Jetting (NPJ) technology. With NPJ, liquid suspensions containing solid nanoparticles of selected build and support materials jet onto the build tray to additively manufacture detailed parts. These liquid suspensions are delivered and installed in sealed cartridges.


AM Machine Employs Unique Jetting Technology

XJet Ltd. had plenty to highlight at formnext. On display, the Carmel 1400M, a metal AM machine that employs XJet's NanoParticle Jetting (NPJ) technology. With NPJ, liquid suspensions containing solid nanoparticles of selected build and support materials jet onto the build tray to additively manufacture detailed parts. These liquid suspensions, serving as the base materials for XJet's AM process, are delivered and installed in sealed cartridges. The company also showcased the Carmel 1400C, employing NPJ to produce ceramic parts.

At formnext, XJet finalized a new customer for its alumina material, Sharon Tuvia, an Israeli family-owned business that produces assemblies, parts and components for aerospace, medical and other sectors via AM and machining expertise. Also at the event, XJet announced the appointment of Dr. Dan Shechtman to lead its Scientific Advisory board. Winner of the 2011 Nobel Prize in Chemistry for the discovery of quasicrystals, Shechtman's role: help steer XJet's material and application development roadmap.

New Laser AM Systems Promise Rapid Build, Repair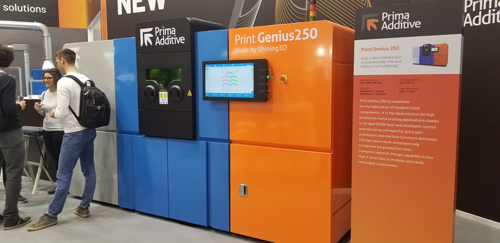 New from Prima Additive, the Print Genius 250, a laser powder bed fusion machine with a 262 by 262 by 350-mm build volume. Suitable for the production of medium-sized metal components, it offers an ideal solution for high-productivity printing applications, according to company officials, due to its dual 500-W single-mode laser.
Prima Additive debuted two laser 3D metal printing platforms, with one employing powder bed fusion technology, and the other direct energy deposition.
First up, the Print Genius 250, a laser powder bed fusion machine with a 262 by 262 by 350-mm build volume. Suitable for the production of medium-sized metal components, it offers an ideal solution for high-productivity printing applications, according to company officials, due to its dual 500-W single-mode laser. And, the machine's software provides for rapid part orientation and for the definition of machine parameters. Other reported features include optimized gas flow, and the capability of complete material change in less than 2 hr. The Print Genius 250 boasts a two-line filter unit for recirculation of gas inside the work area, which reportedly maintains a high degree of machine cleanliness and minimizes the replacement of parts subject to wear. A new human-machine interface enables real-time monitoring of the build environment, and generates reports for traceability of key printing parameters. Use the machine to process a range of materials, including high-strength and stainless steel, maraging steel, high-temperature nickel-base alloys (Inconel), titanium, cobalt-chromium, and aluminum and copper alloys.
Also introduced, the Laserdyne 430 DED, a compact laser metal deposition platform with a working volume of 585 by 400 by 500 mm, and a high build rate, to 50 cm3/hr. The machine reportedly provides excellent end-part properties, and is suitable for 3D fabrication, reworking and repairing.
It comes equipped with the Advanced Head, a multipurpose laser head with modular design that can be mounted in different configurations to adapt to multiple laser processes. Strengths of the new head include fusion-pool monitoring, a pressurized optical path that avoids dust infiltration, and a water-cooled AM nozzle for continuous deposition, which reduces the risk of powder adhesion during printing. The head also offers simple maintenance and rapid alignment of the powder/laser spot.
The Advanced Head can be mounted on all Prima Industrie laser metal deposition products, and also is available as part of Prima Additive's Laser Metal Deposition Kit, which includes the head, a high-efficiency laser source, a flexible powder feeder and CAM software for offline programming. The kit can be integrated into any machinery and robotic system.
Also, an optional rotary-tilt table adds two more axes to the Laserdyne 430 DED for complex applications.
GKN Powder Metallurgy Acquires Forecast 3D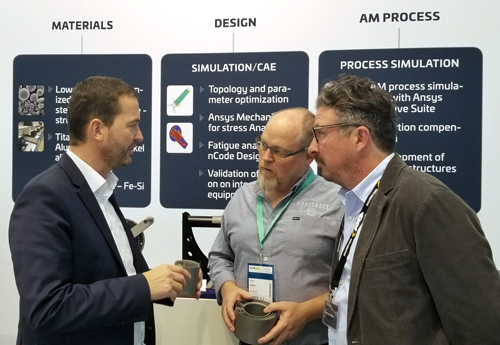 Guido Degan (left), president of additive manufacturing at GKN Powder Metallurgy, discusses part builds with Donovan Weber (center), cofounder and COO of Forecast3d, center, and his brother Corey.
Metal powder and part producer GKN Powder Metallurgy promoted its new acquisition of Forecast 3D, a Carlsbad, CA, producer of metal and plastic parts. The acquisition provides a new market mix as well as diverse design and printing capabilities—including plastic parts—for GKN Powder Metallurgy.
" Forecast 3D is a perfect fit," says Peter Oberparleiter, GKN Powder Metallurgy CEO. "They are everywhere we aren't—geographies, markets, technologies and base materials. Combining our individual capabilities will present unparalleled advantages to our customer bases and enable us to cross-promote additive manufacturing in metal and plastic over more diversified markets. It is an important step on our journey to become number one in this high-growth market."
Forecast 3D serves a diversified West Coast target audience. Prior to the acquisition, GKN Powder Metallurgy's primary U.S. market focus was the Midwest, as well as Europe and China. By combining both businesses, GKN Powder Metallurgy now serves all markets with a full range of 3D printing production technology and an expanded global footprint, according to company officials.
Forecast 3D's formidable inventory includes a fleet of industrial-grade HP Jet Fusion nonmetal 3D printers, complementing GKN Powder Metallurgy's advancements in metal 3D printing—including the use of HP Metal Jet printers—for mass production. In addition, both companies serve as foundational partners in HP's Digital Manufacturing Network.
"Our roots run deep in the world of nimble, low-volume polymer additive manufacturing," says Corey Weber, CEO and co-founder of Forecast 3D. "As we continue to branch out and focus on high-volume additive production, what better partner to pair with than GKN, a company that produces more than 13 million parts/day?"
Says Christoph Schell, president of HP 3D Printing and Digital Manufacturing: "There is enormous opportunity for growth in 3D printing and it is exciting to see GKN and Forecast 3D come together to push the boundaries in both metals and plastics mass production."
This titanium part, destined for a racing yacht, was printed on a Renishaw RenAM 500Q quad 500-W-laser AM system in 60-micron layers, with a total build time of 7 hr.
Titanium Parts for UK America's Cup Racing Yachts
Renishaw displayed numerous metal AM parts and products, including a mountain bike from Atherton Bikes, which uses titanium AM lugs, and a luxury watch strap from Betatype, made of 4000 interlocking links. Also showcased, this titanium hydrofoil mast step, developed for Ineos Team UK's America's Cup racing yacht. The critical component, which transfers all of the compressive loads generated by the mast, spreaders and rig tension into the hull, was printed on a Renishaw RenAM 500Q quad 500-W-laser AM system in 60-micron layers, with a total build time of 7 hr. Designers chose titanium as the build material as it outperforms carbon when transmitting concentrated compressive loads.
Renishaw also highlighted its new InfiniAM process-monitoring software. Find details in 3D Metal Printing's AM Software Roundup, beginning on page 14.
Optomec Releases Copper DED Process
Optomec, Inc. announced the development of a pure copper AM process using its laser-engineered, net-shaping (Lens) directed-energy deposition (DED) systems.
"Pure copper is a big challenge for DED systems because of its high reflectance," says Tom Cobbs, product manager for Optomec Lens systems. "The infrared wavelengths on most standard, laser-based AM systems are not readily absorbed by copper, making it difficult to establish a melt pool as the laser energy is reflected back into the source, causing all kinds of havoc. Our laser-based solution is virtually immune to any back reflection, so the laser can operate at full power on reflective surfaces without any difficulty. Optomec engineers have developed process parameters to account for thermal-conductivity differences, as well as big changes in absorption, and have demonstrated efficient DED builds with pure copper."
Establishing a DED process for pure copper is particularly important for designers of heat exchangers in a variety of industrial applications in industries such as aerospace and chemical processing. The Optomec copper process also applies to alloys of copper such as bronze, brass and cupronickel.
"We see this as a major milestone," says Cobbs, "because working with copper is essential for many of our customers. Copper is critical because it enables the addition of high thermally conductive features like cooling fins, the addition of soft metal sealing surfaces and high electrically conductive surfaces for power transmission."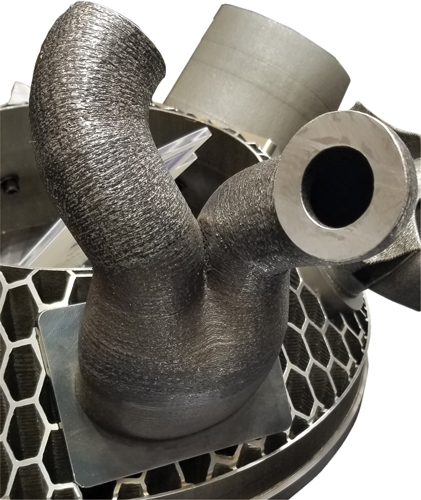 Built in DMG Mori's Lasertec 125 3D hybrid machine, this stainless steel manifold, measuring 130 by 300 by 400 mm, was produced in 28 hr.
AM Via Laser Deposition Welding Plus Machining in One
DMG Mori showcased the Lasertec 125 3D hybrid, a five-axis machining center with integrated laser deposition welding for 3D metal printing. Use the hybrid machine to manufacture, maintain and repair work to diameters of 1250 mm by 745 mm tall. The unit offers the ability to incorporate multiple materials, create new features on existing parts and perform part repair.
High-Speed Binder-Jetting for Small Metal Parts
New at formnext from Desktop Metal, the binder-jetting Shop System, designed to produce fully dense, customer-ready parts with high surface finish and resolution. It features a 1600 by 1600-dpi single-pass printhead, depositing more than 670 million drops/sec.―enabling printing to 10 times faster than laser powder bed fusion, according to Desktop Metal officials. Layer by layer, the process deposits metal powder and binder until the entire build volume is packed with bound parts and surrounding loose powder. Then, the build box is removed and placed in a powder station for depowdering, with loose powder recovered via a built-in powder-recycling system with powder sieving. A high-throughput furnace then provides for batch sintering.
The system is compatible with all powders from traditional powder metallurgy processes, including stainless and tool steels, and superalloys. Company officials see the Shop System as ideal for metal machine shops and job shops.
Fabrisonic's Embedded-in-AM Capability Key to NASA Project
Fabrisonic LLC provided samples showing its ability to print parts using its low-temperature ultrasonic AM (UAM) technology. UAM relies on solid-state ultrasonic bonding with no change to metal microstructure. The bond permits joining of dissimilar metals without the metallurgical mismatch issues seen in other additive processes, according to company officials. UAM allows a range of material combinations to be printed in a single part, reportedly opening the design space to enable property gradients and engineered material.
Fabrisonic announced that it has partnered with Luna Innovations on a project for NASA to gather data in cryogenic fuel pipes for rocket test stands at NASA Stennis Space Center. NASA's goal was to get data on pressure and temperature gradients inside of their fuel piping closer to the test article to better understand how a particular engine is behaving.
Why the partnership? The solid-state nature of the UAM bond allows for encapsulation of wires, fibers, and sensors into a metallic substrate. Over the years, Fabrisonic has embedded strain gauges, microphones, thermocouples and ultrasonic inspection sensors into solid metal parts. By burying a sensor into solid metal, according to Fabrisonic officials, the sensor is hardened, allowing it to operate in more aggressive environments.
Historically, NASA has mounted sensors to the outside of the pipe using elbows and ports, which communicates some data. However, it does not provide the same fidelity as a sensor located adjacent to the fuel stream, and can disrupt the fuel stream. Similarly, NASA has mounted sensors directly into the flow path using pass-throughs in the existing pipe. These ports and pass-throughs can influence the fuel flow, adding uncertainty to the measurements.
The Fabrisonic team assigned to this project 3D printed sensors directly into the wall of the pipe. This allows a suite of sensors to be embedded in essentially the same space, reportedly providing a much clearer picture of thermal and pressure gradients in the piping, as no ports are required. Luna Innovations provided the fiberoptic-based sensors, chosen due to their small size. In addition, the fiber-based sensors also collect data over the entire length of the fiber, allowing for a continuous length of sensing instead of a fixed point.
The project's next phase: Print a larger pipe section for use at NASA's Stennis Space Center.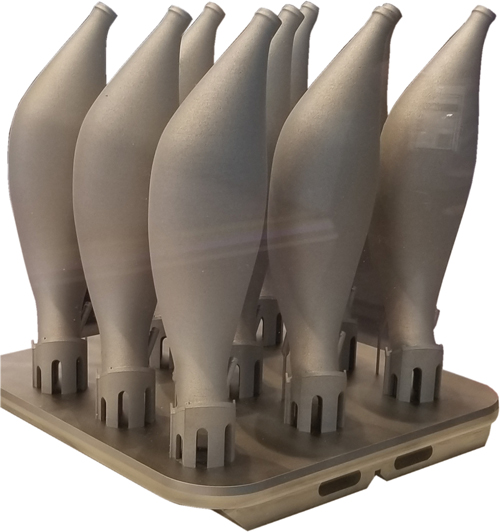 Displayed by Additive Industries, stainless steel fluid coolant tanks, built in 58 hr. via a four-laser setup, with layer height measuring 50 microns. At formnext, the company announced a nonprofit cooperative that allows its customers to pool the volume of powders and gases as well as some generic services.

Cooperative Pools User Powders, Gases and Services to Save Money

Additive Industries announced launching of a unique cooperative designed to improve quality and reduce cost of consumables for 3D printing. The Additive Manufacturing Quality Co-operative, a not-for-profit entity, unites the customers of Additive Industries and allows them to pool the volume of metal powders, gases and generic services such as testing of witness coupons and hot isostatic pressing of parts where volume normally is low, prices are high and lead time is long.

The cooperative reportedly allows Additive Industries to standardize and control the quality of its consumable supply, especially metal powders, without increasing cost. The company regards the cooperative mainly as a cost-reduction opportunity as it focuses on continuously reducing total cost per part, according to company officials. One cooperative goal forwarded by Additive Industries: allow it and its customers, through such cost reductions, to offset the increased quality requirements of demanding markets such as aerospace and medical.

Arc Welding-Based System Features Improved Quality Control, Larger Build Area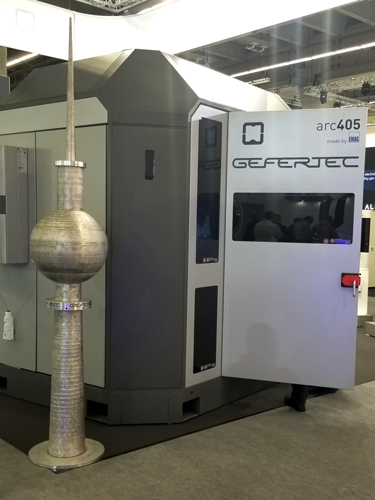 Gefertec's latest offering, the arc405, employs the company's 3DMP production process, with a larger build area ideal for producing large parts, such as those used to assemble the piece in front of the machine.
Gefertec highlighted its 3DMP process chain, combining the arc welding method with the CAD data of metal parts to be produced. Software converts CAD data to individual digital printing layers to produce CAM models, with a part then printed fully and automatically in a controlled manner. A 3D scan provides for quality control, followed by finish milling of the part.
3DMP can replace conventional manufacturing and machining methods for metal parts, with company officials offering that, compared to the conventional manufacturing of near-net-shape parts for mechanical finishing, the process provides production cost savings to 60 percent.
Process innovations promoted at formnext included a new process head that enables integrated melt pool control for quality monitoring, recording and documentation, allowing for synchronized process-data analysis.

The company also highlighted new-generation arc40X machines, employing the 3DMP process, that enable simplified table change, and also offer higher speed and acceleration of linear axes as well as a larger built-up volume. A separate aggregate cabinet protects machine components and optimizes maintenance.
Faster, Higher-Precision Dual-Laser Machine
This automotive transaxle housing, displayed at formnext, was built on a Concept Laser M2 machine from GE Additive. At the show, the company announced that the latest-generation M2, the Series 5, will be delivered to customers beginning early this year.
GE Additive unveiled the Concept Laser M2 Series 5, the latest iteration of the M2 machine designed to meet high expectations for part quality and consistency from aerospace and medical manufacturers as they move to serial additive production. Currently under construction, the machines will be delivered early this year, according to company officials.
Obtaining direct feedback from colleagues at GE Aviation who operate a fleet of M2s, GE Additive used that feedback in developing the Series 5. Key reported features and benefits include increased part quality and consistency; improved part quality with reduced surface roughness and better stitching; more consistency across the entire build plate; improved part consistency build-to-build and machine-to-machine based on machine architecture, calibration and control; upgraded gas flow system: closed gas circuit with redundant oxygen monitoring for part quality and minimized filter changes; and new optical cooling, featuring 10-plus internal sensors and a more tightly controlled build environment.
The new units reportedly provide double the build speeds via a dual-laser system that offers 100-percent coverage per laser. A larger build volume boasts a 350-mm Z axis for taller parts and a 245 by 245-mm heated build area. Users can expect 20-percent finer feature resolution.
Production with New Printing Technology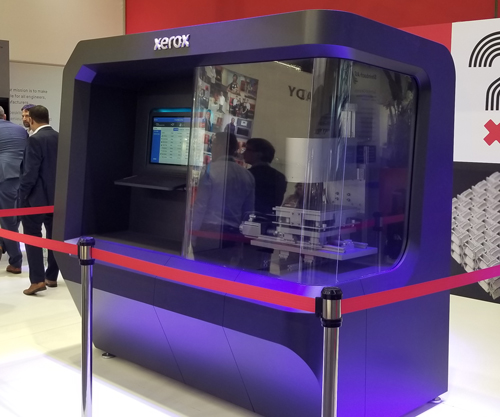 Xerox publicly entered the metal AM world at formnext with the introduction of its Liquid Metal technology. The process refines technology via an acquisition of metal-printer maker Vader Industries, combining it with Xerox' jetting expertise, and its AI-based design, costing and production software. Xerox promises rapid part production using common alloys.
3DMP
See also: Sintavia LLC, SLM Solutions NA, Inc., HP Inc., TRUMPF Inc., 3D Systems, ExOne, EOS of North America, Inc., Gefertec Gmbh, GE Additive, Desktop Metal, Inc., Fabrisonic LLC, Additive Industries B.V., Forecast 3D, Renishaw Inc., Optomec Inc., DMG Chicago Inc., XJet Ltd.
---
Reader Comments
There are no comments posted at this time.