Tech Update
Simufact Offering Simulation for Metal Binder Jetting
Wednesday, November 11, 2020
From Formnext 2020…Simufact, part of Hexagon's Manufacturing Intelligence division, has introduced metal binder jetting (MBJ) simulation, enabling manufacturers, at the design stage, to predict and prevent distortion that sintering processes will have on parts.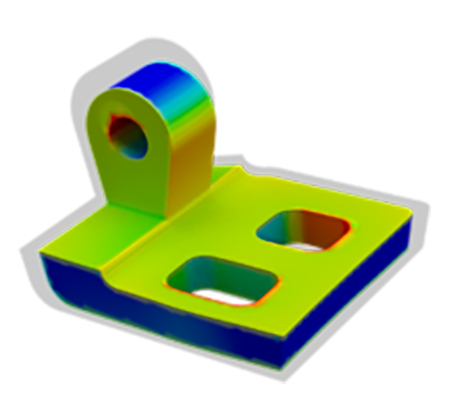 An emerging additive manufacturing (AM) technology MBJ offers the ability to produce high volumes of parts with minimal spacing, does not require support structures and enables large lot sizes. Many see it as a replacement for low-volume, high-cost metal injection molding in medial, automotive and aerospace applications, among others. But it poses challenges for early adopters, according to Simufact officials, including the ability to predict changes during the sintering process: A part can shrink as much as 35 percent and the simple shrinkage models used for other processes cannot predict distortion during the post-build sintering process. Thus, costly physical trials were required to perfect the printing of each part.
The new MBJ tool extends Simufact Additive software so that manufacturers can predict shrinkage caused by factors such as thermal strain, friction and gravity during sintering without special simulation knowledge. By compensating for these changes, parts can be 3D printed as they are designed, and production teams can significantly reduce the proportion of parts that must be scrapped or re-processed, offer Simufact officials. Sintering-induced mechanical stress is also predicted before printing to indicate where defects might occur. Manufacturers can use this information to make changes earlier in their product development and reduce the need for redesign.
Designed for AM professionals, the tool can automate the model setup, preparing the CAD or CAE file for manufacturing simulation, and simulations also can be automated through Python scripts. To validate the sintering compensation and increase confidence in quality, the optimized geometry from the MBJ tool can be compared immediately to both the initial design (CAD) geometry and a metrology scan of a manufactured part within user interface.
"We are pleased to introduce the first solution for simulating the MBJ sintering process to the market so that manufacturers can take advantage of this important new method," says Dr. Gabriel McBain, senior director of product management for Simufact and sister organization FTI. "We know that customers see metal binder jetting as a pivotal technology for manufacturing, particularly where there's a need to produce intricate parts at high volumes, such as in the automotive industry."
See also: Simufact Engineering Gmbh
---
Reader Comments
There are no comments posted at this time.