Article
Mega-Movement on AM Materials
Wednesday, November 11, 2020
As additive manufacturing (AM) makes headway in existing applications and expands into new, development of materials specific to 3D printing proceeds at a dizzying pace. The Summer 2020 issue of 3D Metal Printing detailed how machine providers have introduced and refined metal alloys. Those efforts continue, with material providers debuting new products and production facilities, and machine builders incorporating the ability to work with a growing roster of materials.
Materials for Multiple Apps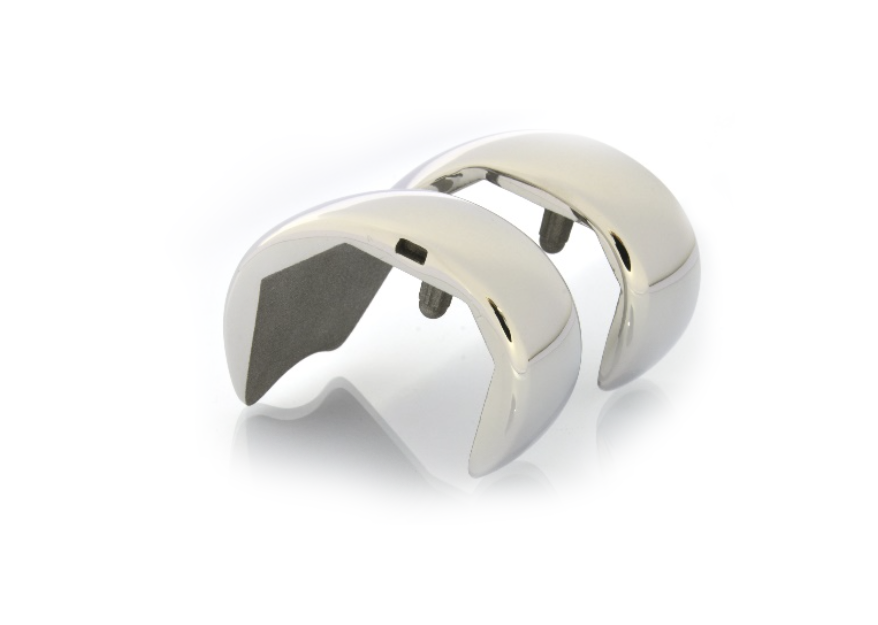 Protolabs has introduced 3D-printed cobalt chrome, resistant to heat, wear and corrosion, and suitable for aerospace, oil and gas, and medical applications.

On the new-materials front, digital manufacturer Protolabs has introduced 3D-printed cobalt chrome, resistant to heat, wear and corrosion. Applications for the superalloy include oil and gas for design and development of cobalt-chrome parts not previously attainable, and aerospace due to the benefits of the material's high strength-to-weight ratio. Hard-wearing cobalt chrome, with its corrosion and creep resistance, can withstand temperatures to 600 C and its low nickel content provides biocompatibility, also making it ideal for orthopedic and dental applications.

Direct metal laser sintering (DMLS), the AM process used by Protolabs for cobalt chrome, can produce fine-resolution parts to a minimum feature size of 1 mm with a minimum wall thickness of 1 mm. The company can produce parts via this process in as little as one day.

"Cobalt chrome is one of the toughest materials known and can be polished to an extremely smooth surface," explains Andrea Landoni, 3D printing product manager for Protolabs.

One challenge with cobalt chrome: As a hard-wearing material, part production via other processes such as CNC machining can be extremely difficult.

"The properties of parts produced by DMLS are equal to or better than those of wrought materials, and the process is ideal when the geometry or structure of a part is simply not possible using any other process," Landoni adds.

Also, EOS has expanded its metal portfolio, adding one new Premium and seven Core products for its M 290, M 300-4 and M 400-4 AM systems.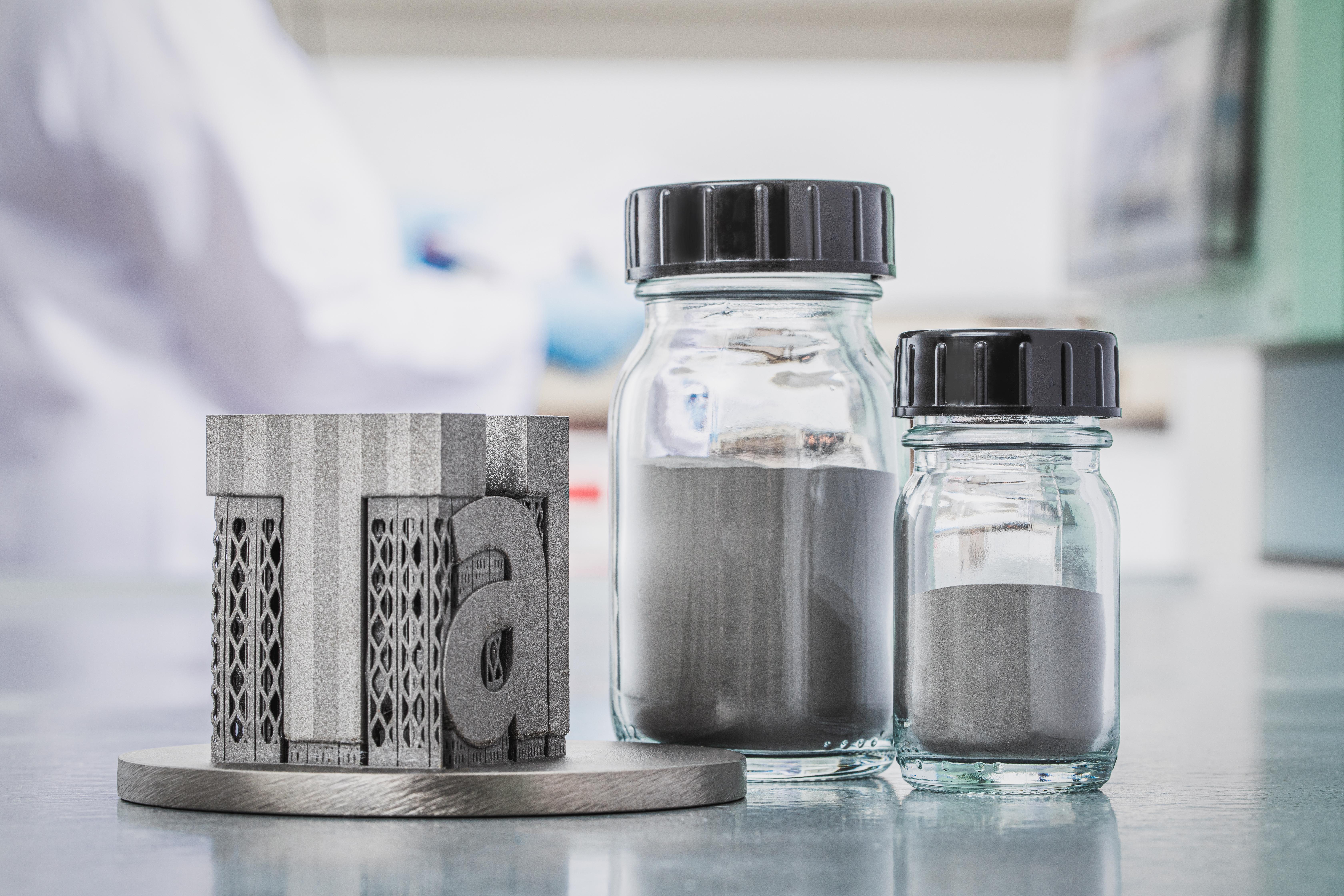 New AMtrinsic tantalum and niobium spherical AM powders from Taniobis GmbH reportedly are ideal for applications including medical implants and production of components resistant to heat and corrosion.

"EOS introduced Technology Readiness Levels (TRLs) in 2019 for materials and processes to classify technological maturity levels for simplified customer orientation," says Hanna Pirkkalainen, EOS product manager of metal materials, differentiating between the core and premium products. "Depending on specific application requirements, customers can choose between core materials (TRL 3 and 5) with a major focus on early market access to new materials, and premium materials (TRL 7-9), which attach particular importance to repeatable part quality so essential in serial production."

The new premium material, EOS ToolSteel 1.2709, validated for M 290 systems, is a TRL 7, ultra-high-strength and hardness maraging steel for demanding molding applications. The tool steel reportedly offers excellent fatigue strength and improved polishability. Properties are adjustable with different heat treatments after 3D printing. Typical applications include plastic injection molds, extrusion tools, hot pressing tools and diecasting tools for aluminum and zinc alloys.

The three new core products for AlSi10Mg, and Ti64 grades 5 and 23, reportedly offer build rates to 50-percent faster, thus increasing considerably the productivity of M 290 machines. Developed for the EOS M 290 system, the new 60-µm core process for EOS aluminum AlSi10Mg is classified as TRL 3. The material reportedly offers high productivity and improved buildability, and enables heat treatment to improve ductility.

Two new core materials, EOS NickelAlloy IN718 and EOS MaragingSteel MS1, now are available for the EOS M 300-4. The IN718 product, a precipitation-hardening nickel-chromium alloy, is characterized by good tensile, fatigue, creep and rupture strength at temperatures to 700 C, with the 40-µm process carrying a TRL 3 classification. Typical applications range from gas-turbine components to instrumentation, power-industry and process-industry parts. The 50-µm process based on EOS maragingsteel MS1 carries a TRL 3 classification. Parts built with this material offer very good mechanical properties, according to EOS officials. The parts reportedly can be post-hardened easily to more than 50 HRC to obtain excellent hardness and strength. Typical applications range from injection molding tools and inserts to mechanical-engineering parts.

Elementum 3D recently announced patents for its Reactive Additive Manufacturing (RAM) technology.


The top two photos show an unmodified 6061 aluminum alloy after printing and polishing. The left-hand micrograph shows a low-magnification image of the polished and unetched growth plane with the large grain structure and the network of intergranular cracking visible. The right-hand image shows a higher-magnification micrograph of the same material etched and showing the cracking network.

The bottom two photos show Elementum 3D's A6061-RAM2 printed material, with the left-hand image showing a crack-free microstructure with a dispersion of nucleating and reinforcing particulates. The right-hand image shows a higher-magnification view of the same material etched and revealing the equiaxed aluminum grain structure. This structure gives the A6061-RAM2 material its exceptional printability and properties, according to company officials.
And, the materials portfolio of the EOS M 400-4 has been extended to include two new and reportedly faster core processes for EOS titanium Ti64 Grade 5 and EOS titanium Ti64 Grade 23. The new 80-µm Core processes for these materials on both the M 290 and M 400-4 systems enable higher build rates. Both Ti6AI4V alloys reportedly offer excellent mechanical properties, including high density with high strength, and excellent corrosion resistance. The processes are optimized for faster production of parts with properties similar to wrought Ti64. Typical applications range from aerospace and automotive components to other industrial applications requiring a combination of low weight with high strength.
Continuing with material-development news, Höganäs AB has launched a low- Alloyed construction steel powder, AM16MnCr5, for AM of structural and wear-resistant components in automotive and other industries. The steel, available for use in both as-printed and in stress-relieved and case-hardened conditions, demonstrates a good combination of mechanical properties and high printability, according to company officials. Produced by gas atomization, the powder reportedly features good flowability and spreadability in the printing process, and can be used in powder-bed fusion printers.
"We can see a growing demand for low-alloy steels for AM applications," says Jerome Stanley, responsible for sales of AM metal powders for Höganäs.
Adds Anna Larsson, in AM metal-powder development for Höganäs: "Additional case-hardening treatment improves surface hardness and wear resistance together with fatigue performance, which makes the material particularly suitable for applications such as gears and lobes."
Taniobis GmbH has unveiled its AMtrinsic tantalum and niobium spherical AM powders, with applications including medical implants and production of components resistant to heat and corrosion, such as required in chemical and aerospace industries.
From its roots as H.C. Starck Tantalum & Niobium, the company has been doing business as Taniobis GmbH since July 1, and developed the gas-atomized spherical AMtrinsic powders as part of its portfolio of AM solutions.
The powder properties are based on those of tantalum and niobium: high temperature and corrosion resistance, and good conductivity. The specially designed alloys feature elasticity, strength and hardness as additional intrinsic properties, according to company officials, who note that despite the high melting points of the materials, they can be printed using the usual AM processes. In addition, the powders reportedly were developed after parameter optimization to yield completely dense structures, enabling highly complex compositions to be printed with the homogeneous distribution of elements maintained in the printed parts.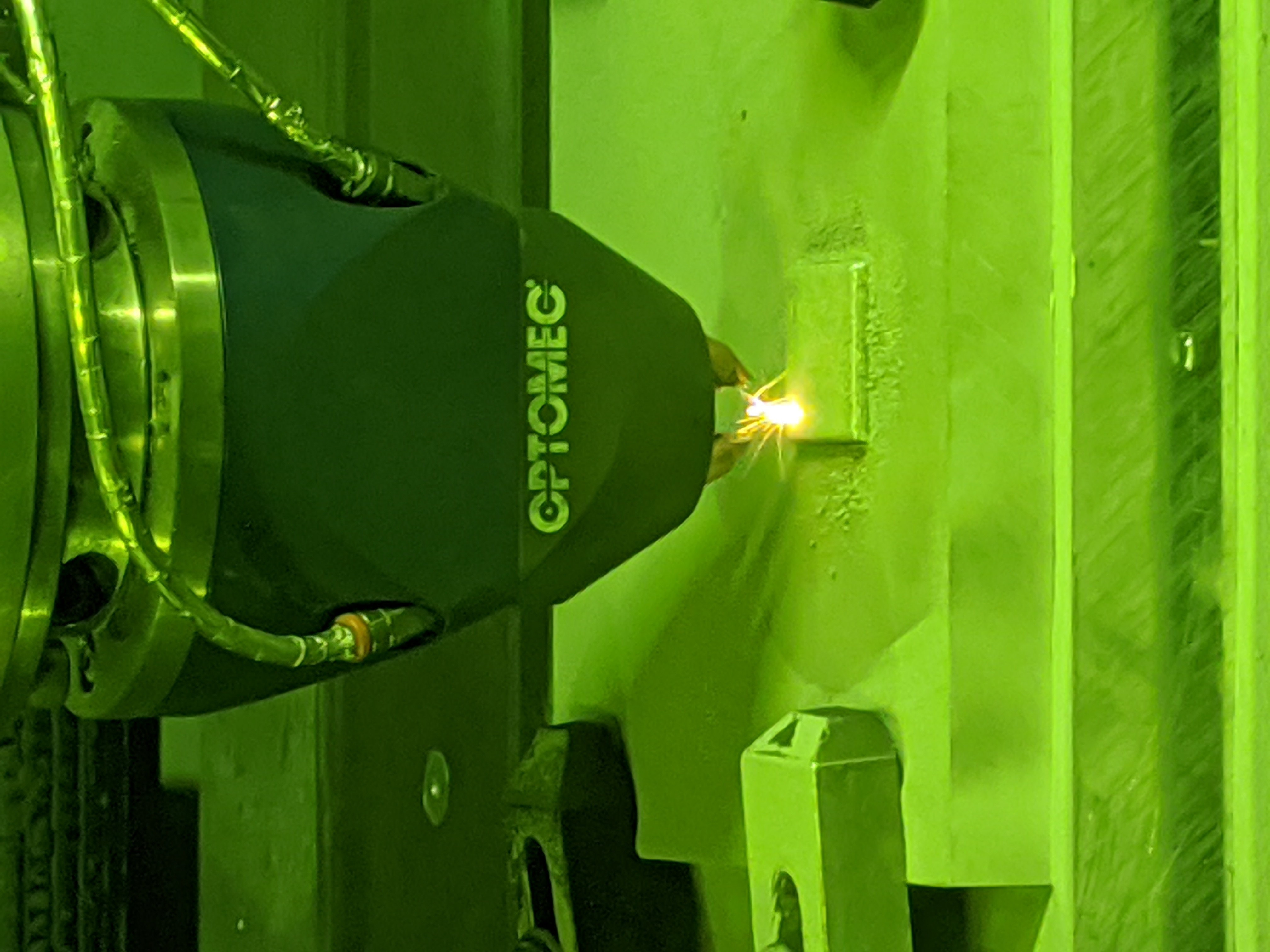 Optomec announced that its Lens DED system now can print aluminum alloys for AM and repair applications.

In addition, Elementum 3D, a developer and supplier of metal AM materials, announced the issuance of patents in the United States, Canada and Australia for its Reactive Additive Manufacturing (RAM) technology. Via the RAM process, Elementum 3D has introduced a family of laser powder-bed fusion (LPBF) metallic materials featuring superior properties compared to previously available AM materials and corresponding wrought alloys, according to company officials.

Elementum 3D uses RAM technology to create printable, high-performance alloy powders based on established wrought alloys, including aluminum 1000, 2024, 6061, 7050 and 7075.

Popular high-strength wrought-aluminum alloys previously could not be printed because they suffer hot tearing (solidification cracking), resulting in parts with very poor mechanical properties, explain company officials. The RAM process reportedly forms submicron inoculants in the melt pool that nucleate aluminum grains to produce a fine equiaxed microstructure for good printability and exceptional performance. By making AM versions of these alloys widely available, Elementum 3D eliminates material compromises and democratizes materials freedom.

Machine Capabilities, Techniques Expand

Machine capabilities continue expanding to incorporate new materials. For example, Optomec announced that its Lens directed energy deposition (DED) system now can employ aluminum alloys for AM and repair applications, including those recently developed specifically for improved properties with AM processing.

This development, according to company officials, opens the transportation and aerospace industries to AM and repair of complex aluminum-alloy parts using powder-based DED. And, they note, the use of Optomec's Lens simultaneous five-axis system enables the processing of aluminum-alloy parts with complex geometries without the need for support structures. Deposition of these alloys in a controlled-atmosphere glove box with low levels of oxygen and moisture reportedly ensures achievement of components with superior mechanical properties.

"Our engineers have developed process parameters for aluminum alloys to provide an excellent surface finish, high deposition rates and a density of around 99.9 percent," says David Otazu, Lens applications engineer. "With this advancement, Optomec Lens systems can process all common materials used for AM including steels, titanium, nickel, copper and, now, aluminum."

Also, Velo3D announced the release of a process for AM of parts using aluminum F357 on the company's Sapphire metal 3D printing system. The foundry-grade aluminum alloy, suitable for the LPBF process, enables 3D printing of parts that traditionally had been manufactured via casting. Aluminum F357 can be anodized and shares characteristics with A356, a widely used casting alloy.

"Aluminum F357 has already been certified for mission-critical applications—unlike some exotic alloys—so it was a logical addition to our materials portfolio," says Benny Buller, founder and CEO of Velo3D.

The manufacturing process of aluminum F357 in the Sapphire machine was developed jointly with PWR, a supplier of cooling solutions to Formula 1, Nascar and other racing series, along with automotive, military and aerospace industries.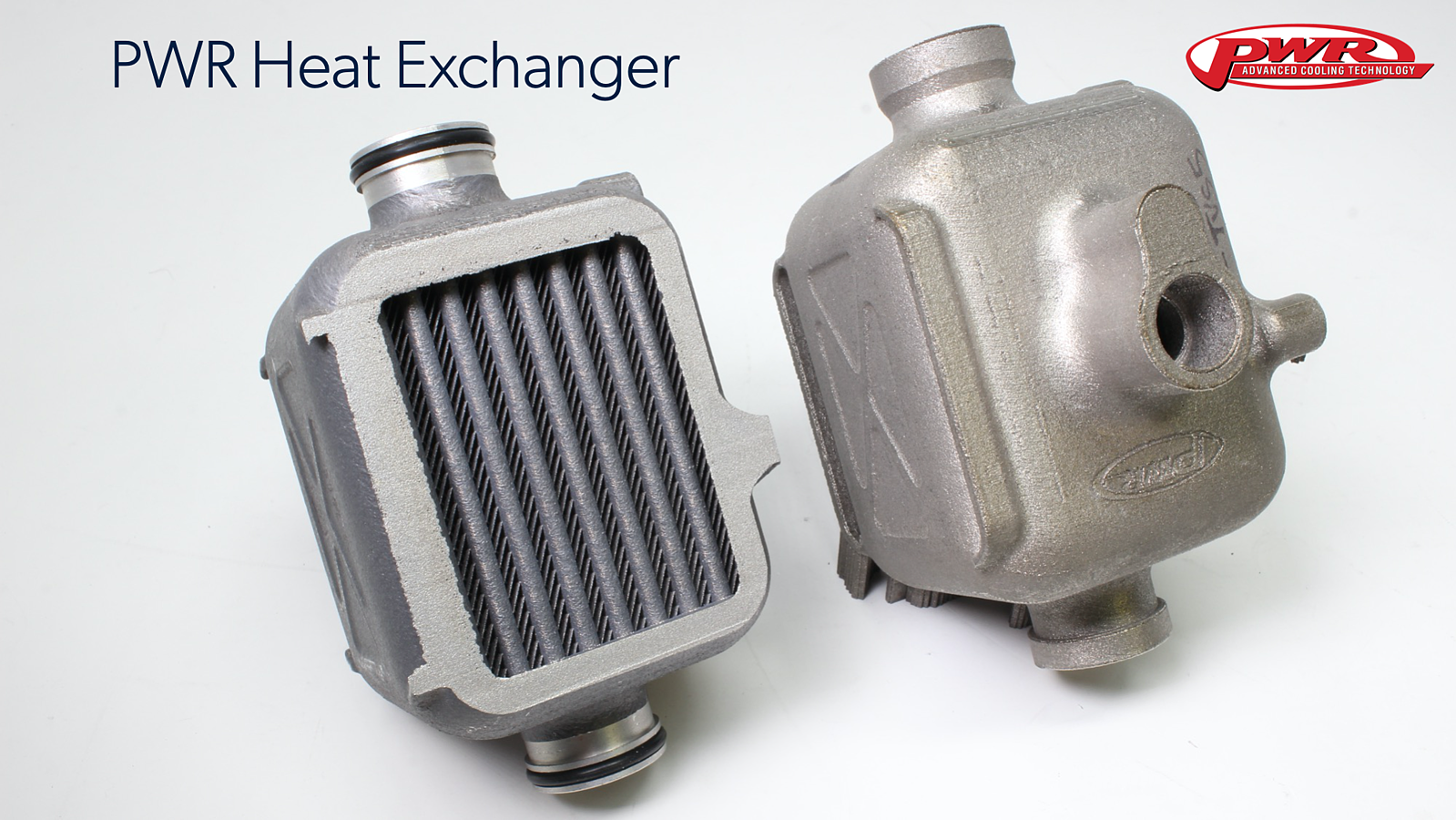 New from Velo3D: a manufacturing process for printing aluminum F357 in the company's Sapphire machine. The process was developed jointly with PWR, a supplier of cooling solutions to Formula 1, Nascar and other racing series, along with automotive, military and aerospace industries.

"We chose aluminum F357 due to its ideal material properties for thermal performance, machining and weldability," states Matthew Bryson, PWR general manager.

Along with aluminum F357, the Sapphire printer is compatible with titanium 64 and Inconel 718.

The ability to print unique materials continues progressing, with Texas A&M providing an example. University researchers, in collaboration with scientists from the Air Force Research Laboratory, report successful 3D printing of martensitic steel, which can be work hardened to achieve strengths equivalent to boron steel and shaped into critical automotive structures such as sill reinforcements, door-intrusion beams and bumper-reinforcement beams.

Says Texas A&M Materials Science and Engineering Department head Ibrahim Karama: "We have developed a framework so that 3D printing of these hard steels is possible into any desired geometry and the final object will be virtually defect-free."

Also demonstrating AM use of unique materials is Fabrisonic via a new white paper, Process for Joining Amorphous Metals With Other Materials. Amorphous metals, or bulk metallic glasses (BMGs), are a class of materials with a disordered, non-crystalline, glassy structure, created when metals or their alloys are cooled very quickly to bypass crystallization during solidification. But these materials often are not considered in engineering applications due to the difficulty in joining them to other materials and limitations in manufacturing thick sections. The Fabrisonic white paper tackles the topic, detailing how using the company's ultrasonic AM (UAM) process overcomes the difficulty of joining BMGs with other materials.

UAM uses ultrasonic energy to produce metallurgical bonds between layers of metal foils near room temperature. This low-temperature attribute enables the joining of dissimilar metal alloys with little to no intermetallic formation while simultaneously maintaining the original foil microstructure. View the white paper at www.fabrisonic.com.

New Facilities, Quality Certs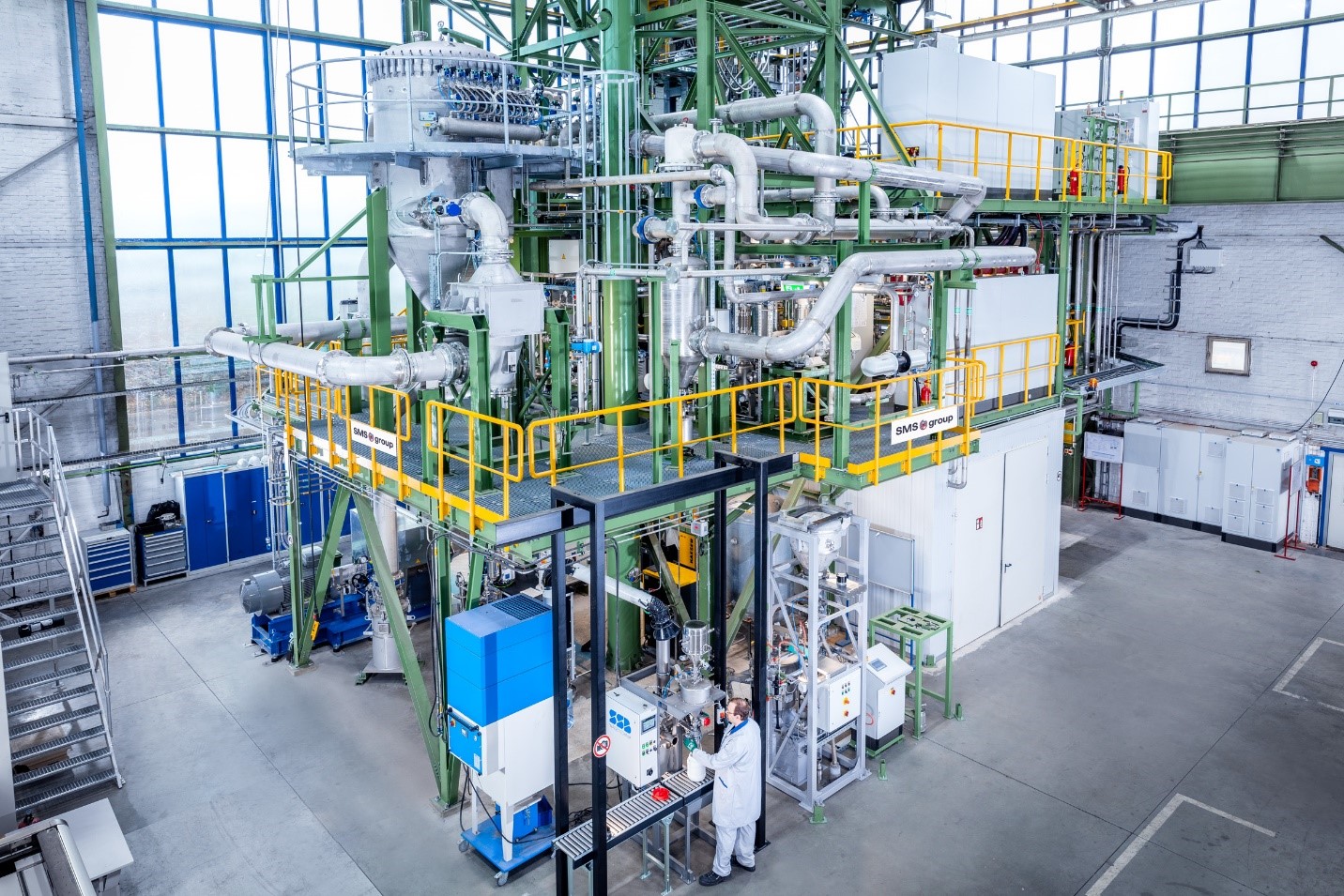 Outokumpu selected SMS Group to supply an atomization plant to produce AM stainless steel powder. The plant, scheduled to open in early 2022 at Outokumpu's headquarters location in Helsinki, Finland, will produce as much as 330 tons of powder annually.

Material providers, to meet increasing demand, have announced new production facilities as well as quality certifications. Outokumpu has selected SMS Group to supply an atomization plant to produce stainless-steel powder used in AM. The plant, scheduled to open in early 2022 at Outokumpu's headquarters location in Helsinki, Finland, is designed to produce as much as 330 tons of powder annually.

This represents the first facility supplied by SMS group under a subscription contract, where SMS Group will remain the owner of the plant with Outokumpu as the operator. Outokumpu will pay SMS Group based on the quantity of stainless-steel powder produced.

The powder atomization plant will include an induction melter, atomizer, two cyclones and filter elements, and is designed for the entire process to take place in an inert atmosphere. This enables temperature measurements, sample taking and material feeding to be performed without causing atmospheric variations.

The atomization plant is designed to atomize powders of stainless steels, maraging steels, special steels, superalloys, nickel-based alloys, cobalt-chromium alloys and copper alloys, all for AM use.

On the quality front, Sandvik Additive Manufacturing's titanium powder plant, located in Sandviken, Sweden, has achieved ISO 13485:2016 medical certification for its Osprey titanium powders, which now are approved for use in medical AM.

3D printing medical implants enables rapid manufacturing directly from an individual's anatomical data, enhancing the healing process and improving patient prognosis. Achieving this ISO certification will allow Sandvik's medical customers to complete the necessary regulatory supplier approvals when bringing a medical application to market, using Sandvik's Osprey titanium powders.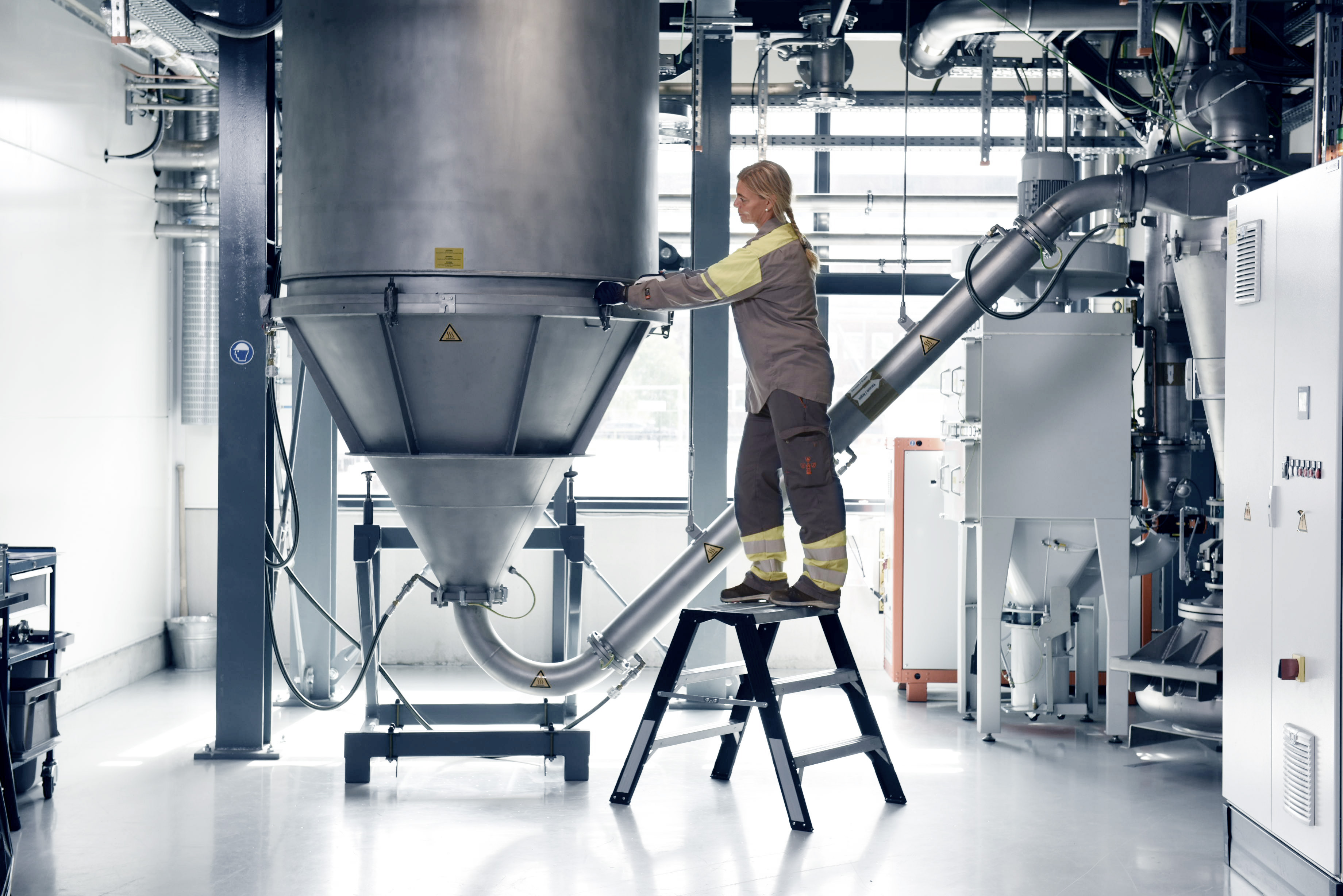 Sandvik Additive Manufacturing's titanium powder plant in Sandviken, Sweden, has achieved ISO 13485:2016 medical certification for its Osprey titanium powders, which now are approved for use in medical AM.

And, Elementum 3D announced that it has achieved ISO 9001:2015 certification for quality management. The scope of Elementum 3D certification includes the design and manufacture of advanced metal alloys, superalloys and composites; development of new manufacturing processes; and the manufacture of prototype and production parts to customer specifications.

On the award front, the German Design Council has honored Heraeus Amloy's amorphous alloys with the Gold Award in the Materials & Surfaces section of the council's Excellence in Business to Business competition.

The jury writes: "Amorphous alloys from Heraeus Amloy are a revolutionary material. The unique combination of properties opens up exciting possibilities for a wide range of industries such as aviation, automotive, medicine and many others, creating a completely new market."

Heraeus Amloy specializes in the production and processing of amorphous metals, which essentially are frozen metallic melts also known as bulk metallic glasses. Due to the shock freezing of the melt, according to company officials, the individual atoms have no opportunity to form an ordered metal lattice. The resulting material reportedly is particularly flexible and at the same time extremely stable, corrosion- and abrasion-resistant, and biocompatible. The company processes amorphous alloys via injection molding and 3D printing to produce near-net-shape components on an industrial scale. 3DMP
See also: Alloyed, ProtoLabs Inc, Hoganas AB Customization Technologies, Elementum 3D, Optomec Inc., Velo3D, Sandvik Coromant Company, Heraeus
---
Reader Comments
There are no comments posted at this time.