Industry News
AMUG Names DINO Recipients
Friday, July 5, 2019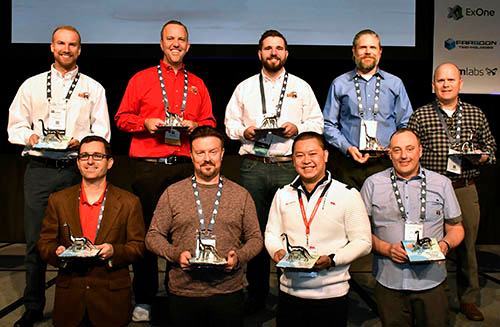 DINO winners shown in front row, left to right: Brett Charlton, Rory Jackson, Tuan Tranpham, and Jeremy Pullin. Back row, left to right: Jordan Weston, Jay Dinsmore, Nate Schumacher, Bob Markley, and Rick Moore. Missing: Brett Lyons.
The Additive Manufacturing Users Group (AMUG) presented its
DINO (Distinguished INnovator Operator) awards
for additive manufacturing (AM) expertise and service to 10 individuals at the 31st annual users group conference held in Chicago, IL, earlier this year. The awards recognizes those that have contributed to the AM industry with the intent to advance the industry as a whole or to advance the skills and knowledge of individuals. Receiving the awards:
Brett Charlton, BD (Becton, Dickinson)
Jay Dinsmore, Dinsmore Associates
Rory Jackson, RAMP Inc.
Brett Lyons, Jabil Additive
Bob Markley, 3rd Dimension Industrial 3D Printing
Rick Moore, U.S. Army
Jeremy Pullin, Sartorius Stedim
Nate Schumacher, Midwest Prototyping
Tuan Tranpham, Desktop Metal
Jordan Weston, Milwaukee School of Engineering
---
Reader Comments
There are no comments posted at this time.