Industry News
3D-Printing Rocket Hub Planned for Mississippi
Wednesday, June 12, 2019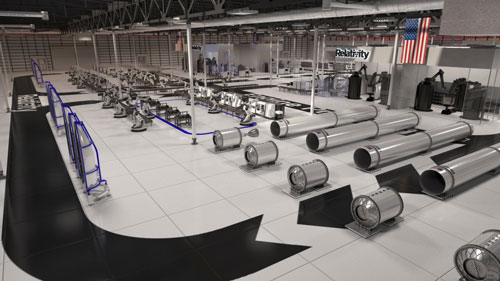 At NASA's John C. Stennis Space Center in Hancock County, MS, Los Angeles, CA-based 3D-printed spacecraft manufacturer, Relativity Space, is planning a $59 million expansion to make a permanent manufacturing hub. Relativity already has four of its proprietary 3D printers running in its Los Angeles headquarters and plans to build out 12 larger units in its new Mississippi digs. The company ultimately expects to get 24 of its printers up and running.
Unlike other rocket manufacturers, Relativity uses 3D printers for almost all of its spacecraft components. At Stennis, the company has 220,000 sq. ft. at its disposal to install larger second-generation printers.
"This agreement demonstrates again NASA's commitment to work with our industry partners to expand commercial access to low-Earth orbit," says Rick Gilbrech, director, Stennis Space Center. "This helps NASA maintain focus on the ambitious Artemis program, which will land the first female and the next male on the south pole of the Moon by 2024."
With its initial focus on the construction of its own Terran1 rocket design, Relativity has signed three customers, including Spaceflight Industries, Telesat and Mu Space for launches."We now have the benefit of being colocated with a testing facility (Stennis Space Center)," says Tobias Duschl, vice president of operations at Relativity, and a former executive at BMW and Tesla. "We can easily move components back and forth from production to testing. It's going to be a huge benefit for our customers."
---
Reader Comments
There are no comments posted at this time.