Tech Update
More Metal Printers Enable Production of Unique Spinal Impants
Friday, April 26, 2019
Nexxt Spine, a medical-device company in Noblesville, IN, is set to take delivery of its fourth and fifth Concept Laser Mlab 100R machines, from GE Additive, as it scales to tap further into the growing global spinal-implant market.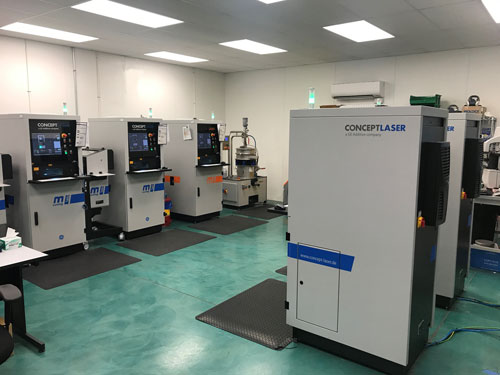 By adding more metal printers, Nexxt Spine, a medical-device company in Noblesville, IN, can scale to serial production of unique spinal implants.
"Additive is booming," says Alaedeen Abu-Mulaweh, director of engineering at Nexxt Spine, which focuses on designing, manufacturing and distributing innovative spinal-implant products. The company only began its metal additive manufacturing (AM) journey two years ago, and with this investment, can take ownership of the entire design, production and distribution process inhouse. This eliminates the need for contract manufacturers, thereby accelerating the speed of development and commercialization at Nexxt Spine, according to company officals.
Established in 2009 and initially producing speciality spinal screws, rods and plates using conventional subtractive manufacturing techniques, Nexxt Spine's first investment in metal AM was the acquisition of its first Concept Laser Mlab 100R in 2017.
The 100R, powered by a 100-W fiber laser, produces fully dense parts, reportedly with excetional surface finishes. The smaller build volume, available from 50 by 50 by 80 mm to 90 by 90 by 80 mm, is ideal for high-value materials as it allows users to work with smaller powder batches. System size lends well to a production or lab environment, where the footprint can be very limited, and the system requires less ancillary equipment than most of larger systems. And, modularity of the build chamber allows for rapid and simplified material changes, with a semi-automatic sieving station enabling powder re-use.
"We used the first Mlab primarily for R&D purposes, but we soon realised that further investment in additive technology could add value not only to our overall growth strategy, but also at a clinical application level with the ability to develop implants with very intricate micro-geometries that could maximise healing," Abu-Mulaweh says. "Over the past two years, we have made a seamless jump from R&D to serial production and in doing so have significantly accelerated the time from concept to commercialization."
Nexxt Spine has pioneered the design and development of spinal-fusion implants that incorporate interconnected micro-lattice architectures with the goal of promoting osteoconduction, osteointegration and boney fusion. One of its flagship products, launched in 2017, is the Nexxt Matrixx system, a collection of porous, titanium spinal-fusion implants that interweave highly differentiated surface textures with novel 3D printed cellular scaffolding.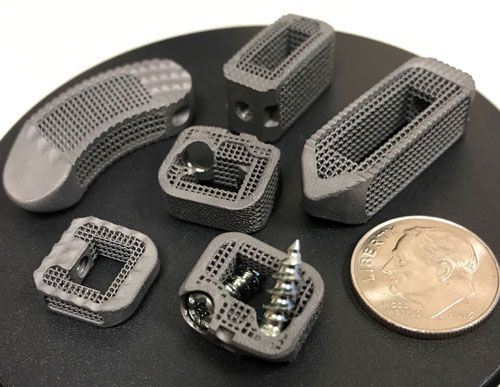 Nexxt Spine's metal AM machines enable production of the company's implants, which feature intricate micro-geometries designed to maximize healing.
While other medical manufacturers have used AM to develop devices that directly mimic bone's trabecular geometry, Nexxt Spine chose to deviate, instead blending cellular porosity, inspired by natural bone biology, with core engineering fundamentals to develop structurally sound devices, optimized for fusion.
"Titanium—porous or otherwise—is physically incapable of biological remodeling, so using additive to directly mimic the structural randomness of bone doesn't make a whole lot of sense," Abu-Mulaweh says. "Rather than simply looking like bone, Nexxt Matrixx was designed with functionality in mind to fulfil our vision of actively facilitating the body's natural power of cellular healing."
With design, manufacturing and distributions functions inhouse, combined with the shift to serial AM production, Nexxt Spine is well-placed to service and scale, as needed, to meet the growth in demand for spinal-fusion devices.
"We are seeing ongoing adoption of AM in the orthopaedic industry and an exciting shift from research and development to serial production," says Stephan Zeidler, senior global and key accounts director for the medical sector at GE Additive. "Early innovators like Nexxt Spine are scaling up and there is a significant increase in production volumes."
Concludes Abu-Mulaweh:
"AM is driving our business and innovation strategy forward, with our design team actively developing and testing new applications, parameters and surgical devices to target new markets. We are excited for what the future holds for us."
See also: GE Additive
---
Reader Comments
There are no comments posted at this time.