Tech Update
Optomec Announces Controlled Atmosphere DED Systems
Monday, March 4, 2019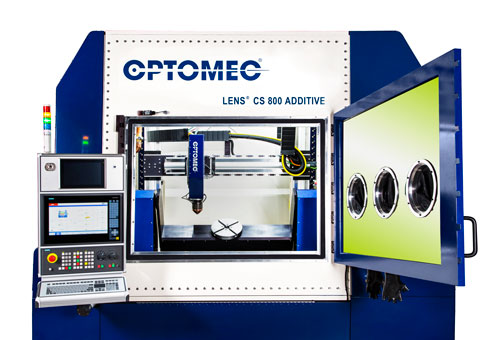 Optomec has introduced its Lens CS 600 and 800 controlled-atmosphere metal AM machines, employing directed energy deposition (DED) technology. The configurable machines maximize build envelopes with minimal system footprints, according to company officials.
The Lens CS 600 and CS 800 come standard with controlled-atmosphere chambers allowing for processing of both nonreactive and reactive metals in an atmosphere that keeps moisture and oxygen levels at less than 10 ppm. Also standard is the Siemens 840D controller, which reportedly allows for smooth 3D printing from three-axis to simultaneous five-axis motion. These systems also are compatible with Optomec's latest-generation Lens deposition head, providing higher-power laser processing (to 3 kW), interchangeable print nozzles and variable spot sizes.
The company's Lens systems employ DED, where high-powered lasers build structures layer by layer directly from powdered metals, alloys, ceramics or composites to produce fully dense parts with, report Optomec officials, excellent mechanical and fatigue properties.
The base machines are equipped with a linear three-axis motion system, but can be delivered with a user-interchangeable rotary table and/or tilt-rotate trunnion as options for four- and five-axis operations. The Siemens motion controller provides an operator-friendly pushbutton human-machine interface and utilizes industry-standard G and M codes to drive the system. Material starter recipes, closed-loop process controls, thermal imaging and five-axis tool-path-generation software are available options.
The systems incorporate Optomec's Lens (Laser Engineered Net Shaping) technology that enables the addition of metal to existing parts for repair and coating applications that extend the useful life of components without the need to refixture or align the component on a second machine.

See also: Optomec Inc.
---
Reader Comments
There are no comments posted at this time.