Tech Update
Metal AM Big at Bugatti for Auto Parts
Monday, March 11, 2019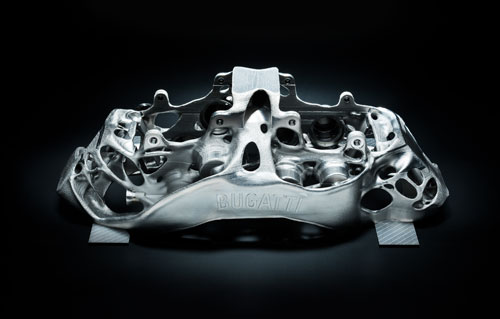 This Bugatti brake caliper, reportedly the largest (in volume) functional titanium component built via the selective laser melting AM process, was made from Ti6Al4V.
Early and often describes the adoption and use of metal additive manufacturing (AM) at Bugatti, a European manufacturer of high-performance automobiles. The automaker, a subsidiary of Volkswagen, enlists SLM Solutions, with U.S. headquarters in Wixom, MI, to provide the 3D printing technology used to produce multiple metal functional components for its high-end sports cars. The capability assists Bugatti in lightweighting efforts while providing functional as well as stylized parts, according to company officials.
These parts include a brake caliper, in terms of volume reportedly the largest functional titanium component ever built via the selective laser melting AM process. The component, made from Ti6Al4V, was produced by Fraunhofer IAPT and Bionic Production AG on an SLM 500 machine featuring four 400-W lasers.
Recent dynamic bench testing provides "proof that these metal AM components can cope with extreme strength, stiffness and temperature requirements at speeds exceeding 230 mph with a braking force of 1.35 g and brake-disc reaching temperatures greater than 2000 F," offers Frank Götzke, head of new technologies at Bugatti.
The testing revealed a tensile strength of 1250 MPa and material density surpassing 99.7 percent.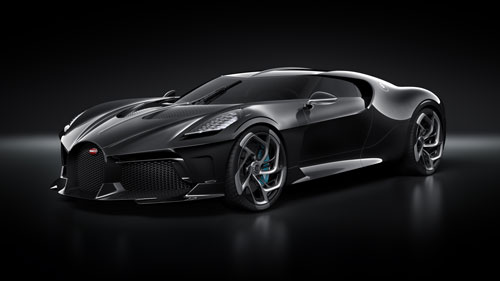 In recognition of the automaker's 110th birthday, Bugatti has unveiled new limited-edition models. La Voiture Noire, an extremely limited edition—a one-off with a $12 million price tag—boasts a 16-cylinder, 8-l engine. The high-speed, high performance vehicle is characteristic of Bugatti's automotive lineup, which benefits from the strength, durability and unique designs afforded via metal-AM technology.
Another component, an active-rear-spoiler bracket, also made from Ti6Al4V and manufactured on an SLM 500 by Fraunhofer IAPT, aids a 1500-hp vehicle in reaching speeds of nearly 250 mph in only 32.6 sec. and bringing it back to a stop in only 9 sec. The spoiler can be adjusted in height and angle to support the aerodynamics required.
Bugatti teamed with Siemens to optimize—for weight and rigidity—the bracket for production and reduce the number of optimization iterations needed. Also with a tensile strength of 1250 MPa and material density surpassing 99.7 percent, the new bracket reportedly features a 53-percent weight reduction—nearly 12 lb.—and increased rigidity without sacrificing functional benefits.
Another metal AM success for Bugatti: a small motor bracket with integrated water cooling that acts as an active heat shield to significantly reduce transferred heat. The bracket, made from AlSi10Mg on an SLM 280 Twin machine, was commissioned by SLM Solutions at Rolf Lenk Werkzeugbau GmbH. It has been installed in all series vehicles since the delivery of the first Bugatti Chiron from the auto manufacturer's production facility in Molsheim, France.
The Chiron, like its predecessor, the Veyron, features two separate water-cooling circuits to keep component and system temperatures at acceptable levels. The high-temperature circuit is used to cool the car's 1500-hp W16 engine, while the low-temperature circuit ensures that the intake charge cooling temperature remains suitably low. The primary task of the bracket is to engage the gears while opening and closing the two clutches of the seven-speed dual-clutch transmission. As a result, the temperature at the electric motor and at the control unit of the pump when driving a demanding handling course can be lowered from 266 to 194 F, according to Bugatti officials.
Bugatti's relationship with SLM Solutions dates back to the design and production of an optimized front-axle differential housing beginning in 2014. Audi AG manufactured the housing on SLM 280 machines in two different facilities as a project to test the effects of multiple production locations on component quality.
At formnext 2018 this past fall, the SLM Solutions booth featured eight Bugatti W16 cylinder head covers created in a single build on an SLM 800, with each hood measuring about 11 in. wide by 2.6 in. thick and 29 in. tall.
See also: SLM Solutions NA, Inc.
Related Enterprise Zones:
---
Reader Comments
There are no comments posted at this time.