Article
Hybrid-AM Startup Revs for Success
Wednesday, February 20, 2019
From its motorsports roots, a new company hopes to leverage a commitment to quality and expertise in materials and processes to reach the winner's circle while serving customers across diverse markets.
This past January in Statesville, NC, Keselowski Advanced Manufacturing (KAM) unveiled a state-of-the-art 70,000-sq.-ft. facility, featuring advanced additive and subtractive manufacturing equipment and staffed by 30 employees. KAM (www.kamsolutions.com) is the brainchild of NASCAR driver Brad Keselowski, who seeks to integrate manufacturing technologies and parlay their capabilities into successful projects for aerospace, automotive, defense, energy, oil and gas, and tool and die applications. The company's prime internal objective: scale up hybrid manufacturing capabilities at a production level in Statesville.
"The capabilities of new technologies are limited only by our imaginations and willingness to act," said Keselowski when announcing KAM's opening. "Until now, much of this advanced manufacturing technology was considered too complex and too expensive for production level applications. By combining additive manufacturing (AM) with subtractive capabilities, the goal of KAM is to lead the way for the next industrial revolution by making these technologies more accessible."
Printers, Mills and More

Staff and visitors explore metal-printing equipment at Keselowski Advanced Manufacturing (KAM) in Statesville, NC, where the new company employs additive and traditional manufacturing technologies to produce parts for aerospace, automotive and other markets. Photo courtesy of Dana Jo Photography.
Since a soft opening this past summer, KAM has been installing a variety of machinery, including two Concept Laser M2 direct metal laser melting machines from GE Additive, each employing two 400-W lasers and featuring a build volume of 250 by 250 by 350 mm. Also on the roster, vertical, horizontal and five-axis mills from Mazak, which also supplied a seven-axis multi-tasking machine; and a wire EDM mill from GF Machining Solutions. More is on the way, including AM machines from SLM Solutions and EOS, according to company officials, who spoke exclusively with 3D Metal Printing magazine. Also coming: more staff, as the company expects employment numbers to reach 100 by year-end 2019.
Backing all of that up is an array of capabilities, beginning with engineering. The company's vertically integrated inhouse design approach leverages engineers with the ability to design for additive manufacturing. On the material side, for proper powder assessment and control, KAM's full lab tests for powder particle size, morphology, microstructure and chemical composition. Postprocessing capabilities include surface-finish enhancement, stress relieving, heat treatment and application of requested finish coatings. The company also emphasizes quality control of finished parts, using micro-CT scanning, via Pinnacle X-Ray Solutions, that provides analysis of void size and distribution, wall thickness, and porosity/density; part-to-CAD and part-to-part comparisons; and first-article inspection.
KAM employs all of this in its stated objective to provide advantages to customers, including speed to market, defect-free products, and innovative design and production solutions.
Team Built to Succeed Across Markets
Keselowski's passion for manufacturing was instilled by his family, as his grandfather made drill bits for the military during World War II, and Brad grew up working alongside his dad and uncle as they built their race cars in the family shop. Progressing through racing circuits and now at the pinnacle as a championship driver in NASCAR's top series, Keselowski has spent years surrounded by, and learning about, advanced machines, tools, engineering designs and other technological innovations.
Though incorporating his experiences and expertise into KAM's operations, Keselowski otherwise leaves NASCAR at the door.
"KAM is not about Brad expanding his NASCAR race team," explains Darin Thomas, the company's senior materials engineer. "I was here at least two months before I ever heard him mention his race career, and he doesn't talk about it much. KAM is a completely separate endeavor for Brad, distinct from racing operations."
Himself carrying more than a decade of 3D printing experience and armed with a master's degree in Materials Science from AM educational pioneer North Carolina State University, Thomas fits well with KAM's roster of experienced personnel. This includes Steve Fetch, formerly vice president of global quality for 3D Systems. KAM officials see the key to success as combining such inhouse experience and expertise with its equipment providers—considered strategic partners—and training staff to make the best use of KAM assets. A big positive in opening as an additive and subtractive all-in-one operation, according to Thomas: the ability to identify and install the right equipment and processes from the very start.
"It definitely is challenging to combine other processes with additive in a new business, but it gives us some advantages," he says. "A traditional machine shop may add additive machines, and just try to make the subtractive equipment work. Here, we are making sure to install the right machines that can handle additive parts right from the beginning."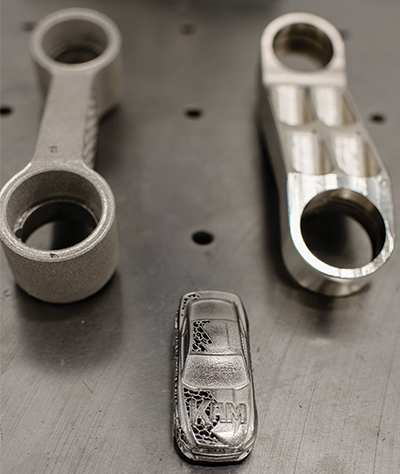 Sample products produced at KAM showcase the company's metal-printing technology. Photo courtesy of Dana Jo Photography.
"Each machine must be taken as an entity unto itself," Thomas continues. "Two seemingly identical AM machines using the same material do not necessarily run the same way with the same setup. We have to be diligent about setting up these machines correctly and training ourselves on each. AM equipment is not as fine-tuned or as mature as CNC equipment—it does not just work out of the box. Though challenging, we work closely with our vendor partners to make sure that all of the machinery at KAM runs correctly."
Making It Metal
KAM management sees true need in metal applications, especially for aerospace, and seeks to build that business from the start, Thomas tells 3D Metal Printing.
"Right now we strictly focus on metal additive, not to say we won't get into composites," he offers. "More than likely, composites would be involved as hybrid applications, and we'd work with people more experienced in those materials. For instance, titanium-to-composite joining might be an area to explore. Nonmetal takes completely different skillsets on the part of engineers and materials-science personnel. Of course, we will work to satisfy potential customer needs no matter the material, but again, our initial focus is on metal."
As for what metal alloys will populate KAM's ingredient list, Thomas sees all sorts of possibilities.
"I think that additive technologies bring such a new dynamic—the ability to blend and mix powders and do some crazy things," he says. "But at the end of the day, we need usable alloys, and I think that the industry has not matured enough and lacks enough machines to allow for many new materials. AM has too much low-hanging fruit right now to take on more advanced alloys.
"Take aluminum, for example," Thomas continues. "If the industry can nail down the 6000- and 7000-series alloys, just think of all of the aerospace part possibilities. Everyone wants to talk about titanium, but aluminum represents the vast amount of material in aerospace applications, and presents numerous challenges."
What are some of these challenges? Alloying elements critical to an aluminum alloy tend to vaporize due to heat, which represents a significant hurdle in AM. Other hurdles include oxidation and hydrogen embrittlement, which cause cracking. Other issues revolving around the growth of columnar grains show themselves depending on the build orientation.
"So to start off at KAM," Thomas says, "we are sticking to the script and working with well-researched metal alloys—we don't want to get in over our heads and bite off more than we can chew. We want to make sure that our machines build parts as intended."
Quality Recognized as Key Factor
Ensuring such proper builds relies on robust quality. KAM management recognizes that, says Thomas, and such efforts should help set the company apart.
"With Steve Fetch's background in quality, we are investing a lot of time and energy on our quality standards," he says. "We're not just earning AS 9100 certification to make sure that we can check a box, we are implementing AS 91000 and getting everyone to buy into it so that our quality efforts are spot-on. In AM, aerospace and medical companies may be hesitant to work with a new company without quality standards built-in, so that's our main focus."
Laser-beam focused on quality, and looking to build a metals-based business powered by an AM-conventional manufacturing hybrid, KAM appears poised to succeed apart from its NASCAR and automotive lineage. But Thomas hints that, with NASCAR and auto racing in his blood, Keselowski wants a win in this sector, too.
"From aftermarket parts to higher production volumes, as AM grows and printers become faster, 3D printing will work its way into the more common automotive parts," Thomas concludes. "AM will be huge in automotive one day, and Brad really wants to be a part of that." 3DMP
See also: Concept Laser Inc., Mazak Corp., SLM Solutions NA, Inc., GE Additive
---
Reader Comments
There are no comments posted at this time.