Tech Update
New Laser AM Systems Promise Rapid Build, Repair
Friday, October 25, 2019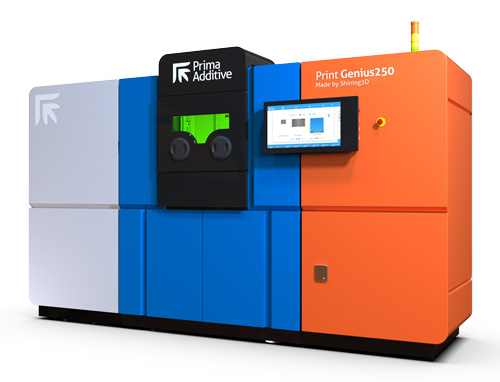 Prima Additive, the division of the Prima Industrie group specializing in turnkey solutions for additive manufacturing (AM), has debuted two laser 3D metal printing platforms, with one employing powder bed fusion technology, and the other, direct energy deposition. The machines were introduced at Innovation Days, held this past October at Prima Industrie's new Advanced Laser Center in Collegno, Italy.
First up, the Print Genius 250 (pictured), a laser powder bed fusion machine with a 262 by 262 by 350-mm build volume. Suitable for the production of medium-sized metal components, it offers an ideal solution for high-productivity printing applications, according to company officials, due to its dual 500-W single-mode laser. And, the machine's software provides for rapid part orientation and for the definition of machine parameters. Other reported features include optimized gas flow, and the capability of complete material change in less than 2 hr. The Print Genius 250 is equipped with a two-line filter unit for recirculation of gas inside the work area, which reportedly maintains a high degree of cleanliness of the machine and minimizes the replacement of parts subject to wear. A new human-machine interface enables real-time monitoring of the build environment, and generates reports for traceability of key printing parameters. Use the machine to process a range of materials, including high-strength and stainless steel, maraging steel, high-temperature nickel-base alloys (Inconel), titanium, cobalt-chromium, and aluminum and copper alloys.
Innovation Days also saw introduction of the Laserdyne 430 DED, a compact laser metal deposition platform with a working volume of 585 by 400 by 500 mm, and a high build rate, to 50 cm3/hr. The machine reportedly provides excellent end-part properties, and is suitable for 3D fabrication, reworking and repairing.
It comes equipped with the Advanced Head, a multipurpose laser head with modular design that can be mounted in different configurations to adapt to multiple laser processes. Strengths of the new head include fusion-pool monitoring, a pressurized optical path that avoids dust infiltration, and a water-cooled AM nozzle for continuous deposition, which reduces the risk of powder adhesion during the process. The head also offers simple maintenance and rapid alignment of the powder/laser spot.
The Advanced Head can be mounted on all Prima Industrie laser metal deposition products, and also is available as part of Prima Additive's Laser Metal Deposition Kit, which includes the head, a high-efficiency laser source, a flexible powder feeder and CAM software for offline programming. The kit can be integrated into any machinery and robotic system.
Also, an optional rotary-tilt table adds two more axes to the Laserdyne 430 DED for more complex applications.
Innovation Days featured not only Prima AM technologies, but sheet metal-processing technologies as well. Prima Industrie held the event, with more than 300 attendees, at its new 43,000-sq.-ft. Advanced Laser Center, built for R&D of laser-production systems.

---
Reader Comments
There are no comments posted at this time.