Article
FABTECH Back in ChiTown
Tuesday, October 15, 2019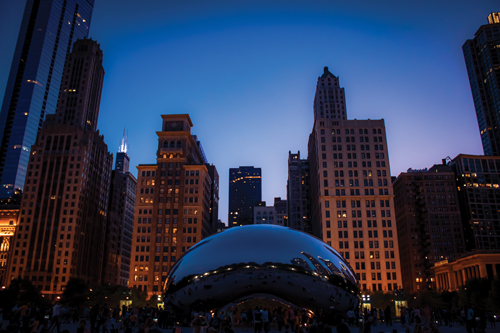 North America's largest metal forming, fabricating, welding and finishing event, FABTECH, which also features the 3D/Additive Manufacturing Pavilion, provides a convenient venue for meeting with world-class suppliers, viewing the latest industry technology and finding tools to improve productivity, quality, safety and more.

This year, FABTECH returns to McCormick Place in Chicago, IL, November 11-14, with more than 48,000 attendees and 1700-plus exhibitors expected. Here's your opportunity to discover solutions to any metal forming, fabricating, welding and finishing challenges, and visit AM exhibitors that include Altair Engineering, Baker Industries, Desktop Metal, ExOne, Markforged, MSC Software, Quintus Technologies, Xometry and many others.

The 3D/Additive Manufacturing, Robotics & Industrial Automation and Forming & Fabricating pavilions reside in the South Building, with METALFORM, the metal stamping-focused pavilion, in Hall D of Lakeside Center (East Building) along with the Tube & Pipe pavilion. Look for the Welding and Finishing pavilions in the North Building. Note that on Monday, November 11, the first day of FABTECH, Lakeside Center, including METALFORM, will open at 9 a.m., an hour earlier than the other pavilions.

With rapid innovation and steady introduction of new technologies, FABTECH 2019 aims to showcase the equipment and services expected to lead metal AM, forming and fabricating industries—from job shops to OEMs—in the years ahead. Of special focus: 5G, Internet of Things, (IoT) artificial intelligence, robotics and automation, and trending industry topics that include workforce development, women in the industry, veterans filling critical industry roles and more.

FABTECH 2019 at a Glance

November 11-14
McCormick Place, Chicago, IL

HOURS

Monday, November 11: Lakeside Center, including Hall D, 9 a.m.-6 p.m.; rest of show, 10 a.m.-6 p.m.

Tuesday, November 12: 9 a.m.-5 p.m.

Wednesday, November 13: 9 a.m.-5 p.m.

Thursday, November 14: 9 a.m.-3 p.m.

REGISTRATION

Show-floor admission is complimentary if you register by Nov. 8, 2019. After the deadline and onsite, the fee is $50. Visit www.fabtechexpo.com for show details and to register.

EXPERIENCE CHICAGO

Explore the sights, and experience the food and nightlife of this world-class city on the shores of Lake Michigan. Find out what to eat, drink, see and do at www.choosechicago.com.


"As North America's signature sheet metal forming and fabricating event, FABTECH, also featuring the 3D/Additive Manufacturing Pavilion, provides the venue to network with professional peers as well as suppliers of productivity-enhancing equipment and services," says David Klotz, president of the Precision Metalforming Association, a FABTECH show partner. "Technology constantly evolves in these industries, which makes FABTECH a must-attend event. And, with a focus on emerging technologies such as Industry 4.0 and 3D printing, FABTECH enables attendees to see what's out there and learn how it already is transforming manufacturing."

Keynotes, Panel Presentations Fuel Ideas, Inspiration

Don't-miss keynote presentations and expert-panel presentations provide a formidable bang for your FABTECH buck. Make plans to attend these stellar presentations, held in the FABTECH Theater adjoining Hall D.

Monday, November 11

8:30-9:45 a.m.

Keynote: Chad Hennings

Drawing on his 9-yr. NFL career and three Super Bowl championships, as well as 45 successful combat missions as a U.S. Air Force pilot, Chad Hennings represents the philosophy that he lives by: Excellence is not a destination, but an identity.

12:30-1:30 p.m.

Leadership Exchange: Emerging & Advanced Technologies for Manufacturing 2020

An expert panel details real-world examples of how organizations employ advanced manufacturing and adopt new technology to stay competitive and add value. Panelists include Chandra Brown, CEO of MxD; Jason T. Ray, co-founder and CEO of Paperless Parts, Inc.; and Michael Walton, industry solution executive (manufacturing) for Microsoft.

Tuesday, November 11

8:30-10 a.m.

Keynote: Frank Abagnale

A renowned international cybersecurity and fraud-prevention expert and known as one of the world's most famous con men, Frank Abagnale presents a two-part keynote. During the first part of his speech, titled Catch Me If You Can, as do the book and movie chronicling his life, Abagnale provides entertaining insight into his life as the notorious imposter of the 1960s. Abagnale then instructs attendees on protecting themselves and their businesses from fraud during the second part, titled Art of the Steal.

12:30-1:30 p.m.

Leadership Exchange: State of the Industry—Automation in Manufacturing

Exploring how automation continues to change the manufacturing landscape, this panel covers both the role of technology and people in the months and years ahead. Experts provide perspective on the impact of robotics on human workers and the facts vs. fiction of worker replacement. They also identify key challenges to implementing automation and how to de-risk technology and implement it on the factory floor. Moderator is Jay Douglass, COO, ARM.

Wednesday, November 12

8:30-9:30 a.m.

Keynote: Grant Imahara

Grant Imahara provides a behind-the-scenes look at his work on various sets and productions while also touching on the importance of advancing the engineering/manufacturing industry. This animatronics engineer and Industrial Light & Magic alum brings audiences inside the thrilling world of science and entertainment as only the former host of the Discovery Channel's MythBusters can.

12:30-1:30 p.m.

Leadership Exchange: The Impact of Disruptive Technology and the Future of Manufacturing

An expert panel covers disruptive technologies such as 5G, Internet of Things, artificial intelligence, robotics and automation. Hear real-world case studies and explore challenges and benefits of implementing these technologies. Panelists include Dr. Mohamed (Mo) Abuali, managing partner of IoTco; Dave Beck, founder and managing partner of Foundry 45; Greg Mark, CEO and founder of Markforged; and Tim Weber, global head of 3D metals for HP Inc. Moderator is John R. Brandt, CEO and founder of The MPI Group.

Thursday, November 14

11 a.m.-12 p.m.

Show Planner in App or Online

Access the Attendee Show Planner via the FABTECH website, or the iPhone/Android app. With this planner, map your route; tag your must-see exhibitors, events and presentations; set a schedule; and much more.

Leadership Exchange: 21st Century Workforce—Building Tomorrow's Workforce

Experts share their strategies and actions in acquiring and retaining an educated, diverse and motivated workforce. Find out how organizations can field a globally competitive workforce that meets the demands of an evolving digital economy, and learn how companies can adapt to the trends and challenges of managing and advancing a multi-generational workforce.

Panelists include Hernán Luis y Prado, founder and CEO of Workshops for Warriors; Dean Steadman, CNC education program manager at Fanuc America; and Rob Tessier, national director of advanced fabrication technologies for Airgas. Moderator is Kord Kozma, global director of human resources for Nidec Press & Automation.

Learning Opportunities Galore

Beyond the keynotes and panel discussions, FABTECH offers more than 170 educational presentations on a range of process topics as well as talks on managing tariffs, reshoring, cyber security, incorporating new technology into job shops, business next and best practices, maximizing data for efficiency and more. See the full schedule and register for the educational program at www.fabtechexpo.com/education.

And, throughout FABTECH, be sure to visit the Smart Manufacturing Hub, located in Lakeside Center, near Hall D. The hub features presentations of several advanced manufacturing technologies, including 3D printing, automation, advanced materials, IoT, 3D scanning and more.

FABTECH Festivities Aim to Promote Networking

Besides the show floor and conference rooms, FABTECH provides other opportunities to interact and entertain with peers.

FABTECH Industry Night takes over Lakeside Center at McCormick Place, Tuesday, November 12, from 5:30 to 7:30 p.m. The Chicago Blues and Brews-themed event includes live blues music, local craft-beer tasting and much more. Always a hot ticket, Industry Night sells out quickly. Pick up a ticket ($50) at www.fabtechexpo.com.

The Women of FABTECH Breakfast, Wednesday, November 13, 7:45 to 10 a.m., celebrates the importance of women in the manufacturing sector, and aims to foster relationships and dialogue between supporters and practitioners in the field. This event includes a continental breakfast and a speakers list that includes Gretchen Zierick, president of Zierick Manufacturing; Susanne Lauda, director of global advanced manufacturing technology at AGCO Corp.; Monica Silliman, manufacturing engineering manager-Combine Final Assembly at John Deere Harvester Works; and Erin Welken, manager of business process improvement for the Global Ag & Turf Supply Management Organization at John Deere.

For more details and to register ($25), visit www.fabtechexpo.com/women-of-fabtech-breakfast.

Competition to Recognize Best Welders

Finally, get your weld on at Booth B17116 on Monday and Tuesday, November 11-12, for the American Welding Society Professional Welders Competition. Participants will go head-to-head—each tasked with completing and cleaning a single-pass fillet weld in only 5 min. Speed and accuracy count, and weldments will be evaluated to the current AWS D1.1 by a panel of Certified Welding Inspectors.

Those interested in competing must be 18 years or older and weld for a living. For rules and participation details, visit www.aws.org/weldingcompetition.

FABTECH 3D/Additive Manufacturing Pavilion

Here is just some of what you'll find.

Inconel 625 Available for Metal AM System

Markforged
Booth A3946

Markforged has announced availability of Inconel 625 for its Metal X AM system. The new, easy-to-print material is highly resistant to corrosion and high temperatures and is ideal for applications that are exposed to harsh envirnoments, such as aerospace and chemical processing.

By printing metal powder bound in a plastic matrix, Metal X 3D printer reportedly eliminates the safety risks associated with traditional metal 3D printing while enabling closed-cell infill for reduced part weight and cost. Features include an all-aluminum unibody, fully enclosed build chamber, quiet motion system and environmentally controlled material storage.

LMF Printing with Automated Quality Assurance

Trumpf Inc.
Booth A2904

Among the AM technologies offered by Trumpf is the laser metal fusion (LMF) TruPrint 3000 3D printer, featuring a 40 by 30-cm cylinder-shaped build chamber that enables fabrication of multiple parts simultaneously. Features include automated quality assurance such as powder-bed monitoring and melt-pool monitoring. As Trumpf recently demonstrated at EMO 2019, the printer provides an ideal solution for Inconel parts.

Machining Inconel using conventional techniques can be difficult and costly, with high tool costs due to cutting tools wearing out quickly when milling the tough material. And, components made from Inconel, such as turbine blades and gas-compressor impellers, tend to be complex, with as much as 80 percent of raw material milled to create the required shape.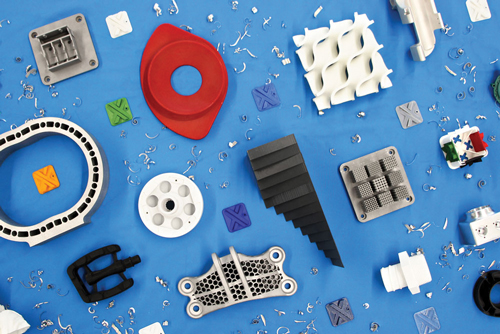 Online Custom-Manufacturing Marketplace
Xometry
Booth A4343
Xometry is an online marketplace for custom manufacturing, connecting companies with manufacturing solutions through proprietary artificial-intelligence algorithms. It provides instant quotes and on-demand manufacturing services, including metal and nonmetal AM, to a diverse customer base. The company is ITAR-registered as well as AS9100- and ISO 9001-certified.
AM Design and Simulation Platform
Altair Engineering
Booth A4043
HyperWorks 2019, from Altair Engineering, is a comprehensive open-architecture simulation platform that unifies design, engineering and manufacturing communities for faster development cycles, according to company officials. This version expands on the number of solutions available for designers and engineers to speed decision-making and time to market, including user-experience advancements and intuitive workflows.
Highlights include expanded nonlinear solver functionality through Altair OptiStruct, ideal for users performing stiffness, strength and fatigue-life simulations. In addition, Altair Inspire, included in the HyperWorks platform, provides a generative design/topology-optimization and rapid simulation solution for design engineers.
Metal-Part Production Service and New AM Center in Spain
HP Inc.
Booth A3638
HP Inc. offers its Metal Jet Production Service for final-parts production. The company's digital-manufacturing portfolio includes the HP Metal Jet for high-volume manufacturing of production-grade metal parts, providing higher production speeds than other methods, according to company officials.
Users, via the service, now can upload 3D design files and receive functional metal parts in large quantities.
In June, the company unveiled its 3D Printing and Digital Manufacturing Center of Excellence, an R&D facility in Barcelona, Spain, that brings together hundreds of AM experts in more than 150,000 sq. ft. of space. The new Center of Excellence boasts professionals in systems engineering, data intelligence, software, materials science, design, and applications in what may be the world's largest population of AM specialists in one location.
The 3-plus-acre facility at HP's Barcelona campus is dedicated to the development of HP's industrial 3D printing portfolio and provides a large-scale factory environment to collaborate with customers and partners on the digital manufacturing technologies.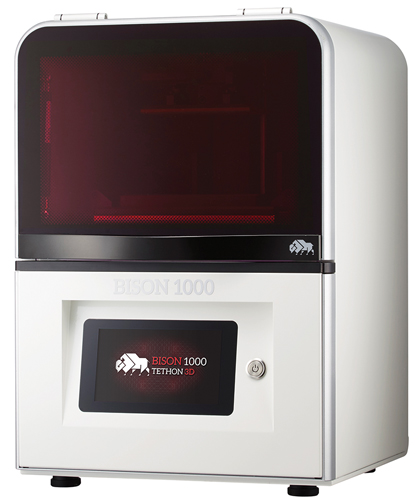 Desktop Printer for Ceramic Powders and Iron Polymers
Tethon 3D
Booth A4241
Tethon 3D has released the Bison 1000 desktop ceramic digital light processing (DLP) printer, optimized for highly viscous ceramic and metal resins. The printer produces parts that, after sintering, exhibit high density and strength as well as minimal shrinkage and distortion, according to company officials. A variety of Bison resins are available― Tethon 3D manufactures ceramic powders and photo-curable ceramic and iron polymers for 3D printing―and the platform is open to third-party materials.
Production-Control Modules for ME/QM System
Bluestreak I Bright AM
Booth A3945
Bluestreak I Bright AM rolls out three production-control modules for its manufacturing execution (ME) and quality management (QM) system: Advanced Real-time Dispositioning of Product Nonconformances; Advanced Real-time Tracking of Out-of-Sequence Operating Steps; and Advanced Serialization and Tracking.
The system tracks the challenging process of disparate parts 3D printed together on a single build plate as well as everything from incoming orders to work in progress to delivery confirmation; and automatically cross-references Part specifications to everything it impacts, according to company officials.
Enable IoT on Old or New Equipment
FreePoint Technologies Inc.
Booth A3656
FreePoint Technologies Inc. showcases its FreePoint ShiftWorx, an industrial IoT system that brings Industry 4.0 benefits to manufacturing equipment regardless of age or function. The system quickly connects to old or new machines and equipment, makes useful information immediately visible to everyone, and engages employees to use "human intelligence" to improve operations in real time, according to company officials. Benefits are aid to include increased operational efficiency and capacity throughput, improved employee performance and job satisfaction, and deferred capital expenditures on new equipment.
Paul Hogendoorn, company chairman, presents at FABTECH on Thursday, November 14 from 8 to 9:30 a.m. in room S402b. His presentation: Smart Manufacturing to Successfully Implement the Trifecta; All in Real Time.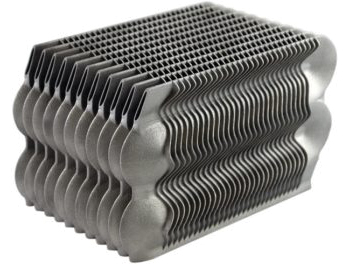 Multi-Process Tool and Part Fabrication Includes AM
Baker Industries
Booth A3743
Baker Industries, a Lincoln Electric Co., has more than 27 years of intelligence in part tooling, precision machining and fabrication for aerospace and automotive customers that demand performance-critical precision. The company operates five facilities located on a single industrial campus in Macomb, MI, providing 251,000 sq. ft. of manufacturing space.
Recycle Your Metal Waste, Including Powder, Support and Sludges
Globe Metal Recycling
Booth A4155
Globe Metal Recycling works with metal AM companies to recycle their metal waste, such as metal powders, supports and sludges. A certified metal recycler with well-established international networks, the company provides a team experienced in handling metal AM wastes. Globe Metal handles mixed materials, and provides safe and clear handling (packaging, transporting and recycling) of different types of metal materials. 3DMP
See also: Altair Engineering, Inc., Bright AM, HP Inc., Markforged, TRUMPF Inc., Xometry, Tethon 3D, Freepoint Technoloiges Inc., Baker Industries, Globe Metal Inc.
---
Reader Comments
There are no comments posted at this time.