Article
Metal AM: The Newest Tool in the Shed
Monday, October 14, 2019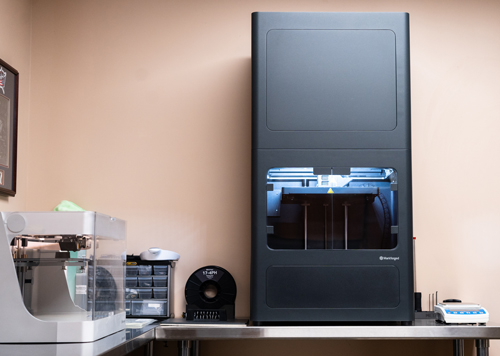 RPG added this Markforged Metal X early in 2019. The machine employs the atomic diffusion additive manufacturing process, and boasts a build volume of 11.8 by 8.7 by 7.1 in.
Ready to begin its 25th year of operation in 2020, RPG Industries stands as a testament to how diversification and "outside-the-box" thinking can pay dividends, in what has proven for many to be a challenging market for relatively small manufacturers. What began as a wire EDM job shop in Tipp City, OH, as the brainchild of owner Robert Ginsburg, has blossomed into a full-service multifaceted manufacturing company. Its resume now includes expertise in conventional and small-hole EDM, as well as wire EDM. RPG also offers abrasive waterjet cutting, CNC machining and turning, and—most recently—additive manufacturing (AM). RPG boasts a full workload of projects for the tool and die industry, and has now evolved to add prototype and small-lot production.
"We've grown consistently year over year," says Ginsburg, noting that the 16,000-sq.-ft. shop (of which 12,000 sq. ft. is for manufacturing) now boasts 13 employees, up from eight just a year ago. The shop moves 20 to 30 active jobs through at any given time, for customers in a variety of industries including power transmission (turbomachinery), automotive, aerospace, medical and construction. With such a variety of jobs and customers, and relatively short runs, reducing setup times on its machines—EDM and CNC machining for example—helped to bring Ginsburg to the world of AM.
Composite Printing of Fixtures, Tooling
"A couple of years ago, a machinery vendor of ours, Columbus Advanced Manufacturing, introduced us to the Markforged composite printer," recalls Ginsburg. "We quickly began using it to efficiently build custom workpiece fixtures and tooling for our CNC machines. That allows us to design and build custom jaws in less than a day, for example, that fit into our existing CNC milling machine vise. We also use the composite printer to build wire EDM workholding tooling."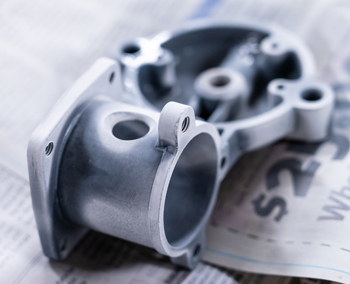 RPG customer D&D Classic Automotive Restoration called on the firm to reproduce the carburetor case for a 1938 Steyr automobile, of which only six remain in the world. RPG used its Metal X 3D printer to create the cover from 17-4 PH stainless steel in two pieces. After sintering, a little deburring, secondary hole tapping and light grinding of mating surfaces, it will be ready for installation. Shown here: the original carburetor cover, coated to enable 3D scanning (top); and the
carburetor cover printed in composite to prove the concept.
His experience with the composite 3D printer helped convince Ginsburg to give the
Markforged
metal-printing machine, the Metal X, a try, and he brought that machine into the fold in January 2019. The Metal X, as described by
Markforged
, prints using metal powder bound in a plastic matrix, eliminating the safety risks associated with traditional powder-bed printing.
Markforged
calls the process atomic diffusion additive manufacturing (ADAM). It includes building parts up from printed layers, sending them through a washing stage to remove some of the binder, and then sintering the printed parts to fuse the powder into solid metal. The heated print chamber provides a build volume to 11.8 by 8.7 by 7.1 in.
"We felt that there would be immediate business from existing customers for the Metal X," Ginsburg says, "but also believed that 3D metal printing would bring new customers through the door."
Immediate Success With the Printer
…came from a customer that manufactures radio-controlled vehicles, which replaced some injection-molded plastic parts with more durable 3D printed metal parts. More recently, Ginsburg and his team have been working on a project with car-restoration company D&D Classic Automotive Restoration, Covington, OH. Deep into restoring a 1938 Steyr automobile, one of only six remaining in the world, D&D sought help from Ginsburg in manufacturing a replacement carburetor cover, "the perfect legacy-type component for the Metal X," says Ginsburg.
The process starts with white-light scanning the existing part to create a 3D model, describes Ginsburg, and then cleaning the model up in CAD to generate the STL file for the 3D printer. Moving from CAD to the print file "is fast and seamless," he says, due to the intuitive and easy-to-use Eiger cloud-based 3D printing software from Markforged. Contributing to the seamlessness of the process are newer features in Eiger that allow the user to rotate (automatically or manually) the part so that any face or plane will lie flat against the print bed, as the geometry allows. The automatic rotation tool then will detect if any features will generate beneath the surface of the print bed, and adjust part orientation to find a parallel plane to place against the print bed and make the part printable.
RPG is printing the part—3.5 by 3.5 by 6 in.—in two pieces, from 17-4 PH stainless steel. After sintering, a little deburring, secondary hole tapping and light grinding of mating surfaces, the parts are ready for assembly and installation.
Expecting Solid Growth
"In addition to 17-4 PH, we're also printing mold inserts from H13 tool steel," says Ginsburg, "and we are looking forward to printing parts in all available materials. By year-end, we expect additive manufacturing to comprise 10 percent of our business, and eventually grow to 25 to 30 percent. One current job has us looking at printing robotic end-of-arm tooling for pick-and-place applications.
"We always strive to stay at the leading edge of technology," Ginsburg adds, "and that's where metal 3D printing fits." 3DMP

See also: Markforged
---
Reader Comments
There are no comments posted at this time.