Article
Printing Metal Prototypes
Friday, August 17, 2018
Automotive exhaust components must withstand the harshest of environments—heat, shock and corrosion all take their toll. Developing new part designs and evaluating new metal alloys represent critical tasks for suppliers of these components, as automotive OEMs look to select suppliers that can provide improved system performance.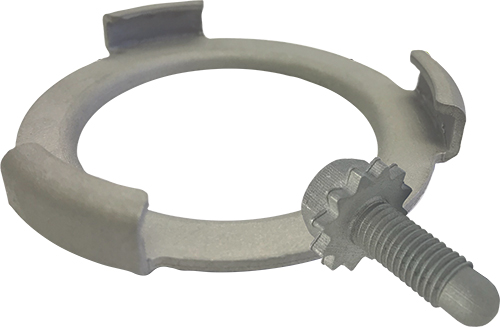 Pridgeon & Clay uses its new 3D metal printer to craft parts from proprietary powdered-metal alloys. Shown here are part samples, "functional right out of the machine with no additional machining required," says vice president of engineering Mike Kozal.


To maintain its competitive edge in this specialized market, Grand Rapids, MI-based metalformer Pridgeon & Clay extends great effort to quicken new-product development and validation. The company is one of the largest independent, value-added manufacturers and suppliers of automotive stamped and fineblanked components in the United States.

"In order to meet ever-shorter development timelines," reads its website, "Pridgeon & Clay partners with customers in the development process. Equipped with a design-engineering department that specializes in computational-flow-dynamic (CFD) and finite-element analysis, we speed development timelines by seamlessly providing design, prototyping, testing and validation, and production services under one roof."

Putting money where its mouth is, the company recently brought under that R&D roof a new 3D metal printer—a ProX DMP 300 (250 by 250 by 330-mm build volume) from 3D Systems.

"We have new projects and are in design and development on a regular, ongoing basis," shares Mike Kozal, vice president of engineering at Pridgeon & Clay. "We're always evaluating new materials and part designs in terms of how parts will react and perform in the exhaust-system environment. In the automotive industry, as perhaps in others, the need to quickly and efficiently supply customers with validated part designs can provide a significant competitive edge."

Product Testing and Validation

"We're looking for opportunities in R&D," Kozal continues, "to test and validate new part designs with the greatest possible level of confidence. When we do so, we effectively gain the attention of our customers and leapfrog our competitors."

The ProX DMP metal printer provides just the leapfrogging capabilities Kozal and his team seek. "For one project, we might need to evaluate how parts stamped from 300-series stainless steel might perform compared to 400-series alloys," Kozal says. "In other cases, maybe we want to validate some of the next-generation catalysts on the market. While we can virtually simulate performance in many cases, when it comes time to actually make prototypes out of metal alloys and test them in the lab, using additive manufacturing (AM) dramatically reduces that development time."

The firm, says Kozal, is printing parts that act just like wrought stampings during testing and validation. "We use LS Dyna to simulate a stamped-part design, and then take those dimensions right to the 3D printer."

The ProX DMP machine, according to 3D Systems, includes a patented roller system that spreads the powder and compacts each layer to optimize heat transfer through the metal powder as the laser does its thing. The claim, then, is that the machine can best-provide steeper unsupported angles, and deposit uniform layers as thin as 5 μm. Minimum wall thickness: 150 μm.

Alloy Selection

Pridgeon & Clay's R&D team selected the 3D Systems printer following an eight-mo. evaluation process. After securing the machine, in December 2017, from local machinery distributor Scarlett Inc., Pridgeon & Clay engineers went to work pushing the machine and its capabilities. The company, which has operated polymer 3D-printing machines for several years, finds that many of the same concepts apply to operating its metal printer.

"Bringing in experts from our inhouse laser-processing and powdered-metal groups also helped us quickly get the new metal printer up and running," Kozal says. "We trained one of our most experienced CNC machine operators, who also had a solid CAD background, to run the metal printer."

The Perfect Complementary Process

In operation and tasked with printing prototypes while efficiently handling design iterations, the 3D metal printer proves the perfect complement to Pridgeon & Clay's CFD-testing procedures.

"We're now better equipped to dial in the inputs—stress-strain distribution for example—and evaluate the impact of heat and other factors during product testing," Kozal says, defining the benefits of CFD testing of actual parts, in addition to virtual testing and simulation. "We then can modify the CFD results to optimize and validate, with a minimum number of iterations, the part design, quickly and with relatively low cost.

"As some of our performance tests can cost upwards of $40,000," Kozal summarizes, "testing now with such a high level of confidence using the 3D printer as a resource winds up saving not only time, but also reduces the number of those expensive tests required to validate our designs." 3DMP
See also: 3D Systems
---
Reader Comments
There are no comments posted at this time.