Grimm's 3D Metal Printing Tales
Conversation with Tangible Solutions, Inc.
Friday, August 17, 2018
As CEO and president of Tangible Solutions, Inc., a contract manufacturer of 3D-printed titanium medical implants (90 percent of its business), Adam Clark knows a thing or two about the current state of metal additive manufacturing (AM). His company has grown from a garage operation with two engineering-grade plastic printers into a 25,000-sq.-ft. facility with 22 pieces of capital equipment that support end-to-end prototyping and production medical implants.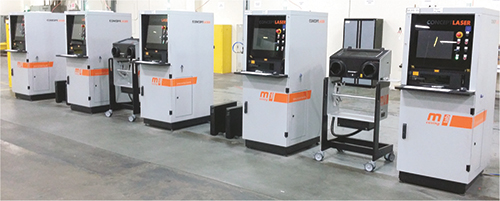 Tangible Solutions' bank of five Concept Laser mLab machines shown running titanium for medical applications.

In this edition, he shares his metal-AM thoughts, observations and recommendations.

Mature, but Headwinds Remain

"The industry is maturing, disciplines are developing and everyone is learning," Clark says, adding that this maturation has led more manufacturers to trust the technology. "We are seeing more confidence from smaller companies with limited financial reserves that are potential medical-device candidates."

With metal AM having moved from a novel idea to a proven production solution, and with companies becoming more familiar with its capabilities, "many are coming out with medical-device concepts that only can be 3D printed," Clark says.

Still, while companies are better informed, Clark notes that the metal-AM waters are still murky. "The path is clearer, but not transparent. Companies need to wade into those murky waters and figure out how to make it work," he says.

The Journey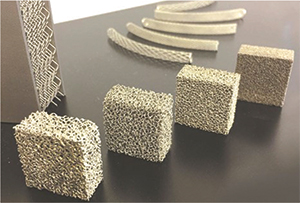 3D-printed blocks comprised of purposefully designed trabecular structures to promote bone-in-growth.
Complicated and challenging describes Tangible Solutions' journey to become a nationally recognized contract manufacturer of titanium medical devices. As Clark puts it, "Going from plastics to metals, and from prototyping to contract manufacturing, was like moving up from amateur ranking to an all-star, professional status." After years of effort, he notes, "We now can celebrate that we have achieved 24/7 operations. With metal AM, that is not a given."
From facility requirements to machine parameters to manufacturing workflow, throughout its journey, Tangible Solutions often had to unearth or create its own operating principles. Clark cites as an example one unpleasant surprise. After installing the metal-AM machines, he learned that an $80,000 HVAC system was a requirement, not an option. Without temperature and humidity control, the machines could not perform to his standards. After taking control of the environment, the company found that it had to be somewhat self-reliant when it came to dialing in build parameters and trouble-shooting problems. This example, Clark says, was the tip of the iceberg in terms of obstacles the company faced.
For those starting with four bare walls and no metal-AM experience, Clark recommends a 14-mo. timeline to progress from ordering a machine to reliably producing quality parts. "Recently," he says, "I bumped into representatives of a large medical-device company taking delivery of a metal-AM machine the next day and planning to launch a product in 9 mo. After providing a 5-min. description of what they needed to do and the hurdles they faced, they understood how much they did not know," and that they needed more time.
Clark recommends a concentrated approach for those new to metal AM. "There is so much to master that I strongly recommend focusing on one industry, one application, one metal-AM platform and one material," he says.
Broaden Views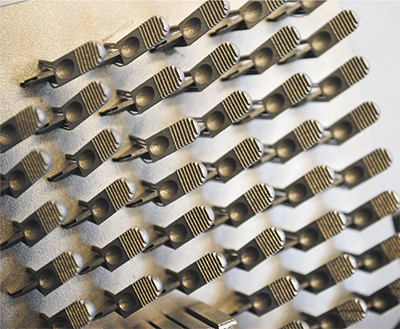 Endoscopic surgical tips ready for the second phase of production, which includes machining and surface treatment.
While the metal-AM component of contract manufacturing requires narrow focus, the opposite is true for the total manufacturing process, as metal AM represents just one step in the delivery of a quality medical device. According to Clark, "You have to blend an understanding of traditional manufacturing with an appreciation for 3D printing. High-quality, cost-effective parts made in high volumes demand consideration of the entire process, not just 3D printing."
To deliver to the requirements of a medical device—in time, cost and quality—Clark advises considering in advance all steps in the manufacturing process. Not only should parts be designed and oriented for AM, which is an evolving practice, they must be designed and oriented to accommodate all of the processes that follow 3D printing. "I can tell when a part was printed without concern for all of the secondary operations, such as machining and surface treatment," Clark says. "Even in the biggest companies that have internal metal-AM operations, there is a tendency to lock into a 3D-printing mindset that can lead to over-engineered parts or overly complicated secondary operations."
Clark notes that without advisors experienced in manufacturing, Tangible Solutions might have fallen into this trap. "Our board encouraged a different perspective, one that takes into account all of the factors for high-volume production beyond the 3D-printed piece," he says. The expertise motivated Clark and his team to appreciate the dynamics between mass printing and mass finishing. Without this approach, time, cost and quality would have suffered.
Tangible Solutions has adopted this broad manufacturing view whole-heartedly. When engaging customers, it leads them through considerations that start with design and end with the finished product. It also exercises control over manufacturing by doing the work inhouse.
Partner for Production
"Customers are better educated, but there still is a lot of handholding, as there should be. It is a partnership," Clark says. The handholding extends beyond project management to managing expectations and understanding what is important. "Without an understanding of what the customer is trying to achieve, and in turn guiding them to what is possible, it is tough to succeed," Clark says. Such partnerships, he believes, help fill the gaps that most manufacturers show when it comes to understanding the interactions between AM and traditional manufacturing.
"There are a lot of crazy and cool ideas for 3D-printed medical devices out there," Clark says. "With dialogue, feedback and guidance, a contract-manufacturer partnership can make them a reality."
Production: What's Needed
Tangent Solutions' Metal-AM Portfolio
AM Equipment
5 Concept Laser Mlab printers

1 Concept Laser M2 printer
Material: Titanium
Supporting equipment
2 Hurco five-axis mills
2 Knight's Dragon heattreat furnaces
1 Mitsubishi wire-EDM unit
1 3D Systems scanner (metrology-grade)
2 Stratasys FDM machines
Metal AM has reached a level of maturity that pleases Clark, but to make further inroads, he says that more needs to happen. Now that the company has had production success, his attention has turned to driving out cost and increasing throughput via machine development and supply-chain improvement.
"The metal-AM machines need to run as much as possible," Clark says. "Right now, we can run 24/7, but our production rates are impacted by lost time." He cites items such as machine setup and teardown. "If we can gain a few hours a day for each machine, our capacity significantly increases, which means more throughput without additional metal-AM investments," Clark says. He also cites overall machine durability, with a hope for matching that of conventional machine tools.
Regarding the supply chain, Clark says, "In a contract manufacturing operation, we can't afford to wait for supplies that keep the machines running." Availability of everything from filters to titanium powder to repair parts must be dependable and delivered quickly. Without them, and without alternative sources, production can grind to a halt. His last wish: supplies that are priced in line with the financial needs of a contract manufacturer.
Reaping Rewards
Tangible Solutions embarked on a journey to reframe the company and turn it in a different direction. Believing that great opportunity lay in medical-device manufacturing, it rewrote the business plan. That plan led it to becoming an established and successful contract manufacturer of medical devices. Clark says the effort was well worth it as the company's mission evolved into one of helping people with medical needs.
"It is really cool to be a part of something much bigger than ourselves," says Clark. "I didn't realize how that would feel. When our first product went into a human body, it was an amazing and rewarding experience." 3DMP
---
Reader Comments
There are no comments posted at this time.