Article
2018 AMUG and RAPID + TCT Offered Plenty
Friday, August 17, 2018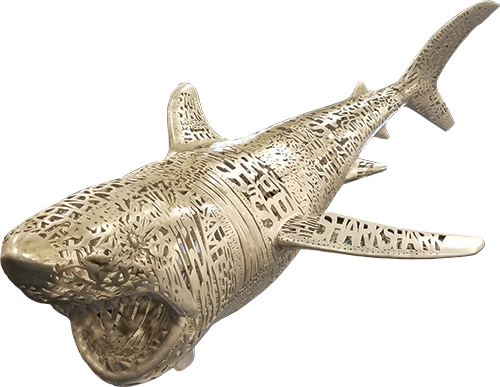 The 3D Art Gallery at RAPID + TCT, highlighting innovative 3D-printed pieces from artists nationwide, included "Emptiness of Shark," by Michael Cardacino, a 2-m-long hollow likeness of a shark and featuring the repeated word "shark" across its glass-filled nylon skin. Too large to create as one piece, multiple pieces were printed in a EOS P730 machine.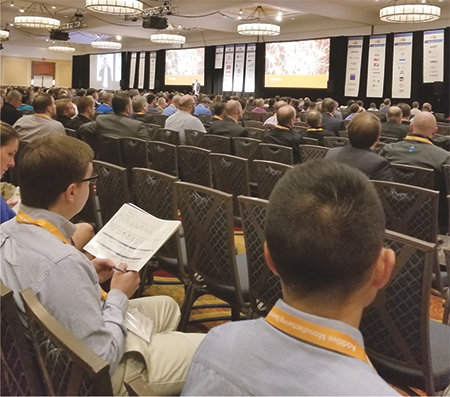 The 30th Annual AMUG Conference featured info-packed presentations spanning the AM-technology landscape.
Between the 2018 AMUG (Additive Manufacturing Users Group) Conference and AMUGexpo, April 8-12, in St. Louis, MO, and RAPID + TCT, following on AMUG's heels April 23-26 in Fort Worth, TX, the industry gained a treasure trove of insight into additive manufacturing (AM).
We previewed new products in the Spring 2018 issue (visit www.3dmp.com to see the issue and read the writeups) and here we take a look at some of what we saw. This and following issues will showcase more from these shows, and present feature articles and other editorial owing to our trips to these events.
Benefits of New Liquid-Metal-Printing Technology Touted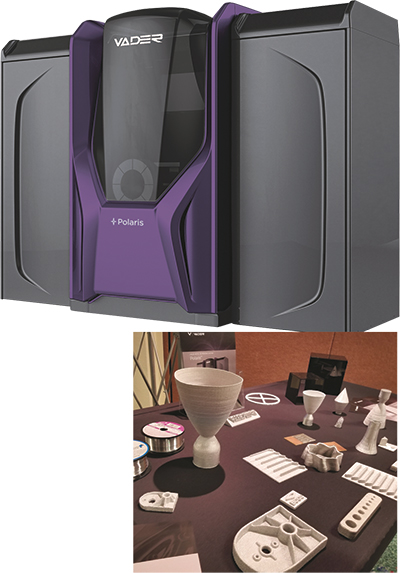 At RAPID + TCT, Vader Systems unveiled three new offerings surrounding its Magnet-o-Jet liquid-metal 3D-printing technology: Polaris liquid-metal 3D-printing system, Magnet-o-Jet Subsystem for hybrid-manufacturing integration and Ares Microsphere production system.
The Polaris turnkey system (pictured, along with parts it produced) uses Vader's patented liquid-metal process, and now can print a range of industry-desired aluminum alloys, including 6061 and 7075. Using nonhazardous input materials, it can produce parts at rapid speeds with virtually no waste, according to company officials.
The Magnet-o-Jet Subsystem integrates into hybrid-manufacturing systems such as CNC-machining equipment. By eliminating the use of powdered metal, this product allows manufacturers to produce and finish parts in one system with minimal contamination concerns. Vader collaborates closely with customers to fully integrate the unit into existing or planned equipment. As with Polaris, reported benefits include isotropic material properties, enhanced safety and finished parts with full density.
Ares Microsphere produces uniform and consistent metal microspheres for on-demand usage. Vaderite microspheres, tested by a national laboratory, show best-in-class results, according to Vader officials. Printing microspheres on demand eliminates the need to carry powder inventory and enables a variety of small-batch applications. The microspheres reportedly allow for excellent flowability and nearly 100-percent material usage.
AM Mined for Improved Drilling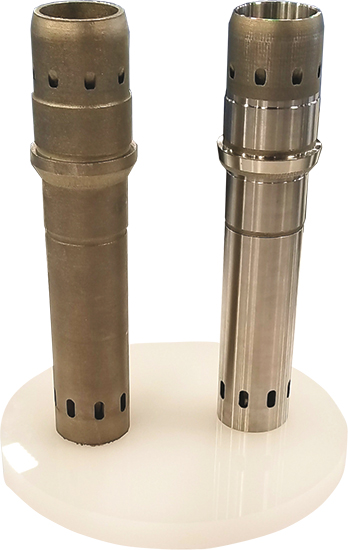 At RAPID + TCT, Sandvik displayed metal-AM tools produced via laser-bed processes, using its powder materials. Here, AM reduces assembly needs and creates channels within the tools to promote cooling and deliver coolants and lubricants to the workpiece.
In a drilling application, a sliding case from LKAB Wassara (pictured), used for water-powered, down-the-hole hammers, was produced from Sandvik Osprey 18Ni300 maraging steel. Optimized printed water channels increase overall water flow for improved performance. And, AM enables the two parts of the sliding case to be created as a single unit. The result for LKAB Wassara: reduced assembly, more cost-efficient production and better reliability.
For another mining application, high-precision nozzles from Varel are used to inject fluid across fixed cutter bits. The small cemented-carbide nozzles must withstand the extreme environment of underground hard-rock drilling as well as extreme hydraulic conditions.
The nozzles feature sophisticated hydrodynamic designs that optimize fluid flow for more efficient cooling and cleaning, leading to faster cutting and evacuation of drill cuttings and optimized hydraulic energy usage, according to Sandvik officials. AM—in this case via binder jetting—enables more rapid manufacturing and delivery of the nozzles, meaning less inventory needed. The nozzles previously were produced through traditional machining, a long process with long lead times. As a result, Varel required high inventories to keep customers supplied. This no longer is the case, Varel officials claim, as thanks to AM, lead times have been cut by as much as 70 percent. Another plus: AM allows for customized nozzle options.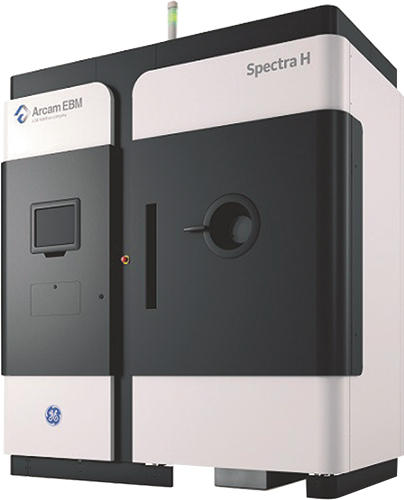 New Electron-Beam-Melting AM Platform
GE and Arcam unveiled the Arcam EBM Spectra H printing platform at RAPID + TCT. With a 250-mm dia. and 430-mm height, the build volume is the largest available for electron-beam-melting systems, allowing for the printing of larger parts and more parts at one time. Also, the Spectra H's high-heat capability (exceeding 1000 C), according to GE and Arcam officials, allows users to incorporate crack-prone alloys, such as titanium aluminide, into production along with other high-temperature, anti-corrosive materials.
The machine features an automatically calibrated 6-kW beam and a closed-loop, dust-tight environment. Other features: movable heat shields for improved insulation, and automated powder-distribution and powder-recovery systems.
Software for 3D Printing of Nonmetal Jigs and Fixtures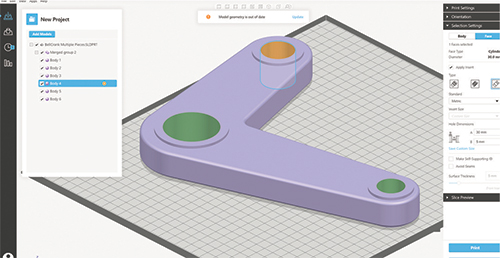 Stratasys used RAPID + TCT to debut new software designed specifically to produce jigs, fixtures and other manufacturing tooling using fused-deposition-modeling (FDM) material, and currently seeks beta customers to test it.
Combining the interface of GrabCAD software with Stratasys' Insight software, Jigs and Fixtures for GrabCAD Print simplifies and automates print preparation for rapid tooling applications, according to company officials. This reportedly enhances the use of Stratasys' industrial hardware and materials for creating jigs and fixtures on the factory floor.
Offered through GrabCAD Print, the software is said to embed application expertise, automate several complicated and time-consuming processing steps, and eliminate the need for multiple programs within the workflow. By accepting native CAD designs, the part's original design intent is maintained. This eliminates the need for users to convert CAD designs to STL files, which can result in key information being lost during translation.
Stratasys officials claim that the new software does the following:
Eliminates extensive design and processing knowledge as a barrier to implementation;

Saves time and eliminates unnecessary iteration during the design and processing phase;

Avoids the need for formal software training;

Eliminates the need for third-party software, including STL-file fixing applications, due to its ability to accept native CAD designs;

Enables tooling designers to leverage design-freedom potential in FDM technology;

Simplifies workflow by automating key CAD functionalities used for jig and fixture design, such as auto-generating toolpath instructions; and

Reduces file-preparation tasks.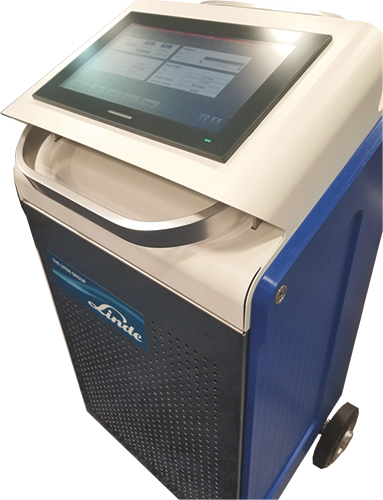 Monitoring of Powder-Chamber Atmospheres
Linde LLC officials at RAPID + TCT filled 3DMP in on its new ADDvance O2 precision atmosphere-monitoring system, which precisely controls O2 and humidity levels by continuously analyzing an AM-machine's powder-chamber atmosphere. It protects against unwanted gases, which can enter an AM chamber in several ways: through insufficient purging, loose supply connections or through the powder metal itself. The portable unit is ideal for powder-bed-laser processes, according to company officials.
Also new from Linde and on display at the show: The ADDvance powder cabinet, which purges the storage atmosphere with inert gas while tightly controlling temperature and humidity; and ADDvance Cryoclean cleaning technology, which uses CO2 snow as well as blasting abrasives to remove difficult residues without water.
A Drill Bit Like No Other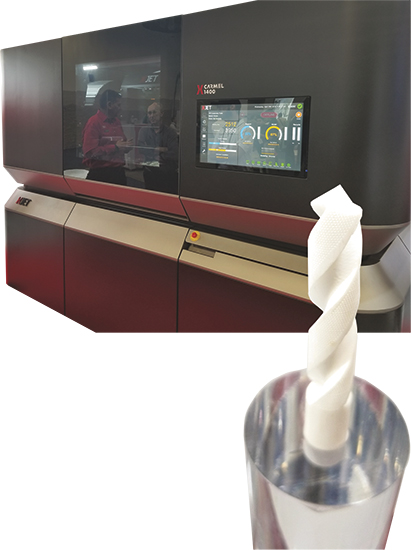 At RAPID + TCT, we spied an AM-produced ceramic-zirconia drill bit, produced on XJet Ltd.'s newly introduced Carmel 1400 AM system using the company's NanoParticle Jetting technology. Note the tiny holes—2341 of them, each with a diameter of only 190 µ. An inner cavity connects the holes, allowing cooling spray to route and cover the entire bit during operation. Featuring density in excess of 99.9 percent, the bit exhibits high hardness.
Originally launched at formnext last November, the Carmel AM system debuted in North America at this year's RAPID + TCT. XJet also discussed its NanoParticle Jetting technology in-depth at AMUG. Printing ultrafine layers of NanoParticle 'inks,' manufacturers can produce metal and ceramic parts with the ease and versatility of inkjet printing, according to XJet officials. Parts produced on the Carmel AM reportedly exhibit details as small as 100 µ, smooth surfaces and high accuracy. It features a build-tray size to 11 by 19.7 in. and a maximum build height of 7.9 in.
"The nano-level particles in XJet technology afford us an opportunity to make extremely precise and detailed products that we've previously been unable to do," says Mike Hripko, associate vice president of research at Youngstown State University, which recently took delivery of the first Carmel 1400 in the United States.
Process Monitoring, Quality Control for Metal AM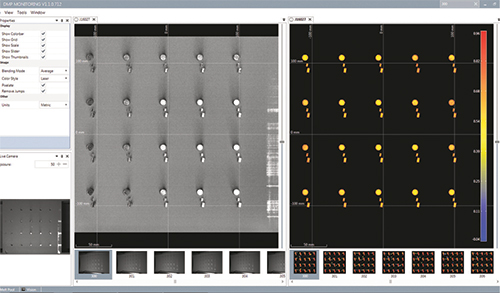 At AMUG and RAPID + TCT, 3D Systems had plenty to talk about, including its new software, DMP Monitoring (pictured), which equips users with a quality-control toolset for 3D Systems' Direct Metal Printing technology. DMP Monitoring provides technicians with real-time data collection and analysis to optimize build parameters and produce higher-quality parts, resulting in reduced waste, improved productivity and lower total cost of ownership. It also offers the ability to archive photos and images to support process traceability and documentation for highly regulated industries such as aerospace and healthcare.
The toolset combines DMP Vision and DMP Meltpool to capture images of the powder bed and the melt pool to highlight areas of interest for further exploration. DMP Monitoring currently is available for 3D Systems' ProX DMP 320 printers, and will be included with the company's DMP 8500 Factory Solution when it becomes generally available before year's end.
Also, 3D Systems demonstrated the recently announced integration between 3D-scanner manufacturer Artec and Geomagic Freeform. Artec scanners now can be ordered with Geomagic Freeform software, which features a set of 3D-engineering hybrid-modeling tools. Designers can scan models and textures directly into Freeform to complete their designs, streamlining workflow and facilitating design of orthopedic and prosthetic devices as well as consumer products, original artwork and jewelry with intricate details.
Senvol Developing AM Machine-Learning Software for the U.S. Navy
3DMP visited Senvol at AMUG and RAPID + TCT to learn more about how the New York City-based AM-services firm has been working to develop data-driven, machine-learning AM software for the U.S. Navy's Office of Naval Research (ONR). Company officials presented on the topic at both events. Senvol software analyzes the relationships between AM-process parameters and material performance. ONR's goal, to have software assist in developing statistically substantiated material properties, will reduce conventional material characterization and testing now needed to develop design allowables.
"Our software capabilities will allow ONR to select the appropriate process parameters on a particular additive-manufacturing machine given a target mechanical performance," says Annie Wang, president of Senvol. "This presents a unique opportunity to reduce the high level of trial and error that is currently required, which would save a tremendous amount of time and money.
"In addition to our machine-learning capabilities," Wang continues, "we also have developed a computer-vision algorithm that analyzes, in real-time, in-situ monitoring data. This enables us to detect irregularities in real-time and to begin quantifying the relationships between irregularities in the build and the resulting mechanical performance."
The Senvol-Navy development partnership is continuing, and Senvol will release further details and make the software commercially available to companies looking to qualify AM parts. For details on gaining beta access to the software, contact Senvol at info@senvol.com.
Air Sped to Mach 3 Drives Deposition in New 3D Printer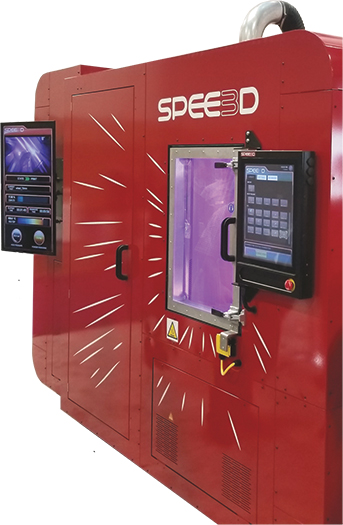 Spee3d drew a crowd at RAPID + TCT with its patented technology, in the form of a metals-based 3D printer employing air-fed deposition. Rather than using heat to melt metal powders, Spee3d employs supersonic deposition, where a nozzle accelerates air to as much as three times the speed of sound to deposit injected powders onto a substrate attached to a six-axis robotic arm. The kinetic energy of the particles, explain company officials, causes the powders to bind together to form a high-density part with normal metallurgical properties.
On display along with the printer: a copper flywheel that took 11 min. 38 sec. to produce, at a cost of $6.85. The same part would take hours to produce and be prohibitively expensive as a printed one-off item, according to Byron Kennedy, cofounder and CEO of the Australian company.
The printer's integrated design includes an enclosed build chamber (max. part size: 300 by 300 by 300 mm; max. part weight: 3000 g), powder feeder, electronics and print head, along with touchscreen HMI and high-speed robotic unit. It offers build rates to 100 grams/min., with the automated build process using an STL file to produce a near-net-shape part. The technology ideally is suited for producing parts currently designed for sand or die casting, according to Kennedy, who claims the process, currently qualified for aluminum and copper, is 100 to 1000 times faster than laser-based 3D printing.
NanoSteel Tops Competition with 3D-Printable Tool Steel
NanoSteel's AM business unit received first-place honors in the 2018 RAPID + TCT's Innovation Audition for its 3D-printable tool steel, produced for the powder-bed-fusion process. BLDRmetal L-40, a ferrous-alloy powder, can be printed at room temperature to form high-hardness ductile parts. Tool and die applications are ideal for such characteristics. Using AM with this material can significantly cut turnaround time for tooling, according to NanoSteel officials.
www.nanosteel.com 3DMP
See also: Vader Systems, Sandvik Coromant Company, Arcam AB, Stratasys, Inc., Linde LLC, XJet Ltd., 3D Systems, Senvol, Spee3d, NanoSteel Company, Inc., The
---
Reader Comments
There are no comments posted at this time.