Article
Youngstown State University Advances Additive
Thursday, April 19, 2018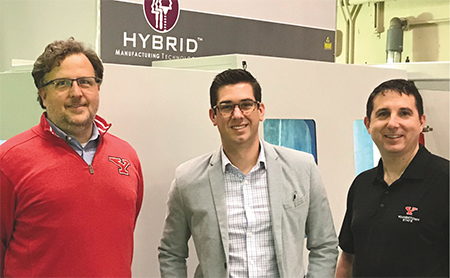 Left to right: Eric MacDonald, Jason Walker and Brett Conner, the CIAM brain trust.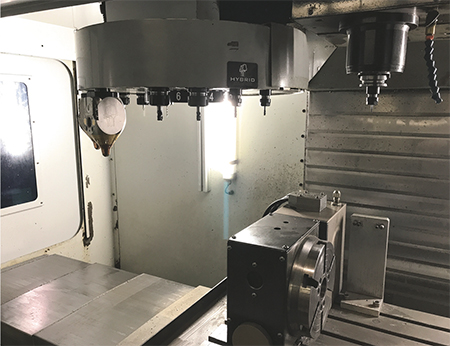 A look inside the Ambit multitask system from Hybrid Manufacturing Technologies. Shown are laser-deposition heads in the tool carrier on the left, along with several subtractive-machining tools.
The Mahoning Valley in Northeast Ohio, with the city of Youngstown at its center and the nickname "Steel Valley" as an integral part of its history, is staging a manufacturing comeback. For those wanting to learn more about Youngstown's past as a steel town, there is the Youngstown Historical Center of Industry & Labor, also known as the steel museum. For those wanting to learn about the area's role as an additive-manufacturing (AM) center, there's the Youngstown State University Center for Innovative Additive Manufacturing (CIAM), where additive processes and applications are advancing via $10 million in external research funding, myriad processes and equipment, and brain power.
What's more, CIAM is just 1000 steps from America Makes, the public-private partnership for advancing AM with member organizations from industry, academia, and government and nongovernment agencies, and where YSU faculty and students can gain additional hands-on training in metal-AM technologies. CIAM graduates have found work at GE Additive, NASA, Ford, Voxeljet and rp+m, to name a few.
Well-Resourced
The processes and equipment at YSU and America Makes are extensive, according to Brett Conner, Ph.D., associate professor of manufacturing engineering and director of YSU's Advanced Manufacturing Research Center, of which CIAM is a part. The CIAM equipment represents the seven ASTM/ISO AM technology categories.
Powder-bed fusion: ProX 320 Direct Metal Printer from 3D Systems, Rock Hill, SC

Directed-energy deposition: Ambit multitask system from Hybrid Manufacturing Technologies, McKinney, TX, mounted in a machining center from Haas Automation, Oxnard, CA

Binder jetting: M-Flex metal and ceramics printer, S-Max 3D sand printer and X1-Lab from ExOne, North Huntingdon, PA

Material extrusion: Fortus 250mc from Statasys, Edina, MN; CreaterBot ProSeries II from Printer Works, Youngstown, OH; Lulzbot TAZ6 from Aleph Objects, Loveland, CO; Replicator 2 and 2X from MakerBot, New York, NY; Hyrel3D printer from Hyrel 3D, Atlanta, GA

Material jetting: Projet 3510SD from 3D Systems

Vat photopolymerization: Formlabs 2 and Projet 1200 from 3D Systems

Sheet lamination: Mcor Iris from Mcor Technologies (US), Los Gatos, CA
In addition, CIAM can leverage equipment at America Makes and the Youngstown Business Incubator (YBI) including an m290 from EOS North America, Novi, MI; a 3D Systems sPro60; a Stratasys Fortus 400mc, and YBI's recent acquisition of the newly introduced Carmel 1400 ceramic material-jetting printer from XJet, Englewood, CO.
Brain Trust
In addition to his YSU roles, Conner is the chief technology officer for Freshmade 3D, a Youngstown-based AM start-up. He is actively researching business models for AM, functionally graded materials, and shock and energy absorption of AM structures. Prior to joining YSU, Conner conducted U.S. Air Force research into materials, developed technology policy and led efforts developing space systems.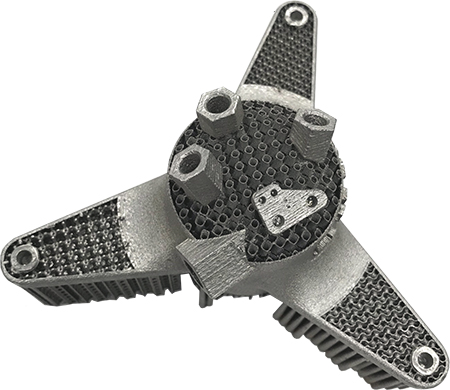 This stainless-steel demonstration part was printed on the 3D Systems ProX 320. It demonstrates various lattice structures, supports and interior channels.
Working with Conner is Eric MacDonald, Ph.D., professor of electrical and computer engineering and Friedman Chair for Manufacturing, who came to YSU in 2016 after being a professor and associate director of the W.M. Keck Center for 3D Innovation at the University of Texas at El Paso. MacDonald's AM research has resulted in nearly $16 million in funding. His 3D-printed projects include satellites with structural-embedded electronics. One such satellite launched into low-earth orbit in 2013. A replica is on display at the London Museum of Science.
Completing the trio is Jason Walker, Ph.D., assistant professor of manufacturing engineering, who also joined YSU in 2016 to work on a grant-funded AM project to accelerate the making and validating of 3D-printed parts for the U.S. Air Force. All three, as well as YSU students in the materials science Ph.D. program, work closely together on the USAF project. Simply put, their mission is to demonstrate the feasibility of using additive in the field or on an aircraft carrier to print tooling or aircraft parts. The three-phase grant is funding work with directed-energy deposition, powder-bed fusion, material extrusion, vat photopolymerization and binder jetting for sand printing.
A separate Navy-funded project focuses on the development of in-envelope hybrid manufacturing for fabricating functionally graded materials. To this end, YSU is using the Ambit system from Hybrid Manufacturing Technologies, a laser-based, directed-energy deposition and docking system, employed in a traditional four-axis CNC system. Automated changeover takes seconds, meaning that changing from additive to subtractive simply requires a quick tool change.
| | |
| --- | --- |
| | |
| Ashley Martof, industry liaison, America Makes, and CIAM graduate. | Chris Barrett, YSU doctoral candidate and America Makes Innovation Factory Fellow. |
In addition to the Department of Defense projects, Conner says CIAM industry partners include Boeing, Lockheed Martin, Raytheon, Oerlikon, Honeywell and Sikorsky as well as smaller companies such as Humtown Products (molds), Slice Manufacturing (medical) and M-7 Technologies (precision measurement).
"Ours is a strong industry-university collaborative program that follows a holistic approach to additive," says Conner. "When it comes to developing defect-free, certifiable parts for aerospace, medical, transportation and industrial applications, we have to look at the entire process holistically and recognize that there is a series of processes starting with deposition and followed by more conventional processes such as heattreatment, machining and inspection. We have to evaluate such factors as defects in the powder feedstock that may influence the outcomes of processes such as heattreatment. Or, we need to improve inspection methods such as evaluating rapid, noncontact dimensional inspection prior to machining."
IoT for Casting and Medical
This emphasis on the holistic has led the CIAM team to apply CAD-based solid modeling to introduce unique and sensor-equipped cavities in sand molds, used to form metal castings.
"We're developing 3D-printed smart molds or Internet of Things for casting," says MacDonald. "We're intersecting disciplines—metallurgy, mechanical and electrical—and making it possible to collect data, that until now, wasn't possible in an age-old industry invented thousands of years ago.
MacDonald explains that disposable microelectronics in the form of Bluetooth sensor systems, buried within cores, collect data during the pour. While the electronics do not survive beyond several minutes because of the molten metal, during that brief time they are able to collect important information to understand better what occurs in the core during the pour. That is, temperature, pressure, humidity, acceleration, rotation and magnetic flux. The end game is to use the data for defect-free parts and processes, and to validate sophisticated computer modeling of the casting process.
Walker, who earned his Ph.D. in biomedical engineering at the University of Toledo, adds that other CIAM research projects will influence the biomedical space. He explains that directed-energy deposition, used to build complex layers, enables the insertion of microelectronics. These efforts are destined to result in "patient-specific smart implants and monitoring devices," says Walker.
As for CIAM's future, Conner says it will continue to fulfill its mission to advance research, education, workforce development, and industry partnerships in additive. "CIAM is the focal point for additive-manufacturing activities as part of the College of Science, Technology, Engineering and Math as well as the Advanced Manufacturing Research Center, which also includes robotics, metal casting and Internet of Things," he says. "We will continue to draw upon these resources and seek collaborative projects with industry partners." 3DMP
---
Reader Comments
There are no comments posted at this time.