Tech Update
World Premier: 3D-Printed Brake Calipers by Bugatti
Thursday, April 19, 2018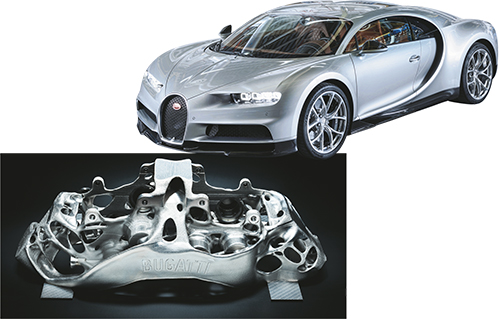 French automaker Bugatti has used a 3D printer to produce a brake caliper, creating what reportedly is the largest, fully functional 3D-printed titanium object in the world. Titanium is stronger and lighter than the previously used aluminum alloy, resulting in a 4.4-lb. weight reduction per unit.
Bugatti says it used a new high-performance 3D printer at the German company, Laser Zentrum, where lasers deposited titanium powder layer by layer before the part underwent heattreatment for strengthening. While 3D-printed calipers may work for low-volume sports cars such as the Chiron, their inclusion in high-volume models isn't yet practical, considering it took Bugatti about 45 hr. to print the calipers shown here.
"It was a very moving moment for the team when we held in our hands our first titanium brake caliper from the 3D printer," says Frank Götzke, head of research and development at Bugatti. "Technically, this is an extremely impressive brake caliper. It also looks great."
Bugatti Automobiles S.A.S.: www.bugatti.com
---
Reader Comments
There are no comments posted at this time.