Industry News
Stratasys and Team USA Go for Gold
Friday, February 16, 2018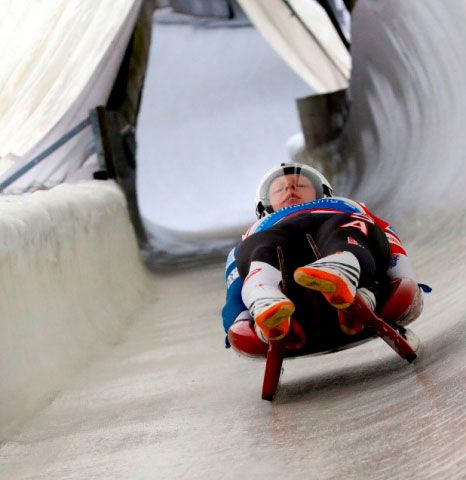 Team USA - Luge worked with the Composite Solutions Group at Stratasys to gear up for the Winter Games (Photo: Business Wire)
Stratasys, Eden Prairie, MN, provider of additive technology solutions, has teamed with Team USA - Luge to inject additive manufacturing into its quest for gold in Pyeongchang, South Korea. The carbon-fiber composite sleds, made using fused deposition modeling technology, enabled a level of complex customization that would not have been possible with standard composite fabrication, according to Stratasys.
For example, 3D-printed mandrels for the racing team's Doubles Tower—a composite structure at the sled's front, used to accurately position riders' legs during competition—are tailored to the body of each athlete, thus ensuring proper fit and position during racing, a critical factor when racing sleds that travel at speeds to 87 mph.
"Competitive luge racing is an extremely demanding sport where fractions of a second are the difference between winning and losing. Our riders depend on comfortable, aerodynamic sled designs to win races," says Jon Owen, technical programs manager for USA Luge. "In teaming with Stratasys, we've become much more competitive on the world stage, continuously adjusting designs and running them on the track much faster than traditional processes. Additionally, we've balanced both comfort and performance by tailoring the sled to each rider's body, while minimizing fabrication cost and time."
Based on the success of Doubles Tower construction, USA Luge has pushed the technology even further by 3D printing the entire sled-body layup tool. This design incorporates a removable middle section, allowing tool length to adjust based on each rider's height. Driven by these efforts during prototyping, designers are using this same tooling for final sled components during competition.
For more,
www.stratasys.com
.
---
Reader Comments
There are no comments posted at this time.