Article
Material Testing Key to AM Quality Management
Monday, October 29, 2018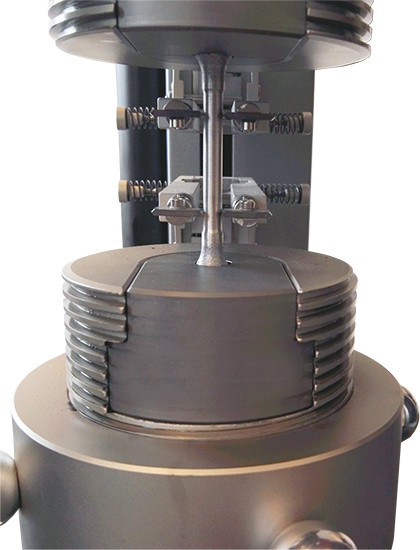 Tensile tests at SLM Solutions Group check whether new parameters on the company's AM machines reach or exceed required mechanical characteristic values.

As the scope of additive-manufacturing (AM) applications increases, so does demand for quality evaluations of key processes such as powder metallurgy. Physical testing enables quantitative analysis of supplier quality, adherence to procedures and process performance. Maintaining quality in powder-metal fabrication begins with the testing of the powders themselves. Metal powders are tested for correct chemistry, particle-size distribution and mechanical properties. Components manufactured by powder-metal processes typically are tested for hardness, impact resistance, tensile strength and density.

Consistency, reliability and proof of performance represent integral elements for industry sectors with a low tolerance for risk, such as aerospace and medical devices. That said, AM-part suppliers that develop procedures to assess end-to-end quality position themselves effectively for growth.

Perfecting Powder Practices

Powder metallurgy provides the foundation upon which AM parts are built. Assessing the integrity of raw material improves yield and directly impacts performance. Increasingly, AM-part producers perform their own particle-characterization tests, comparing the results with those specified on vendor-certification documents. Testing of this type typically occurs as part of the inbound-goods acceptance process. Shipments passing inspection move into inventory, with any failing lots initiating follow-up communications with vendors.

"We see growth in applications for additive manufacturing in the aerospace industry on both the production and maintenance sides," says Boris Plach, product manager for testing machines at Zwick Roell, a provider of materials-testing systems. "With the industry's focus on material validation, suppliers must evaluate all aspects of quality, from the purity of raw materials to the mechanical performance of parts."

Delivering Consistently Reliable 3D Metal Printers

Robust quality measurement begins with the AM machine itself. Consider the selective-laser-melting (SLM) process, which offers outstanding creative freedom in design and, thus, provides tremendous potential for lightweighting initiatives. A great deal of the foundational work with SLM technologies centers on lightweight parts for aerospace applications, where traditional manufacturing constraints, such as tooling and physical access to surfaces for machining, restrict component design.

SLM Solutions Group AG, headquartered in Lübeck, Germany is a global supplier of 3D metal printers that employ the SLM manufacturing method. As with conventionally manufactured metallic components, parts produced via 3D metal printers also must be tested for their strength values. For this purpose, SLM Solutions uses a Zwick ProLine 100-kN testing system.

"Delivering 3D metal printers that function with the highest levels of precision and repeatability is of the utmost importance to our customers at SLM Solutions Group," says Plach. "Characterizing the material properties of parts produced with each system allows them to ensure proper functionality. Materials testing plays a vital role in determining quality and functional integrity."

AM-part production with a 3D metal printer from SLM Solutions Group may involve powder aluminum, tool steel, stainless steel, nickel-base alloys, cobalt-chrome or titanium. For each of these materials, process parameters must be identified and qualified separately. Parameters include laser power, scanning speed and coating thickness. To complete a parameter qualification, a tensile test is performed to check whether the new parameters reach or exceed required mechanical characteristic values. This is where the testing system pays off.

"The robustness, high quality and ease of operation have won us over," says Daniel Brück, research and development engineer at SLM Solutions Group.

Ensuring Performance in Aerospace Applications

Conventional aerospace requirements also involve strict validation of materials with qualification processes that can span 12 to 18 months or longer. Applications for space flight often have even more stringent requirements due to the extreme service conditions that parts must endure. One example: liquid-hydrogen fuel tanks that deliver the propulsion needed for launch vehicles. Metal alloys used in such applications must maintain mechanical performance under high loads and at temperatures ranging from -250 to -280 C.

Based in Garching, Germany, KRP Mechatec specializes in the development and analysis of materials and structures for the aerospace industry. KRP has established a test program to explore the potential of AM for construction of lightweight launch-vehicle parts. For this purpose, the company produces material samples aluminum and titanium-alloy AM parts. The company uses a Zwick AllroundLine Z250SW testing machine to conduct a variety of tests on the samples under nonambient conditions.

KRP's testing requirements have resulted in the development of a special device that allows various tests ranging from tensile and compression to shear and hole expansion in a cryostat. In the cryostat, material samples are cooled to -196 C using liquid nitrogen, or to -269° C using liquid helium, and then tested.

"Zwick Roell provides us with the support we need to carry out our special test tasks," explains Dr.-Ing. Christoph Zauner, technical manager at KRP Mechatec. "The testing machine and the software enable flexible use in the research and development environment."

Software Propels User Success

"Flexibility and ease of use represent areas of importance for customers engaged in development work," says Zwick's Plach. "For example, our testXpert III testing software incorporates features that go beyond modern convenience to enhance accuracy in measurement and help ensure reliable test results."

To back up his claim, Plach describes Intelligent user management in the testXpert III software that reduces the number of required operator inputs, revealing only the options and information important to each user. Administrators retain full access privileges and the opportunity to control access levels based on roles and training levels. The software also logs all test- and system-relevant actions and settings, preserving a record for management review. This ensures that the traceable results cannot be manipulated.

Advanced testing software, along with the machines that employ it, is helping AM find applications across multiple industry sectors. In each application, one constant remains: the need to validate performance of produced parts and components. Thus, testing plays an essential role in AM, enabling quality management of raw materials through completed products. 3DMP

Article provided by Zwick USA, Kennesaw, GA; tel. 770/420-6555, www.zwickusa.com.

See also: SLM Solutions NA, Inc.
---
Reader Comments
There are no comments posted at this time.