Tech Update
Binder-Jet Metal Printer Geared Toward Higher Volumes
Monday, October 29, 2018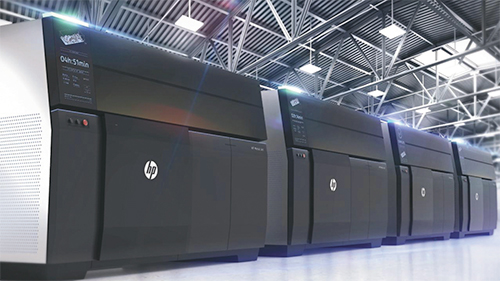 HP Inc. used the IMTS stage to debut its HP Metal Jet 3D-printing technology, designed to enable high-volume manufacturing of production-grade metal parts. Initially, Metal Jet printers will produce stainless-steel finished parts, delivering isotropic properties upon post-print sintering that meet or exceed ASTM and MPIF Standards.
Offering a build size of 16.9 by 12.6 by 7.9 in., the binder-jet Metal Jet printer boasts voxel-level 1200 by 1200-dpi 3D-printing accuracy, producing in single layers from 50 to 100 microns thick. Inkjets deliver an HP binding agent to a powder-metal bed and industry-standard metal-injection-molding (MIM) metal powders. The inkjets spray in a layer via a print head traveling side to side, with another print head alternately traveling in a perpendicular direction and spraying the next layer. This enables speeds that company officials claim are 50 times greater than other presently available binder-jetting and selective-laser-melting metal-AM machines. Density after sintering is greater than 93 percent, similar to densities achieved via MIM.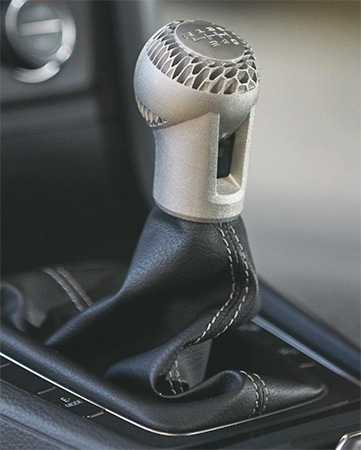 The printer reportedly can produce multiple parts simultaneously, and parts can be arranged freely in multiple levels within the bed to optimize packing density, productivity and cost. And, no build plate is required.
Company officials attribute speed, density and accuracy in part to inkjet-nozzle redundancy. The Metal Jet reportedly features four times the number of nozzles and two times the number of print bars as presently available systems.
At IMTS, representatives from GKN Powder Metallurgy and Parmatech discussed how they have employed the technology to produce parts for Volkswagen (pictured), Wilo and others.
HP plans to ship printers industry-wide by 2020. And, in 2019, the company will unveil its Metal Jet Production Service, where users can upload design files, receive design-compatibility checks from HP and receive parts from HP's manufacturing partners.
See also: HP Inc.
Related Enterprise Zones:
---
Reader Comments
There are no comments posted at this time.