Article
Spearheading AM Technology & Powder R&D
Friday, August 11, 2017
Frank Medina Jr., technology leader, additive manufacturing, at Buffalo Manufacturing Works, shows off the outfit's latest acquisition: a Sciaky EBAM (electron-beam additive-manufacturing) 110 system installed at the facility early in 2017. It can produce parts as large as 5 ft. long, with gross metal-deposition rates as high as 20 lb./hr. Equipped with Sciaky's IRISS (interlayer real-time imaging and sensing system) technology, the machine provides closed-loop process control to deliver consistent part geometry and mechanical properties.

New powders come on the scene on a regular basis for 3D metal printing, and will continue to do so for the foreseeable future. That's good for the industry, offering users more choices and opportunities to win work. And, the competition will keep prices under control. However, delivering new powders requires intense development, perfecting powder morphology and composition to yield proper powder flow, packing density, and deposition through the variety of metal additive-manufacturing (AM) machines in use. In addition, let's not forget recyclability, a powder property that becomes more critical as metal AM evolves from a prototyping tool into a full-fledged production process.

Such is a considerable part of the focus at the EWI Buffalo Manufacturing Works facility in upstate New York, where a team of metal-AM researchers toils under the guidance of Francisco Medina Jr., EWI's AM team leader. Medina joined Buffalo Manufacturing Works—operated by Columbus, OH-based EWI—early in 2016 after a stint at Oak Ridge National Laboratory (working for Arcam), and has since spearheaded numerous materials-development projects, leveraging the facility's burgeoning equipment list.

Providing an example of the rapid growth in metal-AM powder development, Medina notes that just a few years ago, "there were maybe three suppliers of good-quality Ti 6Al-4V spherical powder (a popular aerospace alloy). Now manufacturers can select from probably 10 suppliers of this powder grade, and our development work here has helped make that happen."

BMW's Three-Legged Stool

Additive is just one of three areas receiving attention at EWI's Buffalo facility, born in 2015 thanks to a generous round of funding (lovingly referred to as the Buffalo Billion) from the State of New York and Governor Andrew M. Cuomo. As part of that initiative, Buffalo Manufacturing Works received $45 million to go toward the facility, equipment and staffing; $30 million went toward the purchase of capital equipment.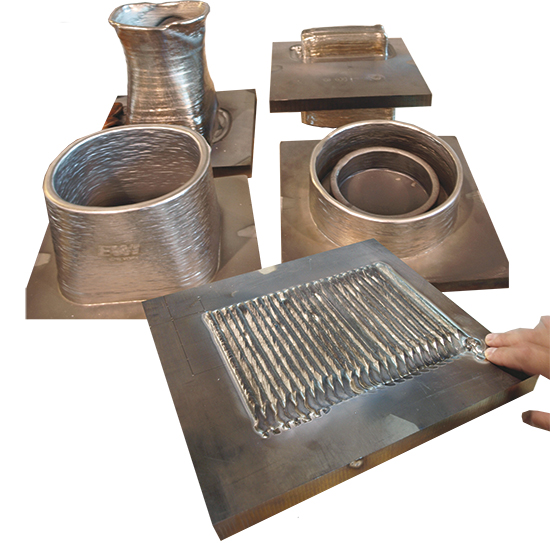 Buffalo Manufacturing Works uses its new electron-beam AM machine, equipped with two wire-feed systems, to develop process parameters and evaluate new materials. Shown are titanium-alloy print jobs (top), including a tensile bar; and a series of weld beads deposited with Inconel 625, each deposited with a different set of build parameters.

Explains Michael Ulbrich, EWI's president of New York Operations:

"Along with work in the additive-manufacturing arena, including metal-related AM work, we're also conducting R&D projects on automation and robotics, and on metrology and inspection. During the two years we've been in operation, we've conducted projects for about 100 different customers, around half of which were related to metal AM.

"Along with shepherding our AM work and driving new project development," Ulbrich continues, "Frank manages and has helped to grow EWI's Additive Manufacturing Consortium (AMC), a collection of national AM users as well as equipment and powder manufacturers, and representatives from government, academic and non-profit research organizations. The AMC has more than 40 members and is growing at a quick pace—we're adding 10 to 12 new members per year, around one per month."

Medina described for 3D Metal Printing several of the metal-AM projects underway for the AMC, most of which deal with process validation for metal powders, specifically Inconel 625 and 718, as well as for 6000- and 7000-series aluminum alloys.

"Phase I of these projects," he explains, "involves developing optimized parameters for fully dense parts using the laser powder-bed process. Then we look at heattreatment procedures (Phase II) and, finally, recyclability (Phase III). Recyclability and powder reconditioning are important for our customers because as they enter AM production and part volumes increase, they can wind up with a lot of leftover, unfused powder."

Powder-Development Proficiency

The Buffalo facility houses, among its lengthy equipment list, a Tekna powder-remelting system capable of respheroidizing and rejuvenating AM powders. EWI, a research partner for Tekna, can use the system to remelt unfused and altered powder in a high-oxygen high-nitrogen controlled environment and produce purified, reclaimed powder.
With its Tekna TekNano-15 induction-plasma system, EWI can synthesize high-quality spherical and nano-sized powders for 3D metal printing. When 3D Metal Printing magazine visited the facility, the machine was busy reclaiming heavily used Inconel 718 powder.

Also on its shop floor: Arcam and Sciaky electron-beam machines, an RPM laser directed-energy-deposition machine, and an ExOne Innovent binder-jetting machine.

"In directed-energy processes, such as that employed by our RPM 557 directed-energy fiber-laser machine (3-kW laser, tilt/rotate table, 5 by 5 by 7-ft. build envelope)," Medina explains, "the powder-capture rate can be as low as 20 percent. The ability to capture and reclaim that powder can result in significant cost savings."

That's where the Tekna setup comes into play, and Medina expects further investment in the technology. "We can manufacture about 10 kg/day of powder," says Medina, "and we hope to ramp-up our development efforts into powder grades that have not traditionally been used for AM. Most of the current AM metal alloys—Inconel 625 and 718, Ti-6 Al-4V, etc.—have been used for dozens of years."

Aluminum-alloy development is a big area of focus, as the traditional casting-grade alloys in the 6000 and 7000 series can prove difficult to print. So, Medina and his team are working to identify and develop higher-strength, castable aluminum alloys that will work in AM processes, specifically laser powder-bed machines.

He points to one relatively recent example of such work: process development for Scalmalloy, a high-performance aluminum powder developed by Airbus and its APWorks group.

"Parts printed from this 'Airbus aluminum,'" Medina notes, "combine the low weight of aluminum with the mechanical properties of titanium. Compared to the Al-Si-Mg aluminum-silicon powder typically used for AM, Scalmalloy produces AM parts with twice the strength and with improved toughness—ideal for safety-critical applications."

Process Sensing and Control

Even with the flurry of activity spied during a recent tour of the Buffalo AM facilities, Medina's team continues to grow, as does the inventory of equipment at its disposal. Of the 22 staff members, eight focus their work on AM programs, up from just three people a year ago. In fact, the organization is set to move, in 2019, to expanded digs, taking over part of the site in Buffalo previously inhabited by Niagara Press Co.

"The new facility, when completed," says Ulbrich, "will encompass 50,000 sq. ft. of space, more than twice what we currently have." As such, Medina's group will have more room to grow its activities in all areas of R&D, including powder and surface characterization, metallurgical characterization, mechanical and nondestructive testing, powder production, x-ray computed tomography, and large-scale deposition.

"When we move," adds Medina, "we will be able to expand in every phase of our operation, including the education programs we are providing. We have a teaching lab here, for example, sponsored by Praxair's Global Giving Foundation, with 15 workstations where we conduct AM-focused STEM education training. When we expand at the new facility we will include training in robotics and automated printing technology, and metals-AM processes."

In terms of R&D initiatives, Medina's AM team of eight works in several areas beyond powder development and qualification. One critical area of focus: metal-AM process sensing and control. Using an open-source-code metal-AM machine developed at the EWI facility in Columbus, researchers in Buffalo can execute various scanning strategies during a part build, and experiment with different sensors to evaluate which strategies perform best based on the application.

Melt-Pool Temperature Control

"We've looked at as many as 12 different sensors during some of our projects," Medina says. "One area of focus with this work is controlling and monitoring melt-pool temperature. In fact, several manufacturers of 3D metal-printing machines already are incorporating this technology.

"We've also done a lot of investigation into preheating the build plate," he continues. "One of the advantages of the electron-beam process for metal AM is the use of a heated test bed, to 1100 C, which minimizes the amount of internal stresses in the build. We're applying similar techniques to laser powder-bed processing, which currently is limited to about 300 C. We believe that eventually we'll be able to fine-tune the build-area preheating process to greatly minimize the amount of required post-processing finishing operations. We've already had success in this area printing tungsten alloys, and expect more successes to come."

Other benefits of heating the build envelope—not just the build plate itself: build speed increases, which minimizes build times; and the user can employ fewer support structures. 3DMP
See also: EWI
---
Reader Comments
There are no comments posted at this time.